Will You Buy An iPhone 7 or iPhone 7 Plus?
Apple's new genaration of iPhone is coming, are you ready to get one soon? According to the latest WWDC 2016, the new iPhone removes the traditional headphone jack but includes a force-sensitive "home" button, a new two-camera system and a sharper screen. Apple says "iPhone 7 dramatically improves the most important aspcts of the iPhone experience" in its official website, but after the Apple Worldwide Developers Conference, lots of popular media houses are questioned whether the changes will be enough to reignite excitement about the iPhone? So, MobiKin studio have made a market survey about "Will you buy a new iPhone 7 or iPhone 7 Plus" on this site, and now, let's us to check the survey report together.
This survey have invited about 3,000 people to participate in the vote, and the data displayed only 29% people will continue to get the iPhone 7 or iPhone 7 Plus while 71% people have chosen the option of "I won't". After going through the views in the survey, we can easily find that most people think the improvements of the new iPhone are not obvious, and they don't want to spend a large amount of budget to buy a similar device like before. Here, we have picked up several points for your reference:
"Don't want same phone with a couple tweeks added to it. Want completely new looking iPhone and a bunch of new added features. Not worth the money for something I already have with iPhone 6."
"Principally for the new double lens camera."
"My iPhone 6 has not any problems, and if new iPhone is the same like iPhone 6, I won't buy it."
"My phone is pretty old, and I will get the new iPhone 7 Plus"
...
Obviously, iPhone 7 is not enough attractive for iPhone 6 or iPhone 6s users, but if you're planning to change a phone recently, the new released iPhone 7 is also a good choice. And some simple improvements may also attract lots of users in the future. Too many facts have proved that even though there are lots of negative news about the new model at the beginning, but the sales data is still considerable in the past years. So at present, let's look at the features of the iPhone 7 or iPhone 7 Plus, and decide whether to buy one by yourself.
Read the below tablesheet to compare iPhone 7 or plus to iPhone 6, iPhone 6s and iPhone SE.
Things You Have to Do before Switching to iPhone 7 or iPhone 7 Plus
1. Selectively backup data on your old iOS or Android devices
Backup your old iPhone or Android data can help you greatly protect all your important data from deleting, losing or formatting by accident. So you have to find a reliable too to help you backup what you need from iPhone or Android phone to computer, and then restore them to your new purchased iPhone 7 or iPhone 7 Plus well. We know that you can use iTunes or iCloud to backup your phone's data, but how about Android phone? And we know iTunes or iCloud has their own limitations. Thus, referring to backup iOS or Android data on computer, you may still need to tools like below:
1. MobiKin Assistant for iOS - iOS Backup Tool
2. MobiKin Assistant for Android - Android Data Backup & Restore
Thanks to the above program, you're allows to transfer files like contacts, text messages, music, photos, call logs, voice memos, video, purchased items, etc. from iPhone or Android phone to desktop computer for backup as you like.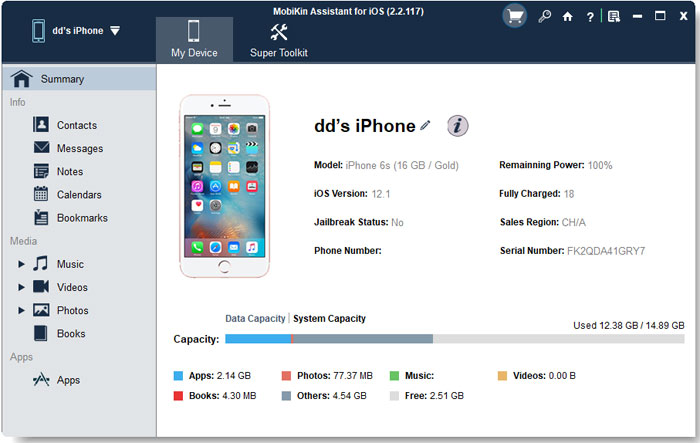 How it works?
How to Backup&Transfer Contacts from iPhone to Computer
How to Backup Data or Files between Android and Computer
2. Find a reliable transfer program to help you move data from one to another
Although the phone you're using now is maybe running on iOS, Android, Symbian, Windows phone or even BlackBerry systems, but now you're planning to get a iPhone 7 or iPhone 7 Plus, so it is necessary for you to find a tool that can help you transfer all your needed data like contacts, call logs, photos, etc. from your old phone to the new one. So that you'll save more time on playing with your new iPhone. That's why MobiKin Transfer for Mobile is strongly recommended here.
Basic Features of Transfer for Mobile:
- Transfer data like contacts, messages, call logs, notes, calendars, photos, apps, music, video, etc. from Android, Nokia, iPhone or Windows phone to iPhone devices directly;
- Backup & restore data from or to iPhone 7 or iPhone 7 Plus as you like;
- Erase your old phone data for reselling, donating or sending;
- ...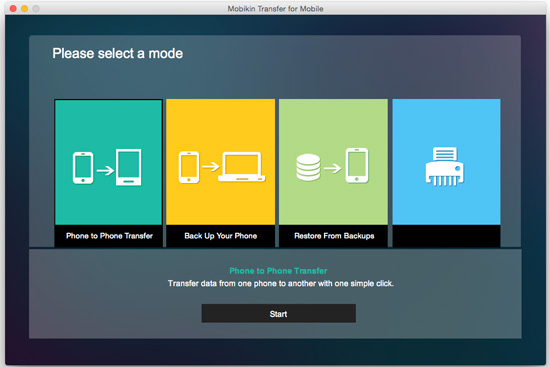 Can't Miss:
How to Transfer Contacts from Android to iPhone
How to Transfer Contacts from iPhone to iPhone
3. Recover lost data from iPhone or Android
Even though the transferring process with MobiKin Transfer for Mobile is 100% safe, but sometimes still have accidents. So prepare a good iPhone or Android data recovery software on your desktop computer, can help you get the lost data back at the first time. And sometimes the recovery program also can works well as the backup tool for your iPhone or Android devices. Since the iPhone and Android are running on the different operating systems, so you need to select the right tool according to the OS on your old mobile phone.
- MobiKin Doctor for iOS
- MobiKin Dcotor for Android
Supported File Types: Contacts, text messages, call logs, photos, music, video, notes, calendars, documents, etc.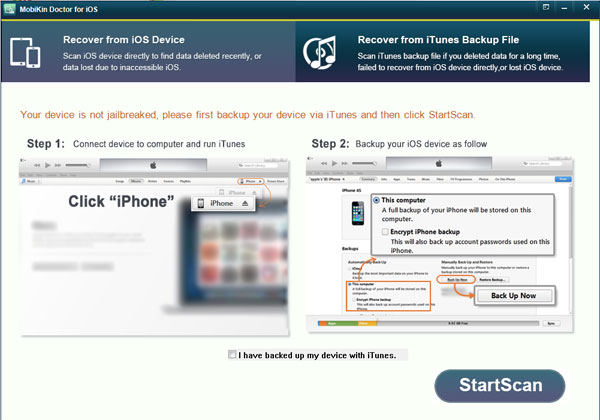 How it works?
How to Recover Deleted Contacts from iPhone
How to Restore Deleted or Lost Contacts from Android Phone
4. Erase data on your old iPhone or Android devices
After transferring all your needed data to the new iPhone 7 or iPhone 7 plus, you'd better to permanently erase the contents & settings on your old phone. Most people will choose to return to factory settings before giving up the old phone, but the facts proved that this method is not 100% useful to avoid data leaking out. So the best way here is to find a tool like MobiKin Eraser for iOS or MobiKin Eraser for Android to help you wipe out everything on your old phone.