How to Access Notes on iCloud from Computer?
Apple iCloud is a built-in service for iPad, iPhone and iPod users, that helps them backup iDevice's contents in the iCloud storage space automatically. It is no doubt that the risk of data losing have been greatly reduced after using this service on your device, so it is become more and more popular among iPhone, iPad and iPod users. Thus, sometimes you may wish to access your notes on iCloud backups from your personal computer due to various reasons, then what will you do?
Since the iCloud is a built in on iPad, iPhone and as well as Mac, so it can be also easily accessed from the computer. If you don't know how to do it, you can follow the solution in this page, to access not only notes, but also contacts, emails, calendars, and many other data that comes in iCloud at your will.
1. Does iCloud backup notes? How to do it?
2. How to directly access to iCloud Notes?
3. How to access and extract notes from iCloud backup? (Recommended)
Does iCloud Backup Notes? And How to Do It?
Of course YES. You can use iCloud to easily backup your notes. Below is the simple steps for your reference.
Step 1. Go to Settings, and find "iCloud". Choose "Storage & Backup" option here.
Step 2. Login to your iCloud account with your Apple ID and password. Then make sure the notes backup option is opened.
Step 3. Choose "Backup" option and click "Back Up Now" button to generate a backup of your iCloud.
Extended Reading:
How to Backup iOS Files with iCloud or iTunes?
iCloud Alternative Tool to Backup Your Files
How to Access iCloud Notes without 3rd-party Application?
Unlike iTunes backups, iCloud provide users with online service, that means you can directly enter your iCloud contents on the Internet. To achieve it, you only need to open your web browser and visit the official site of iCloud, login with your Apple ID and password. Then, you can view all the files in iCloud as you like.
How to Access and Download iCloud Notes to PC/Mac Computer with A 3rd-party Tool?
You can view iCloud notes or other files via the Web, but you can't download it to your desktop computer. Actually, Apple never tell users where the iCloud backup file is located for security reasons, so when you're planning to access and download your needed notes info from iCloud to PC or Mac computer, you need to turn to the professional iCloud Notes Extractor software. With it, you can:
- Get access to iCloud backups and export you needed data like contacts, messages, calendars, notes, photos, etc. from iCloud to your personal computer with 1 simple click;
- Access and view iTunes backups on your desktop computer completely;
- Directly access your iPhone data and help you find your lost data on it as you like;
- ...
Now, just get this powerful program to view and download your iCloud backups as follows:
Step 1. Directly launch the tool that you've installed on your computer, then choose "Recover from iCloud Backup File" in the left panel.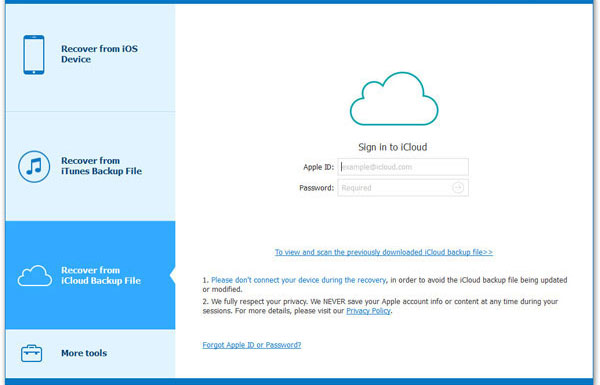 Step 2. You need to login into your iCloud account with your own Apple ID and password. Then you'll get a list of all backups in your iCloud. Just choose one of them for scanning at present.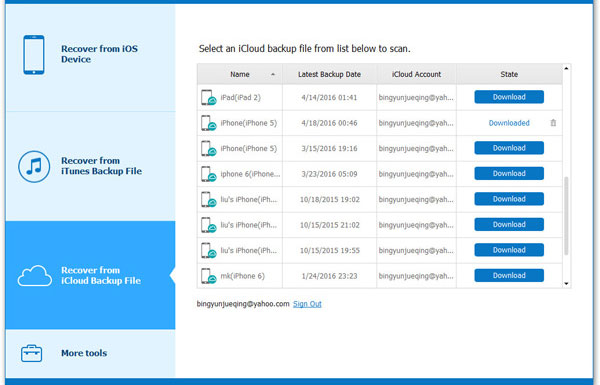 Step 3. Here, you can select "Notes" > "Next" to only scan for notes in the backup file. After that, you can view the detailed notes info in the program as you like.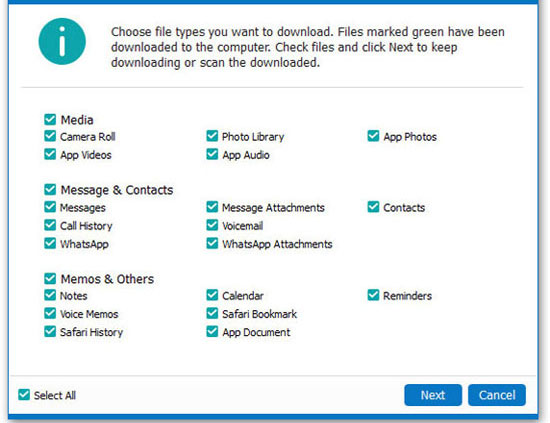 Step 4. Tick all notes you wish to download, and hit "Recover" button to save them on your computer.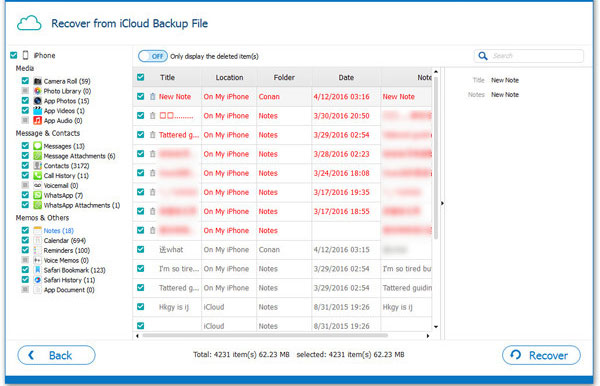 Related Articles:
How to Fix A Stuck iCloud Backup Restore Errors