How to Check in iTunes Whether Contacts Have Been Stored?
It is literally impossible to live without your iPod, iPhone or iPad these days. This is mainly because both devices are increasingly playing a major part in our lives. It is possible to take photos and videos, watch your favorite music videos, communicate with your friends, family members, and acquaintances, send business documents, telecommute and even find your way by using these iOS gadgets. We all know that data on iDevices are faced a high risk of data losing, so in order to protect all your important data, there are also various ways to backup your favorite videos, apps, documents, and even device settings in the daily life.
However, you can easily agree with me that all the other information stored in the devices can be easily restored or downloaded from various online services but losing your contacts is likely to spell doom as you may not be able to communicate with your clients, loved ones or friends. To prevent this from happening, this highly informative article is going to educate you on how to store your contacts using iTunes and how to verify that they have been effectively backed up using the highly beneficial Apple service.
Something about iTunes
iTunes is a popular Apple media library application that is commonly used to download, organize and even play a wide variety of audio and video files on all PCs running on either the Mac OS X or Windows operating systems. However, contrary to what most people believe, iTunes is more than a mere music management service. You can easily use the PC program to synchronize and update all your iOS devices among other activities. By doing so, you would have created a local backup just in case you fail to access the data you have stored on iCloud for one reason or another, hence; securing your private yet highly sensitive information.
See Also: How to Fix iTunes Errors
How to Backup Contacts on iTunes in 3 Simple Steps?
Keeping an iTunes backup ensures that you still have access to your personal contact list even if you unwillingly erase your iPhone or end up losing it and you hadn't activated the iCloud automatic backup feature. Below is an easy-to-follow, step-by-step guide on how to backup your contacts on iPhone, iPad or iPod touch.
Step 1. Connect Your iOS Device to PC
Connect your iDevice to your Windows or Mac computer with USB cable, then install and launch iTunes on your computer. Generally speaking, the iTunes will be launched by default when your iDevice is connected to the PC, but sometimes you may also need to run it manually for unknown reasons.
Step 2. Find and Specify Your iDevice in iTunes
Wait for some time for your iDevice to appear and then select it by clicking on its icon that can be found at the top of the opened iTunes window. Tap on the "Trust" option on your iPhone or iPad's screen once prompted.
Step 3. Backup Your iPhone Contacts with iTunes
You will be redirected to a new window from which you should select the "Back Up Now" option. Doing so will allow the iTunes program to automatically backup all the data on your iOS device including your contacts. Wait patiently for the backup process to come to an end.
Can't Miss:
How to Find and View iTunes Backup Files on Windows or Mac
All Things You Need to Know about iTunes
How to Check in iTunes Whether Contacts Have Been Stored?
Here, we could like to show you two different ways to check in iTunes contacts, and you can compare them and decide which one is better according to your own needs.
Method One. Use the Apple's Mail Service
It is almost impossible to view the contacts that you have backed up using iTunes on your PC. However, you can easily sync them all with your Apple device's default mail app to later view and edit them at will. Below are the steps you should follow.
1. Go to your iPhone or iPad's default settings and deactivate the "iCloud Contacts" option. At the same time, you can launch the iTunes app and Select your iOS device. Click on the "Info" section presented in the left sidebar once you have located it.
2. Select the "Sync Contacts With" option and select your PC's default mail program.
3. Choose the contact list groups you want to sync, select "Apply" and wait the end of the process.
Congratulations! Now you can easily view and edit your backed up iTunes contacts on your PC freely.
Method Two: Check in Contacts in iTunes with MobiKin Doctor for iOS
For security purposes, all iTunes backups are stored using the "SQLITEDB" file format which cannot be easily opened. However, you still can find some special tool like MobiKin Doctor for iOS to help you get access to these SQLITEDB file on your Windows or Mac computer, so that you can directly view iTunes contacts backup on PC as you like. Below are the steps for your reference, but to get started, you need to download and install the program by clicking the below icons.
Step 1. Launch the iTunes Data Recovery software directly. Here, you can directly choose "Recover from iTunes Backup File" and select the iTunes backup of your device, hit "Start Scan" to begin to scan for files.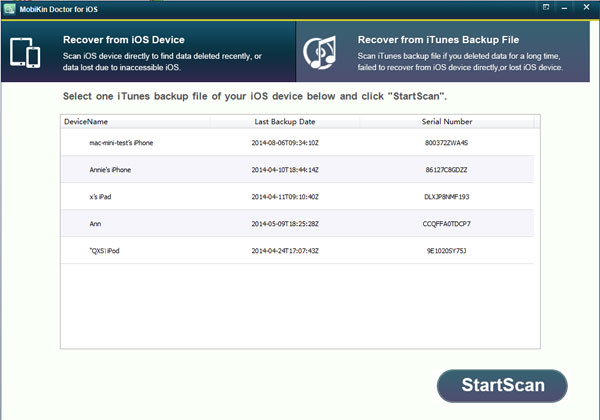 Step 2. When the scanning is finished, you can choose "Contacts" and preview both deleted yet existing contacts in the program in all details.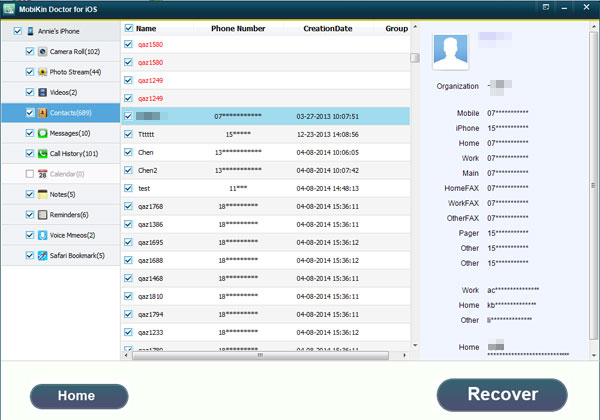 Step 3. Tick the contacts you wish to save one by one and then hit "Recover" button to store them on the desktop computer directly.
Related Articles:
How to Recover Photos from iPhone or iTunes Backup