How to Remove Passwords on iPhone 6S/6/5S/5?
Setting a unique password on your iPhone provides you with the much-needed peace of mind of knowing that your information is highly secure. This makes it almost impossible for any unauthorized personnel to gain access, especially to your private information and data. However, there may come a time when you may forget the passcode or password you had set on your iPhone. This usually spells doom as you may be unable to gain access to your personal data. You may even end up being permanently locked out if you unsuccessfully make too many futile attempts.
So lots of users wish to find an effective way to remove password on iPhone while they are under this situations. Here, we'll show you two different ways to reach the goal, but before showing you the top two leading ways to remove password on iPhone, it is essential to first create a backup of all the information on your iOS device. This will ensure that you are protected against any form of data loss, meaning that you can easily restore any crucial information whenever disaster strikes. There are various third party computer programs that can be used to create iPhone backup, even on a locked iOS device. However, this article will only show you how to use a specific program known as "iOS Data Recovery".

Backup Your iPhone Data before Removing Passwords on It
Apart from helping you to backup iOS device data, this highly beneficial program can also be used to download iTunes backup and recover lost iOS device data among other amazing options. Follow the steps provided below to backup your locked iPhone's private data.
Step 1. Install the iOS Data Recovery program on your PC/Mac
Simply download the program by clicking the below icons. Once it has been successfully downloaded, either double-click on its installation package to install it or drag the installation file to the "Docks" section.
Step 2. Connect your iPhone to computer and choose the backup mode
You can now connect your iPhone to your PC and then launch the MobiKin Doctor for iOS. This will provide you with three different options. Simply choose the "Recover from iOS Device" option.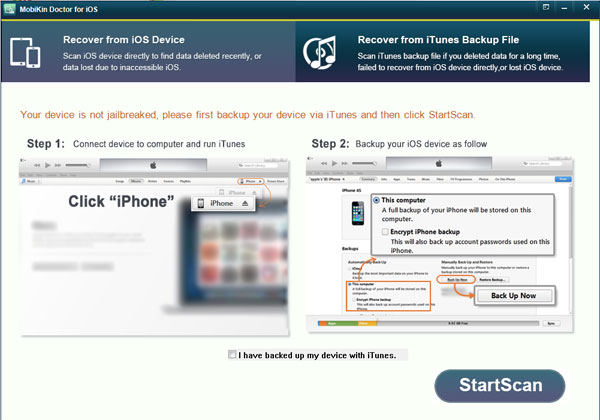 Step 3. Scan for files and backup your needed data to computer
Hit "Start" button to start to scan all the information on your iPhone. Simply click on the relevant data and select the "Recover" option. Once you have successfully created a backup of all the information on your iPhone you can now proceed to remove iPhone passwords.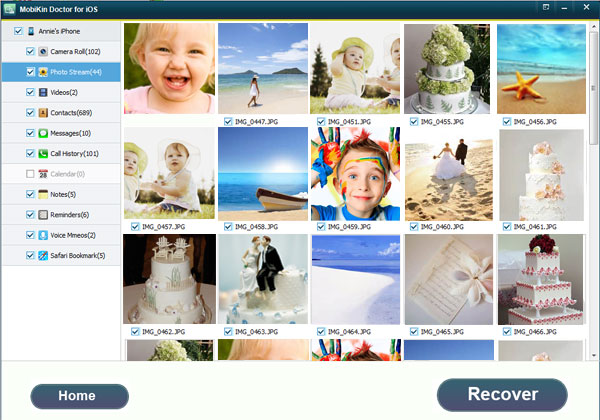 Can't Miss:
How to Recover Deleted Contacts from iPhone 6S/6/5S/5
How to Retrieve Deleted or Lost SMS from iPhone on Windows/Mac
Step-by-step Guide on How to Remove iPhone Passwords in 2 Different Ways?
Solution 1: Removing iPhone passwords using iTunes (When locked or disabled)
You can only use this method if you had previously synced your iPhone with your Mac or Windows computer. It is also important to note that this method will erase all the data on your iPhone. So you should only use it if you had a previous iTunes backup. Kindly follow the steps below to remove iPhone password with iTunes.
1st of all, use your iPhone's USB cable to connect your iPhone to the computer you had previously used to sync with iTunes. Double-click on the iTunes icon to open the program if it is not launched automatically once the iOS device is detected. Kindly use the next method if the iTunes service asks you to enter your secret passcode.
Secondly, the iTunes service will automatically backup and sync your iDevices. Wait for a few minutes, select your iDevice and then click on the "Restore iPhone" option provided as you wait.
Congratulations! This will initiate the reset and restore process which may take up to 20 minutes to fully wipe your iPhone. You can then proceed to finish the initial setup on your now fully wiped iPhone. Remember to select the "Restore from iTunes Backup" option when prompted. This will automatically redirect you to your iPhone's Home screen where you can enter your new secret passcode.
Solution 2: Using your iPhone's "Recovery Mode"
You can easily use this method to remove iPhone password if you have never signed into iCloud or synced your iDevice with iTunes. Kindly note that this method will also erase everything on your device. However, you don't have to worry if you had used the iOS Data Recovery tool to create an iPhone backup.
Step 1. Connect your iPhone to your Mac or Windows computer using a USB cable. Feel free to launch the iTunes service by double-clicking on the program's icon as you proceed.
Step 2. Simply press and gently hold both "Home" and "Power" buttons to put your iPhone into Recovery mode as your iPhone is being connected. This will force your iPhone to restart. Keep on holding both buttons until you see the "Recovery Mode" screen which usually comes after the Apple logo.
In general, putting your iPhone in Recovery Mode will automatically provide a new window in iTunes. You can now proceed to click on the "Restore" option that is shown at the bottom of your PC screen window.
Step 3. You can now proceed to set up your iPhone after waiting for around 15 minutes for your iDevice to be erased.