Top Reasons for Installing & Keeping An iPhone Data Recovery on Your PC
iPhone users usually store their personal data including images, messages, videos, and documents among other files on their smartphone devices. However, data loss is likely to happen due to one reason or another, hence, forcing iPhone users to backup their personal files either using the iCloud Backup or iTunes cloud storage services. These services, although considered to be totally reliable have their own limitations. For instance, these services take a lot of precious time to restore data to your iPhone and are relatively complicated to be used.
There are various data recovery programs that you can use to backup and even restore your iPhone. Most of these sophisticated programs even allow you to restore data on an already formatted iOS device. So sometimes they are be treated as a "life saver" for iPhone users. However, some people wish to know that is it necessary to keep an iPhone Data Recovery software on their desktop computer all the time? Today, you can find an ideal answer at this page. Below are the top reasons for keeping an iPhone Data Recovery software on PC/Mac for your reference.
Reasons for Keeping An iOS Data Recovery Software on PC/Mac
1. Accidental Deletion of User Data
This is considered to be the most common reason for iPhone data loss. You may unwillingly delete your favorite photos, videos or documents simply by selecting the wrong files instead of the actual ones you wish to remove from your device. This may be disastrous, especially as you may not have kept any iTunes or iCloud backup as you did not intend this to happen. However, you can easily restore the deleted files with ease simply by using a reliable iPhone data recovery software.
2. Jailbreak Failure
iPhone jailbreak is the equivalent of rooting on Android devices. Jailbreaking is generally a risky venture, although most iPhone users prefer to engage in it to exercise even more authority on their iOS devices despite the fact that this activity is guaranteed to void their warranty. Using an untrustworthy tool to root your iPhone is likely to damage your device, lead to data loss and may even brick your smartphone. You can use a reliable iPhone data recovery program to backup your device before jailbreaking it and even restore it to its original state.
3. Carrying out A Full Data Reset
You may be forced to wipe your device due to one reason or another. This will require you to carry out a full iPhone reset which will not only restore your smartphone's "Settings" to their default state but will also remove all your personal data in the process. You may also end up losing some of your personal information when you decide to experiment with the "Reset All Settings" option which apart from changing your iPhone's settings will also get rid of some of your personal files.
4. Forgotten Password
You may decide to set up a private password that can be used to unlock your device for security purposes. However, if you forget the password it will be almost impossible to access your personal data. It may also be quite difficult to use your iPhone in general. After carrying out various futile attempts to unlock your device you may be forced to format your device so as to remove the elusive password which will also delete all your personal information in the process.
5. Getting A New Operating System
New iPhone operating systems (iOS) usually come with improved functionality among other breathtaking features that are a must have for all iOS device users. However, It is also increasingly common to find that your personal data has been wiped even after going through the mandatory device Settings restoration process. This is because carrying out an iOS's upgrade leaves your smartphone in its "Recovery Mode" making it susceptible to data loss among other unfortunate issues.
Can't Miss: iPhone stuck in "Recovery Mode", how to solve it?
6. Encountering the Infamous Apple logo "Screen of Death"
The dreaded "screen of death" is usually encountered when your iOS system crashes due to the malfunctioning of some essential system apps. This screen of death, which is characterized by your iPhone's screen turning black with a white Apple logo, will prevent you from accessing your personal files. Apart from restricting you from accessing your private data, the unfortunate incident is likely to result in the loss of your favorite images, music files among other information.
7. Replacing Your iPhone's Battery
Most of the iPhone's flash memory (except the Random Access Memory) can be fully retained without power. You will eventually be required to replace your current iPhone's battery especially after using it for a long period. It is considered wise to carry out a full backup of your iOS device before doing so. This is because replacing your smartphone's battery is likely to erase most if not all of your personal files that are on your iDevice.
There are literally hundreds of iPhone data recovery programs for PC programs in the market today. However, before deciding to purchase or download any free or paid data recovery program for your iDevice, you need to closely examine its main features against your individual needs. Most of the reliable data recovery software in the market today have been increasingly proven to perform even better than the popular iTunes and iCloud Backup services.
Editor's Pick: Best iPhone Data Recovery Software - MobiKin Doctor for iOS
MobiKin Doctor for iOS (Windows/Mac) is a popular desktop application, that allows users to recover lost, deleted or even formatted data from iPhone, iPad or iPod touch. You can use the program to recover data from the device or from the iTunes backups as you like. It can supports data like contacts, text messages, SMS attachments, photos, call logs, voice memos, notes, etc. And for the daily using, it can be also used to backup your iPhone, iPad or iPod data on your Windows or Mac computer without hassle.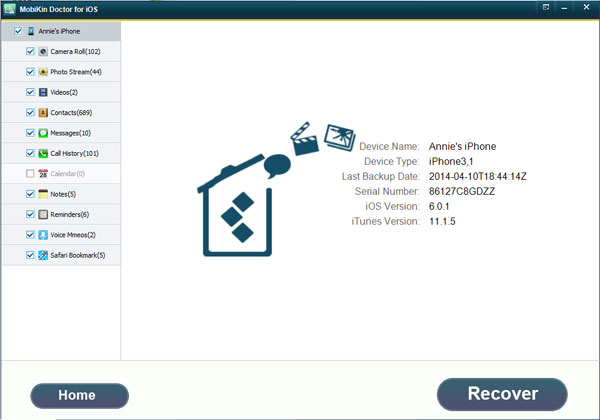 Related Articles:
How to Recover Lost iPhone Data after Upgrading to iOS 9/8
How to Retrieve Deleted Music from iPhone Easily