How to Restore Apps from iCloud?
When you sign up for iCloud, you automatically get 5GB of free storage. The iCloud storage is normally used to store iOS device back, iCloud Photo library, iCloud Drive, app data and documents. Normally, if you happen to have backed up your apps, you can easily download them and restore them on your device or even on your new device. It is not strange to lose some of your favorite apps for whatever reason. You are also aware that some of these apps cost money and you don't want to be buying the same app every now and then. This is why iCloud storage plays an important role in your lives. When you happen to lose some of your favorite apps you can still retrieve them again for free. Below is guide on how to restore apps from icloud.
Can't Miss: How to Extract Files from iCloud Backup
How to Restore Specific App Files from iCloud with Few Clicks?
You backed up apps with your iCloud account, and when you need to restore them from the backups, you find that you can't restore only apps from iCloud with the iPhone's built-in restore feature. So you have to backup your iDevice, return it to factory resetting, and set it up from iCloud backups on your device. Troublesome, and easy to lose other important data, right? Don't worry, here we could like to strongly recommend iCloud Data Extractor for your reference. With it, you can easily and quickly extract your needed apps documents from iCloud backups without restrictions. Now, just get the free trial version of the powerful tool and follow the below guides to start recovering apps from iCloud as you like.
Step 1. Install the iCloud App Extractor program on your desktop computer, then launch it directly. Here, you can choose the function of "Restore from iCloud Backups" login to your iCloud account.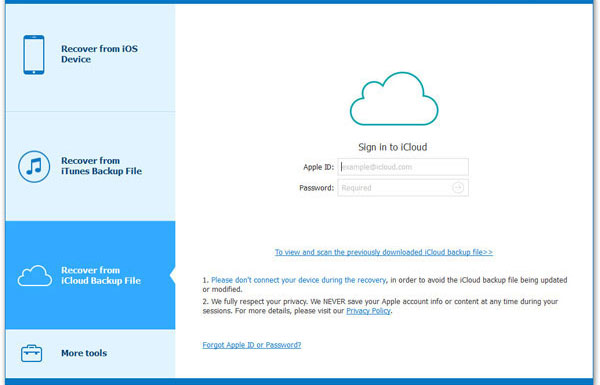 Step 2. Choose the backup that you wish to restore apps documents from it, and wait for the iCloud backup to be downloaded.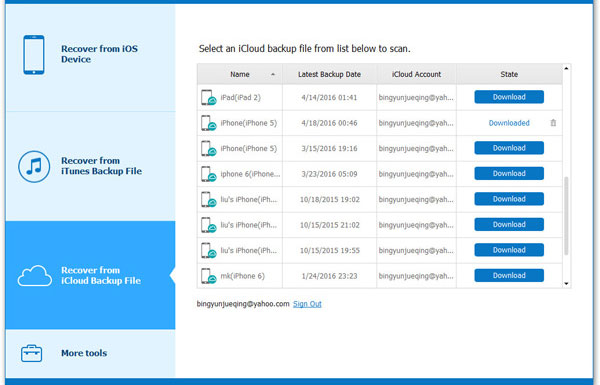 Step 3. Select the file types you wish to restore and hit "Next" to begin the scanning. Then you can preview the scanning results in the program and tick all you needed apps on the iPhone, iPad or iPod for restoring.
Pros: Easy to use, and never replace other data on your iDevice, no data losing during the process.
Cons: Not a free program, so if you wish to enjoy the full function, you have to pay for it.
Related More: How to Restore Voicemail from iCloud
Steps on Restoring Apps from iCloud Manually
Preparation: In order to make use of iCloud backup with your apps, your iPhone needs to be connected to the Internet. In your iCloud, you also need to verify whether you have already done the backup including your apps. After that, you can directly go to Settings > General > Software update on your iDevice. In case there is a newer version of iOS, follow the onscreen instructions to download and install it.
Step 1. Check the Recent Backups You Have
In case you do not have a recent back up, there is a higher chance you won't be able to restore most of your recently installed apps. It is therefore very important that you ensure you have a recent backup in order to be able to restore all the lost apps. Here, you can go to Settings > iCloud > Storage > Manage storage to check the backups on your iCloud account. Once you are here, you can tap a device listed under the backups in order to see its date and size of its latest backup.
Step 2. Restore Phone to Factory Setting
Here, you will need to restore the phone into its factory settings. In that respect, this stage will involve erasing all contents and settings from the iPhone. Let's assume that you already have an iCloud account and at least recent backups with your apps. In order to be able to restore your apps from the iCloud, go to Apps and Data screen, select restore from the iCloud backup and then you will be prompted to sign into iCloud. Fill out the form with your Apple ID and your password and then log in.
Step 3. Restore Apps from Your iCloud Account
Once you have logged into your iCloud account, you will be able to see the backups that have been done into the account. Choose the backup you need and have it restored to your iPhone. Once the restoration process begins, you will be able to see the status "Waiting" for all your apps on your iPad/iPhone screen.
Something you may also should know:
When you have restored apps from iCloud backups, below contents are also restored on your iDevice:
- Your settings and accounts will automatically be restored from the iCloud backup you chose. Your device will restart and begin downloading your purchased apps. In case it is not able to download the version of the app that had been backed, it will automatically select the latest version of the app and have it downloaded.
- The purchased content is automatically downloaded from the App Store based on the availability of the apps re-downloads. Previous purchases might not be available if they have been refunded or if they are no longer available in the store.
- Take note, you may also be prompted to enter your passwords for App store. Store your accounts for the sake of restoring your purchased items.
- When you are downloading the apps, you will notice progress bars at the bottom of the home screen icons. In order to make an app a priority when you are downloading, ensure you tap at its icon.
- Finally, in order to check whether the apps you wanted are already restored, go to Settings > iCloud > Storage to check it.
Pros: Free and no need to install any other programs.
Cons: Complex and hard to handle.
Related:
Fixed: The Backup Can't be Restored to This iPhone because the Software on It is Too Old
iPhone/iPad Stuck on Preparing Update to iOS 14? 9 Methods for You
How to Recover 1 Year Old WhatsApp Messages without Backup
How to Remove iCloud Activation Lock without Password in 2021