Definitive Guide: Top 11 Android to Android Data Transfer Apps & Software
Snapping up a new dazzling Android phone, you may intend to transfer files to it from your old Android. But Android transfer apps are miscellaneous. So, how can we find the best phone transfer app to transfer data from Android to Android quickly? Well! What you need to do is to find a passage with the most complete types of apps, covering their pros and cons.
This post with 11 pragmatic Android to Android Data Transfer Apps and software is the right one you are looking for. In this comprehensive guide, no matter what tool you're looking for, there is always a good one meeting your taste here.
Part 1. Android to Android Data Transfer App Alternative - Transfer for Mobile
As the best Android transfer app alternative, MobiKin Transfer for Mobile (Win and Mac), known for its safety and efficiency, is proficient in data transfer between different mobile phones, whether they are Android or iOS devices. The supported file types include contacts, text messages, call logs, photos, videos, audio, music, documents, apps. If your target phone (data receiver) is Android, it can also remove the saved files on it before data migration.
Further, it is friendly with almost all mobile phones with the latest models, including Samsung, Huawei, HTC, LG, Motorola, Sony, Google, Acer, Xiaomi, iPhone, iPad, iPod, etc. Before the use, you should connect your two mobiles to computer through USB cables.
Want the best Android data transfer program to transfer phone files from Android to Android? Click the icon below for a trial now. If your new phone is iPhone and wish to transfer Android data to iPhone, Transfer for Mobile also can do you a favor.
How to transfer data from Android to Android with MobiKin Transfer for Mobile?
Step 1. Run this Android transfer tool on computer
Install and launch MobiKin Transfer for Mobile on your computer first. Then you'll see the initial interface of this program.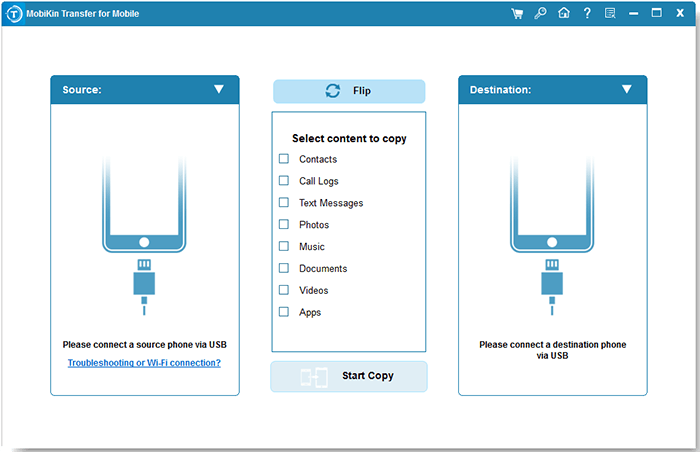 Step 2. Link two Android devices to computer
Pick up two suitable USB cables to connect the two Android devices to the computer. After the detection, you'll see them on two sides of the window. Right their positions by clicking "Flip" button to make sure the old Android is the source device and the other Android is the destination one.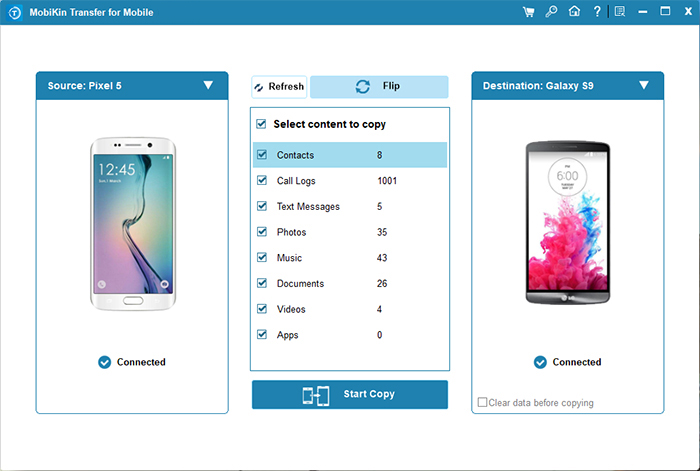 Step 3. Transfer data from Android to Android
Mark the file types in the middle of the screen and then click the "Start Copy" button to start the transfer process. After a while, you'll find the transferred data on your new Android device. That's all.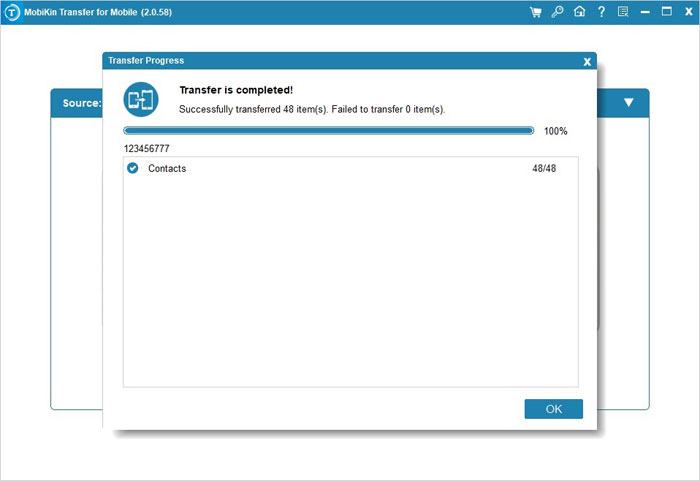 Pros:
Easy to operate, one-click to transfer data between mobiles.
Ad-free, risk-free, fast transfer, privacy protection and round-the-clock after-sales service.
Desktop software that does not take up phone memory.
Cons:
Not a free program, but with a free trial version.
Part 2. Android Data Transfer App Replacement - Android Backup & Restore
Implementing quality management on contacts, SMS, call records, pictures, videos, documents, apps, etc., MobiKin Backup Manager for Android , a reliable tool which is specially designed for backing up and restoring Android data, can make you connect Android mobile to computer through wired or wireless connection, select the file type(s) you want to back up to PC, and then restore your needed data type(s) to the same or another Android device from computer.
In this process, you can preview and choose the data categories you need to back up or restore within 1 click. Further, it's easy to add other backup files in the non-program default directory to the list for restoration. Moreover, no data will be overwritten on your Android. And you can clear phone data before restoring them on the destination phone as required during the use.

Step 1. Install the downloaded replacement of mobile transfer app for Android on computer and then open it. Connect your old Android phone to the computer with a USB cable. Once connected, you can choose the "Backup" option from the main interface of the tool.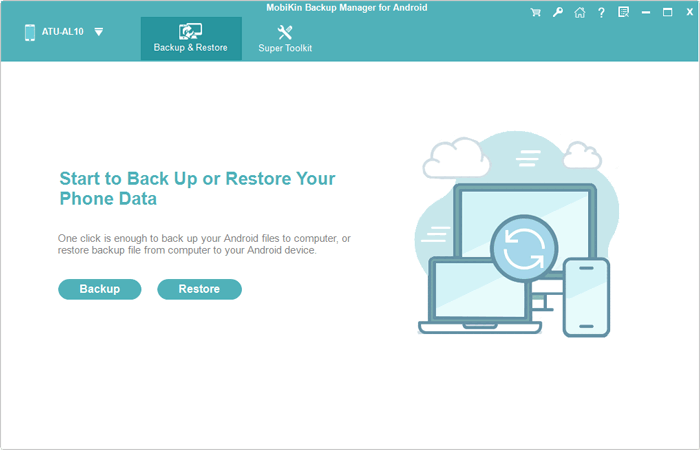 Step 2. You'll see all the file categories are listed. Please choose your desired data type(s) by ticking off the boxes in front of them. Next, tap "Back Up" to and find a folder on computer to save the selected files. After that, disconnect your old Android from the computer.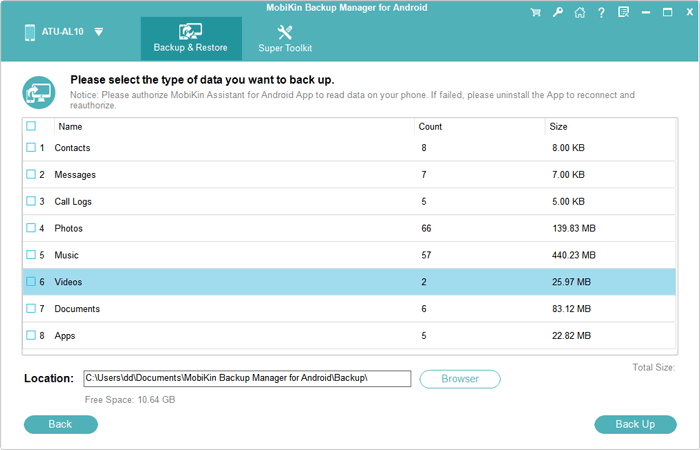 Step 3. Connect your new Android phone to this computer and wait until it is detected by the Android Backup and Restore software. Then, tap the "Restore" option from the main interface and you will see all the backup files on computer. Select the backup record for your old Android and tap "Restore" to transfer data from the backup your new Android phone.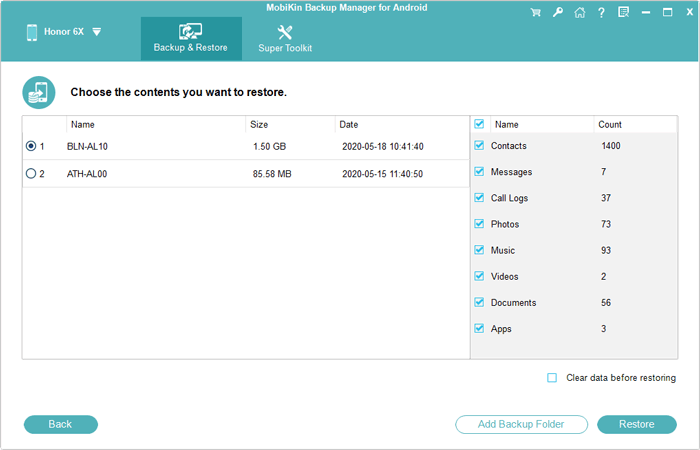 Pros:
Real-offline data management with no in-app purchases, moving data without data loss, totally secure.
One-click to back up your Android data with a USB cable or WiFi connection.
Desktop software that does not take up phone memory.
Cons:
Not a free licensed management program for Android, but with a free trial.
You May Want to Know:
Part 3. List of Best Android to Android Data Transfer Apps
1. Xender
To search for the best app to transfer phone data, Xender is the one that worth trying. It can be connected through WiFi feature, serving data like contacts, images, music, videos, SMS, games, and so on. In the absence of a network, it can also transfer files over hot spots. It is capable of connecting 4 devices simultaneously, working on Android device, iOS device, Windows PC or Mac computer. While migrating, it can operate at a speed of 40 MB/s, accompanying with a file manager to delete, switch or preview your Android data.
Pros:
Android users can move app installation packages with it.
Cons:
Might close periodically, and the links are time-sensitive.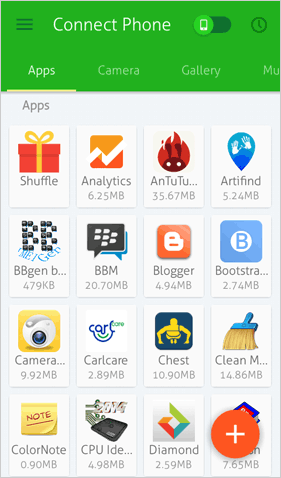 2. CLONEit
With the transfer speed reaching up to 20M/s, CLONEit can quickly move contacts, SMS, MMS, call logs, apps, all types of data in your SD card (documents, photos, videos, music), WiFi account passwords, and browser bookmarks without fear of privacy leak. Besides, it allows users to uninstall preinstalled apps on your Android phone.
Pros:
Support 40+ languages, and can be used for space cleaning.
Cons:
Some Android phones can only transfer contacts and multimedia files with it.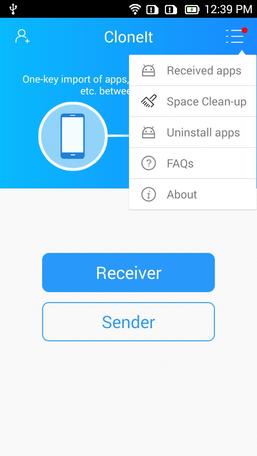 3. Zapya
With the help of Zapya, you can share apps, music, videos, photos and others with your friends. It is able to work across platforms without consuming mobile traffic or WiFi, and you are allowed to scan with QR code to establish a connection. Before the use, you need to choose the Android, iOS or web version, etc., according to your needs.
Pros:
Simple interface, unlimited data migration and quick previews on media player.
Cons:
When multiple devices are connected, the specific target device cannot be selected for data moving.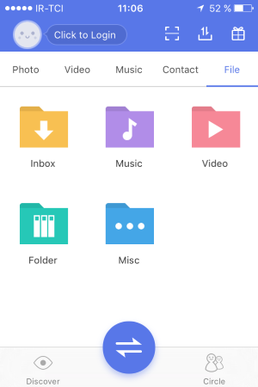 See Also:
4. SHAREit
Apart from sending free online stuff including movies, videos, music, wallpapers, images, apps, etc., SHAREit comes with a media player, which helps you manage and enjoy your own videos and music. It will not access permissions that are irrelevant to its function before data transfer. What's more, it also serves as an excellent cleaning tool.
Pros:
Offline mode, fast file transfer and relatively high stability.
Cons:
Riddled with advertisements, slow when multitasking.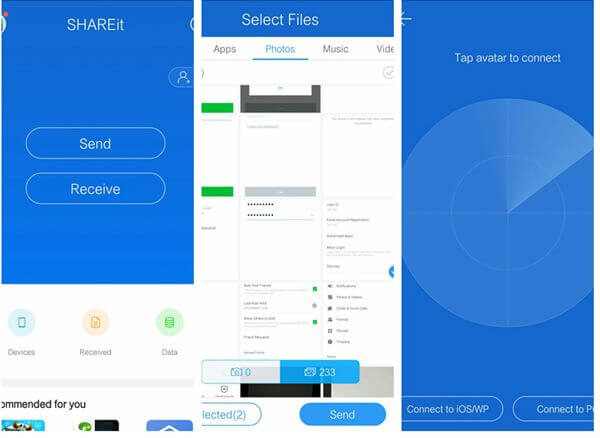 5. AirDroid
AirDroid is an ideal app to transfer data from one phone to another, including pictures, ringing tones, music, videos, folders, apps wirelessly. You need open AirDroid (computer client) and browser (web.airdroid.com) at the same time before the transfer. And if you are an advanced user, you can also remotely control Android devices on the computer, mirror the screen, and notify the mirrored phones to computer.
Pros:
Can be used to send text messages, and the screen provides with remote views.
Cons:
Many functions are only open to advanced users.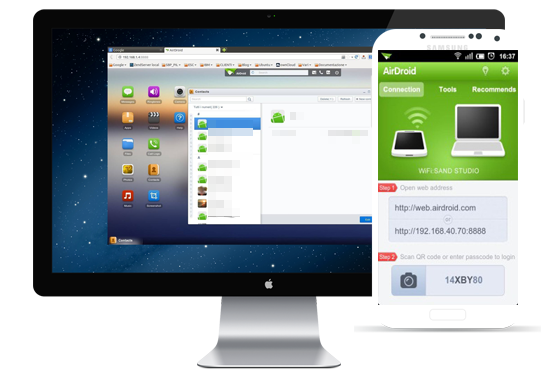 6. Send Anywhere
Send Anywhere can be used to read and transfer data like contacts, video, audio, photos, APK and SD card. But it is unable to share APK files between iOS and Android. When transferring data, you only need a one-time 6-digit key or a QR code formed by the scan (for the connection) to transfer files with WiFi feature.
Pros:
Adding a one-time key will provide a higher level of security.
Cons:
Only 3 languages (including English) are supported, and not available for the OS below Android 4.2.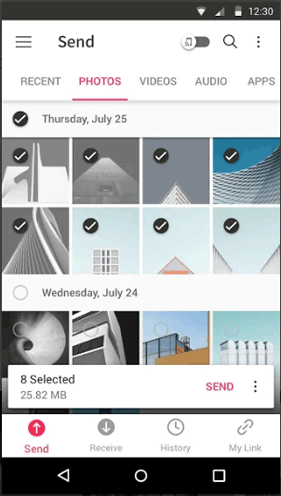 7. Samsung Smart Switch
With Samsung Smart Switch, you can move contacts, music, photos, calendars, SMS, memos, device settings, etc., to the new Samsung Galaxy device as you like. It works on devices with Android 4.0 or above, but non-Samsung running on Android from 4.2 to 6.0 can only connect to Galaxy devices that support mobile AP. Moreover, old phones like Galaxy S2/S1 need to update the firmware before using this app.
Pros:
Some file types can be managed using management options.
Cons:
The target device must be a Samsung and the transfer speeds could be slow at times.
The scenarios of Samsung Smart Switch not working also occur from time to time.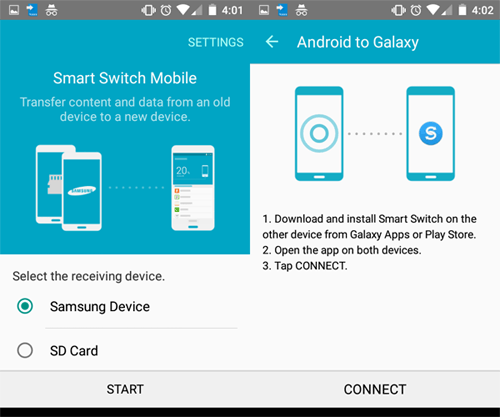 8. Huawei Backup
Widely supporting for 79 languages, Huawei Backup is a data switch app can easily save an extra copy of your data, including contacts, SMS, MMS, call history, system settings, alarms, email accounts, calendar events, applications, pictures, Music, etc. And it is quick to restore them to memory cards or USB drives. By the way, you can encrypt your backup files to keep them secure.
Pros:
Can be used to make automatic backups to NAS or memory cards.
Cons:
Doesn't support local backup and only available for Huawei phones running Android 4.0 or higher.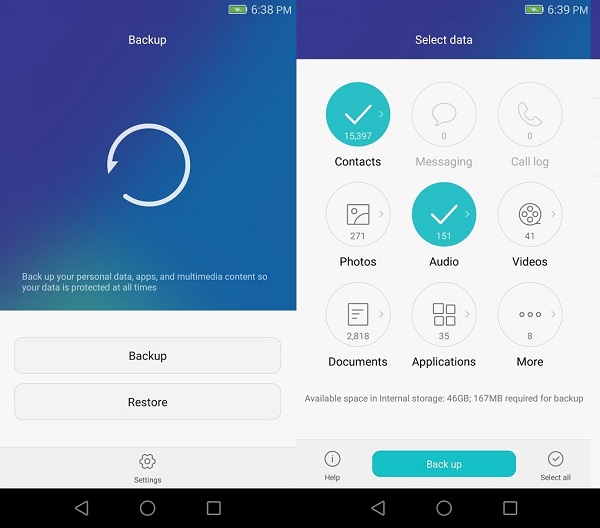 9. LG Mobile Switch
Waging wireless and wired OTG device-to-device transfer, LG Mobile Switch is a good app to transfer phone data like your images, video, music, text messages, calendar, app and more from your old Android to your new LG device. Note that LG phones like LG G3 and G2 only support WiFi connection, and some functions are limited depending on old device's manufacturer or model.
Pros:
Phone interface mirroring and great multimedia management.
Cons:
The destination phone can only be a LG device.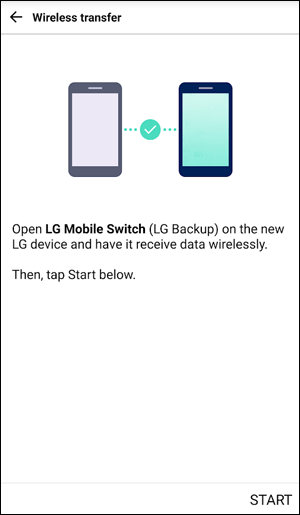 Ending Words
This article takes on 11 Android to Android data transfer apps and software in depth. While reading it, you don't need to dwell on comparing their properties, because the advantages and shortcomings of the 11 products are clear at a glance to help you easily pick out the best app to transfer data from Android to Android. Well, now as you can see that MobiKin Transfer for Mobile is the best tool to transfer data from Android to Android, and you can try with its trial version.
Of course, if you need to back up Android data to your computer, or want to transfer files through backup and restoration, the program - MobiKin Backup Manager for Android is an admirable option.
Related Articles:
Top 8 Data Transfer Apps to Sync Phone Data Seamlessly
Can't Miss: 6 High-rated Phone Cloning Apps/Software of 2020
Top 5 Powerful Android Data Recovery Apps and Software
How to Transfer Photos from Mac Computer to Samsung Device
[Solved!] How to Transfer Videos from Android to PC/Computer?
How to Permanently Delete Text Messages from My Android Phone?