Transfer Contacts/Messages from Motorola to Nexus
Some people keep a lot of data on their Motorola phones. Even when it comes to their contacts, they may never delete a contact if they think that they need it. It is also important to note that a person's collection of text messages may be invaluable too. The amount of information saved depends on a number different essential factors including how long people like to keep them, how much space is still left available to be used and each individual's personal preferences. Whatever the situation, all of the messages and contacts a person has stored will need to be transferred to another device when the occasion presents itself.
To transfer contacts and text messages from the Motorola phone to the Google Nexus phone easily and directly, you should ask help from the Motorola to Nexus Transfer, which is a tool that allows the user to transfer files like contacts, text messages, photos, videos, music, apps, etc. from one mobile phone to another. All of the files can be transferred easily with a 2 to 3 step process. Not only Motorola and Google Nexus, but also other Android, iOS and Symbian devices can be transferred via the program. It also enables you to backup your phone data on computer for further use, and restore the backup files to another mobile phone for restore with one click.
Supported Motorola devices: Moto G5, Moto G5 Plus, Moto X, MB860, MB525, MB526, XT910, DROID RAZR, DROID3, DROIDX, etc.
Supported Google devices: Google Nexus 6, Nexus 6P, Nexus 5X, Nexus 5, Nexus 4, Nexus 3. etc.
Read similar article:
How to Copy iPhone Text Messages to Sony
Copy Call Logs between Motorola and Samsung
Then, how to use the Motorola to Nexus Transfer to transfer contacts and text messages from Motorola to Google Nexus phone? The following 3-step guide will give you the answer. Just get the free trial version of the program downloaded and installed on your computer.
How to Copy Contacts/SMS from Motorola to Google Nexus?
Step 1. Open the program and connect your devices
You will need to install and launch the Motorola to Nexus transfer software and then connect your Motorola and Nexus devices to their computers via 2 different USB cables.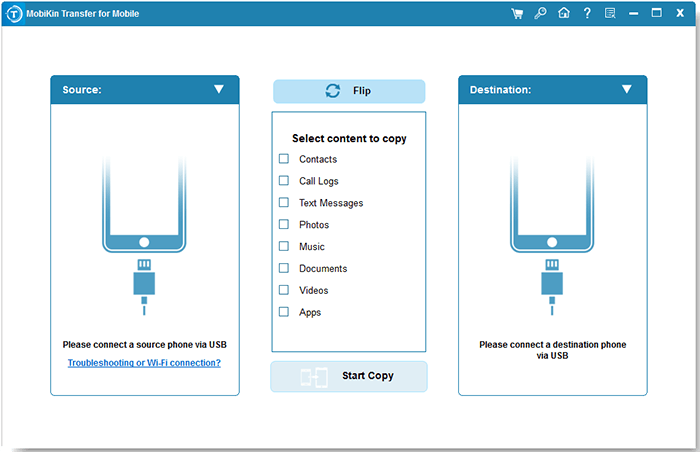 Step 2. Choose the desired files

After the two devices have been connected as instructed in step 1, the program will detect the two phones and show them side by side on the interface. Just tap on the "Contacts" and "Text Messages" folders.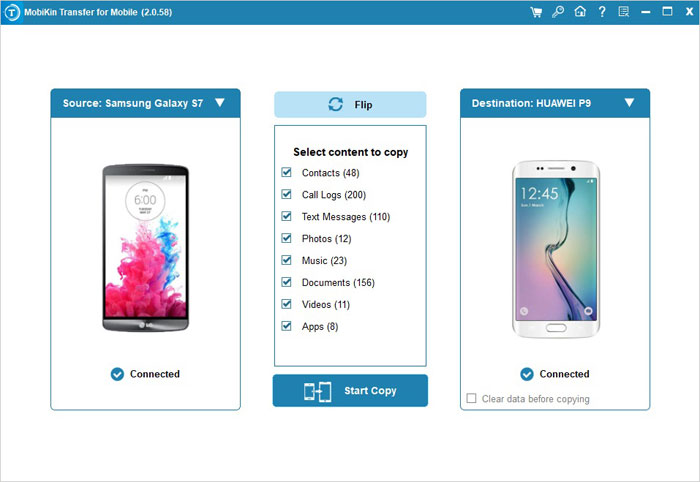 Step 3. Transfer contacts/SMS from Motorola to Nexus
At last, you should click the button of Start Copy to begin the transferring process from Motorola to Google Nexus.
Related Articles:
Transfer Call Logs from iPhone to HTC