Copy Contacts/SMS from Motorola to LG Phone
Most people would expect that the text messages and contacts should be placed in the SD memory card, but the fact is that they will be stored in the internal storage. You can easily transfer data from a cell phone SD card to another phone by inserting the SD card into the other phone, but you can not copy files in the internal memory from a mobile phone in the same way. Text messages and contacts are stored in the internal memory inside your Motorola phone's memory, which is different from the media content. And to transfer contacts and messages from your old Motorola phone to new LG phone, you need to ask help from third-party tools.
Read similar guides: Transfer Media Files from LG Phone to iPhone
Motorola to LG Transfer will eliminate the difficulty in copying contacts and SMS from Motorola to LG and help you accomplish the transfer process directly with one click. For one, this program enables you to transfer all your data from your Motorola Droid/Atrix/Moto X phone to LG G2/G3/G4/G5 easily, including contacts, SMS, photos, videos, music, apps, etc., for another, the program will preserve all the related information, such as email address, company name, job titles, fax number, send/receive time, etc. after the transfer. In a word, nothing will be lost, or no quality loss during the transferring process.
This service also guarantees 100% risk free transfers which means you don't have to worry about data or device alteration and your files will copy to their destination in the correct format. If you want to save time to download a lot of software for trial, using Motorola to LG Transfer is the easiest way for you to transfer contacts and text messages from Motorola to LG phone in record time.
Read More: Switch Videos/Music/Calendars between iPhone and Motorola
How to Transfer Contacts & Text Messages from Motorola to LG?
Step 1. Connect Motorola and LG phones to computer
Assuming that you have downloaded and installed the Motorola to LG Transfer on your computer. Choose the "Phone to Phone Transfer" mode from the interface to go to the transfer window. Then, you need to connect your Motorola and LG phones to the computer with USB cables.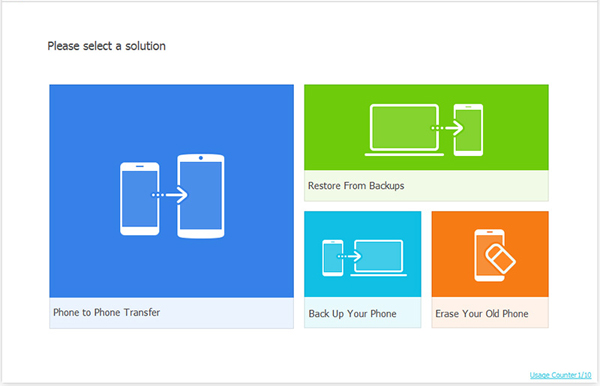 Step 2. Copy contacts/SMS from Motorola to LG
All of the data on the two phones will be listed under the phones. They include contacts, photos, messages, music and so on. Select the "Contacts" and "SMS" under Motorola phone that you want to transfer to the LG phone and then simply click on the Start Transfer button. You should see the following window.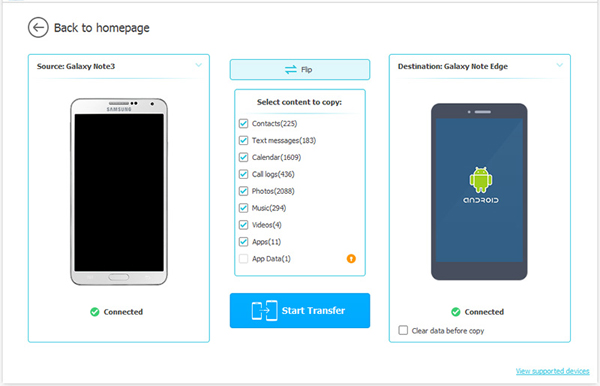 All of your selected contacts and text messages should now be copied on to your LG phone. It is that simple. No need for additional software installed on any of your phones or complicated operations. It is an easy two-step solution.
Related Articles:
How to Read HTC Calendars on iPhone