Copy Contacts/SMS from Google Nexus to Sony
Nowadays, data switching between two phones is one of the most common requirement during the phone use everyday. Maybe you need to transfer data from an old phone to a new purchased phone. Text messages and contacts are two important file types for every phone user that no one wish to switch phones but leave them behind. However, transferring contacts and text messages from a Google Nexus phone to a Sony phone is not a straight forward task because such kind of data can not be transferred directly like other media files. Therefore, it is essential for us to find an additional tool to help us to this transferring task with ease.
The best software should be used to make data transfer actions like moving contacts and text messaging files between two mobile phones. Fortunately, there is at least one valuable application available online that can move these files without problems. This is why Nexus to Sony Transfer is a coveted solution that can take care of all of these issues and more. It can transfer all your files, including contacts, text messages, photos, videos, music, apps and more between two phones, no matter they are running iOS, Android or Symbian system. The whole transfer process can be made in a simple 2 to 3 step process, along with several mouse clicks.
Supported Google Nexus devices: Google Nexus 6, Nexus 6P, Nexus 5, Nexus 5X, Nexus 4, etc.
Supported Sony devices: Sony Xperia X, Xperia E5, Xperia Z5/Z4/Z3/Z2/Z1/Z, Xperia M5/M4, Xperia E4, Xperia 10, compact, Xperia ZR, Xperia T2 Ultra Dual, Xperia SP, Xperia Ultra Dual, etc.
Read similar article:
How to Copy iPhone Text Messages to Sony
Transfer Data from Google Nexus to Android
For those users who have a need to transfer their contacts and text messages from a Google Nexus phone to a Sony phone, here are the instructions that can be used to complete this transfer by using Nexus to Sony Transfer with ease.
How to Transfer Contacts/Messages from Nexus to Sony?
Step 1. Launch transfer program and connect your devices
Download and install the Nexus to Sony Transfer on your computer. Once the installation is complete, launch it and connect the Google Nexus and Sony phones to the computer using 2 separate USB cables.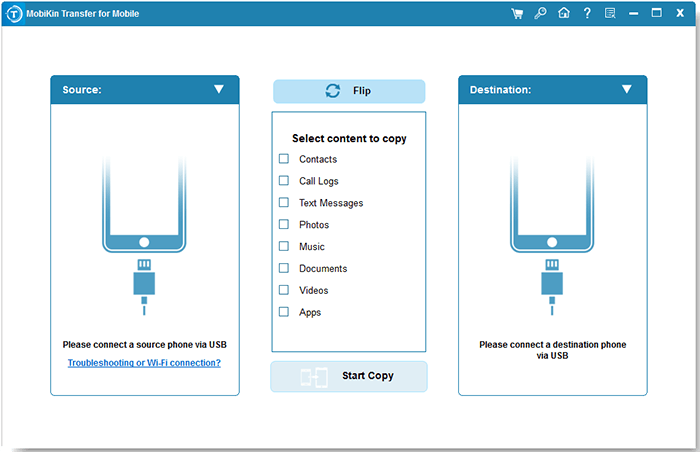 Step 2. Choose the wanted files

After the recognition, the program will show the two connected phones, as well as all file types including Contacts and SMS that will need to be transferred.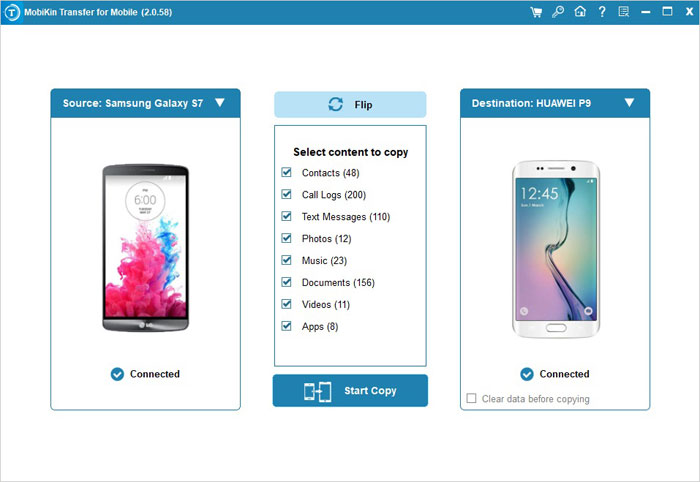 Step 3. Copy contacts/SMS from Nexus to Sony
Click to choose the "Contacts" and "Text Messages" folders uncheck other file types. After the files selection, you can click on the "Start Copy" button to begin the transferring process.
Related Articles:
Transfer Call Logs from iPhone to HTC