Copy Data between Samsung and Google Nexus
As Samsung and Nexus are the top listed and most wanted phones these days, many people switch between these two phones with newer versions. If you switch phones between Samsung Galaxy and Google Nexus then you need to transfer your files from one phone to another to keep you updated. You cannot synchronize these phones simply to transfer your data. To avoid the confusion between where the data is stored when you use two phones, you need to transfer all your data to one phone. However, you may encounter with some problems when you transfer files from one phone to another even they use the same OS. Don't panic, we focus on the topic of coping data between Samsung and Nexus here and tell you the easiest way to achieve that.
To transfer your files between Samsung and Nexus, MobiKin Transfer for Mobile (Mac version is available) is worth trying. This is an effective app which transfers all your files, including contacts, text messages, photos, videos, music, apps and more without the fear of losing data and corruption of any files between your Android, iOS and Symbian devices. It also enables you to back up your phone data on computer to avoid from any data loss and restore them with one click. This will help you to recover your lost data in case if you, unfortunately, miss or loss the data. Transfer for Mobile can help you to avoid the usage of your old phone to collect your data when you require, in case of you haven't transferred your data.

The following guide shows you how to copy data between Samsung Galaxy S7/S6/S6 Edge/S5/Note and Google Nexus 7/6P/6/5X/5/4 by using the MobiKin Transfer for Mobile. Using 3 simple steps you can transfer almost all of your data between the two phones.
Maybe you will be interested in: How to Transfer Data from iPhone to Google Nexus?
How to Transfer Data between Nexus and Samsung Galaxy?
Step 1. Open Transfer for Mobile and connect your devices
Download and install this app on your system either Mac or windows. Launch this app and using 2 different USB cables connect your both devices Samsung and Nexus to your system simultaneously. Now you can see a primary interface of the program.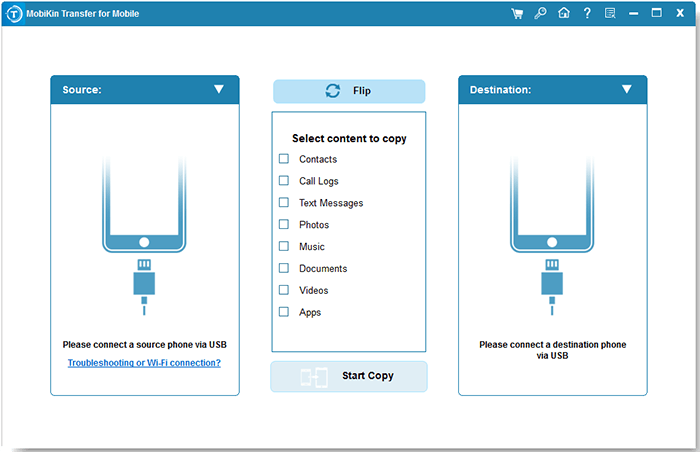 Step 2. Now click on the phone to phone transfer
Now you can see 3 different options. Choose the first phone to phone transfer. This leads you to a new window with your 2 devices and all transferable files list.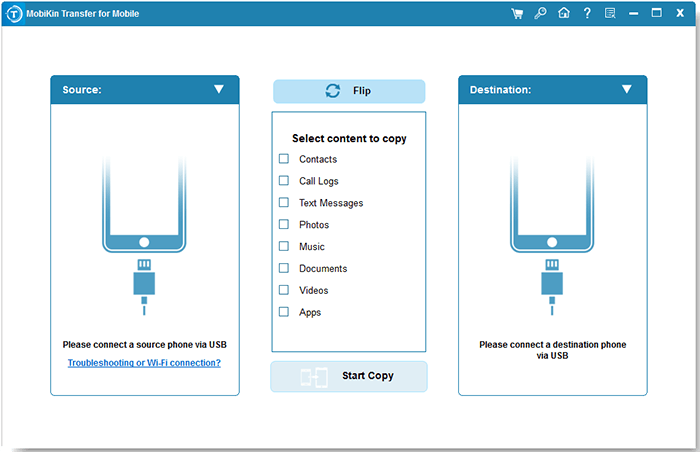 Step 3. Copy data between Samsung and Nexus
Mark the type of files you want to transfer from the top list. If you need only your contacts to be transferred, you can select which contacts to be transferred and can leave the remaining contacts. Click on the arrow keys pointing to transfer the data from two devices. Click on ok to start transferring data.