Copy Photos/Videos/Music from HTC to Android
Although files transfer between two phones has become so common, there must be a good reason behind the transfer. The reasons may vary from one user to the other but some are common. For example, when you have bought a new Android phone, you will need to transfer the music, videos, photos, and apps from the old HTC phone to the new one before you dispose of. Or, while sharing some interesting music, videos, and photos with your friends and family. However, the file transfer couldn't be smooth all the time, especially when the HTC phone and the new Android phone may not be compatible therefore some methods of transfer may not be applicable.
Don't worry. Choosing a powerful and full-featured phone to phone data transfer can help you solve all the problems above. If you have no idea about how to choose this kind of tool, just look no further than the MobiKin Transfer for Mobile (Mac version is available). It is an one stop solution to transfer your contacts, text messages, photos, videos, music, apps and etc. from HTC One M8/M9/10 to any other Android devices easily and quickly. In addition to transfer data from HTC to Android, It also allows you to back up your phone data to computer and restore them easily from the computer to your phone. Transfer for Mobile is fully compatible with overall Android devices and it also comes with both Windows and Mac versions.
The following guide will tell you how to copy photos, videos and music from HTC One M8/M9 to other Android devices, by using the MobiKin Transfer for Mobile. If you are interested in it, you can click the following button to download it and read the guide.
Maybe you will be interested in:
Transfer Photos/Videos between iPhone and Sony
Transfer Photos/Music/Videos from LG Phone to iPhone
How to Transfer Photos/Videos/Music from HTC to Android?
Step 1. Launch MobiKin Transfer for Mobile
Download and then launch Transfer for Mobile software on your computer. Once this installation of this application is complete, you should use 2 USB cables to connect your HTC phone and the other Android device to the computer.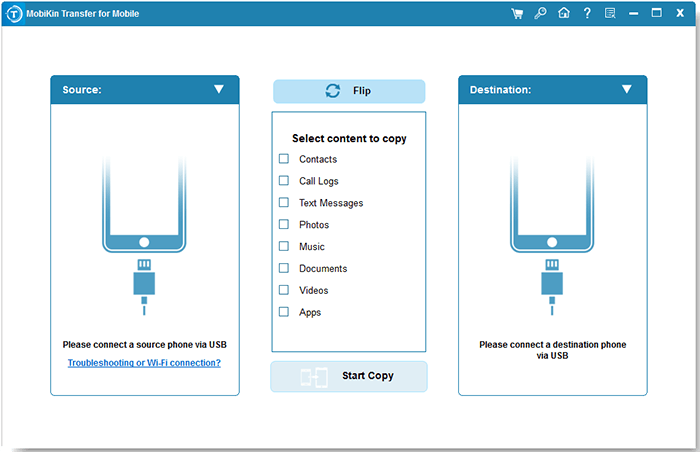 Step 2. Enter Phone to Phone Transfer mode
Once this process is complete, you will see the application's main interface, and it will give you 3 options to make their selections from. To transfer all of the data from one device to another, the user should click on "Phone to Phone Transfer".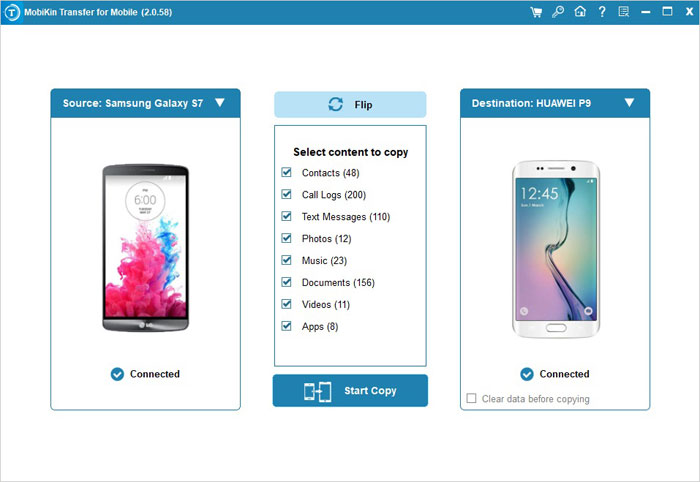 Step 3. Copy photos, videos, music from HTC to Android
To complete the transfer process, you will have an option that allows you to select specific files (i.e. photos, music, videos) or all files. Whatever the case, all you has to do is click the transferring icon to initiate and complete the transfer process.
Related Articles:
Transfer Call Logs from iPhone to HTC