Data Transfer from Motorola to Android
Mobile phones are a staple in the everyday life of the average person today. These phones will give each user the capability to communicate in a wide variety of forms as they also share information that they want to with friends, family members, co-workers and anyone who falls within the parameters of their social circles. The information shared is also collected via the use of storage on their mobile phones. So it is not uncommon for a mobile phone user to have several gigabyes of data on their phones that they use or refer to from time to time. That said, because of the popularity of mobile phones and the communication that is shared, the data that resides on a Motorola phone can be very important to that specific user. That's the reason why after a person switch from old Motorola phone to a new Android phone, transferring important data from the old phone to the new one is his greatest concern.
Read similar guides: Copy Contacts/SMS from Motorola to Android
There are various methods available on the Internet to teach people how to transfer data between two mobile phones. Saving you from endless trial and error, you can directly depend on the MobiKin Transfer for Mobile (Mac version available), which is a software application that people can use to address a wide array of common issues. With its help, you can transfer data, including contacts, text messages, photos, videos, music, apps and more from Motorola Droid/Atrix/Moto X to another Android device without any difficulty. It supports overall mobile devices, no matter they are running iOS, Android and even Symbian system. Some of the more notables involve transferring data with only a simple 1 to 3 step instruction guide. These application is also idea for a number of different situations because it has an interface that is easy to navigate through and virtually anyone can use it.
As stated above, MobiKin Transfer for Mobile is ideal for transferring the user's data from one mobile phone to another, such as from Motorola to Android. This is because the process can be completed in 3 easy steps. Let's learn more by reading on.
Read More: Copy Contacts/SMS from Motorola to LG
How to Transfer Files from Motorola to Android?
Step 1. Connect Motorola and Android phones to computer
Connect cables from the Motorola phone and the Android phone to the desktop computer, and then download and install MobiKin Transfer for Mobile software on the same computer.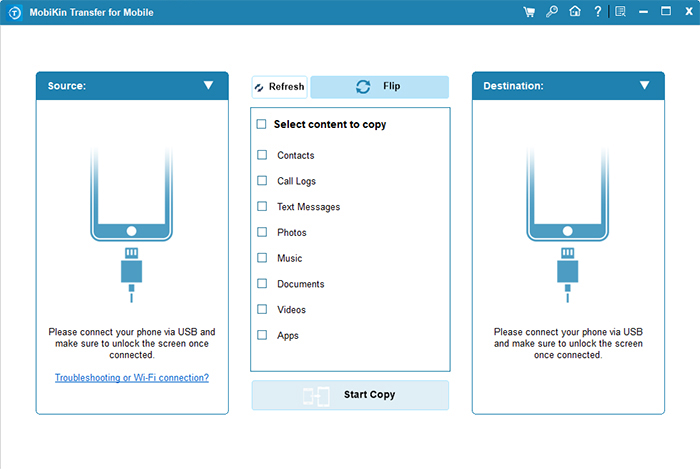 Step 2. Choose the files

Once the cables are connected to the computer, the program interface with two connected mobile phones and several transferrable file types will appear as below. Just tick off the categories that you want to transfer.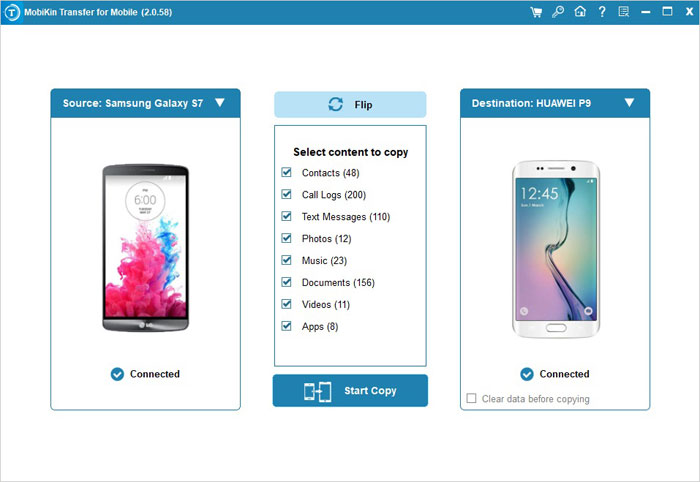 Step 3: Transfer data from Motorola to Android
At last, you just need to click on the "Start Copy" button to begin the transferring process.
Related Articles:
How to Read HTC Calendars on iPhone