How to Transfer Data from BlackBerry to BlackBerry
As a great smart phone, it can let you have no trouble making phone calls, sending text messages, listening to high-quality music, watching HD version of movies. For all features stated, BlackBerry Q10 and BlackBerry Z10 are two models that you could pay attention to.
Comparison of BlackBerry Q10 and BlackBerry Z10:
The two 10s actually share quite a bit when it comes to hardware. Both phones have a 1.5 GHz dual-core processor, 2GB of RAM, 16GB internal and 32GB external storage options, micro USB and micro HDMI ports, and an 8-megapixel rear camera with a 2-megapixel front camera. The phones are remarkably similar from an internal standpoint, and even their button positioning mirror each other. So changing from either one to another can meet your needs. After updating the smart phones, you may need to move data from the old BlackBerry to the new BlackBerry. How to transfer data from BlackBerry to BlackBerry?
Tool You'll Need:
To solve this problem, you may use this Mobile Phone Data Transfer (Windows or Mac) program right away. With the assistance of it, you can transfer data from BlackBerry to BlackBerry without hassle. The files that can be transferred will be on the interface and you can choose whatever you want to move. Aside from BlackBerry devices, this third-party tool will be compatible with other operating systems such as iOS, Android, Symbian and Windows phone. The specific smart phones include Samsung, Sony, Motorola, HTC, Motorola, Nexus, LG, iPhone and Nokia, etc.
Now let's jump to the next part to see the instructions on how to transfer data from BlackBerry to BlackBerry.
Steps on Transferring Files between BlackBerry Smart Phones
First, choose the right feature.
After you installed the software on your computer, directly launch the program. Then you'll see a main interface as follows. Enter the "Phone to Phone Transfer" mode from all the modes.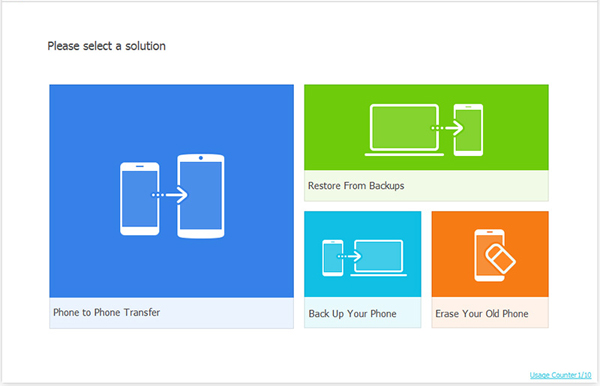 Then, connect the devices to PC.
After that, connect the BlackBerry smart phones to the computer at the same time via USB cables. Then the program will recognize your devices and display them in the "Source" and "Destination" areas randomly. Check positions whether they are in the wanted places, and if not, click the "Flip" button to change the order.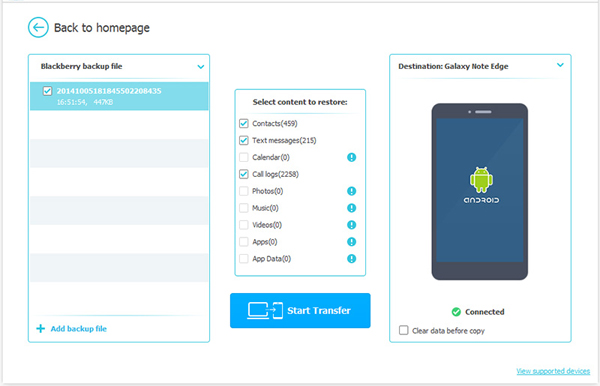 At last, tick the data and start to transfer.
From the primary window, you can see the transferable data in the middle area. Tick the "Contacts", "Videos", "Music", "Photos" and more and click Start Copy to transfer data from BlackBerry to BlackBerry smoothly.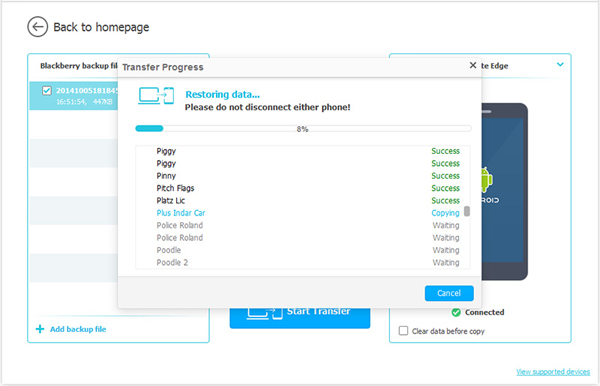 Get the data transfer program to give it a try now.
Related Articles:
How to Transfer Music between iPhone and BlackBerry