HTC One vs Galaxy S4 vs iPhone 5S
Smart phone has become the most inseparable part in people's life which has been proven by many surveys as it can make the connection of people closer and the communication easier. One cannot imagine a world without smart phone in which everything will be slowed down, right? And when we talk about smart phones, which one will be come up with at the first place? Will that be iPhone, Samsung or HTC? Well, these three smart phone brands have represented the main trend that users would pursue. But have you ever thought of the differences of them? I guess not. So in this page, we will show you the comparisons among these three smart phones whose representatives will be HTC One, Samsung Galaxy S4 and iPhone 5S. In this way, you can have a good understanding of what you really want and need. And after that, we'll kindly offer you a great phone to phone transfer program in case you want to transfer files or data from one device to another. Now let's begin.
1). HTC One vs Galaxy S4 vs iPhone 5S
2). How to Transfer Files between Smart Phones
Comparisons among HTC One, Samsung Galaxy S4 and iPhone 5S
OS: The HTC One and Samsung Galaxy S4 come with Android 4.2, though each OEM has skinned the OS with their own user interfaces. HTC Sense on the One brings BlinkFeed, a mish-mash of content from varying social feeds, whereas Samsung's TouchWiz feels a little more android-y. Both have the ability to populate home screens with widgets, have access to Jelly Bean's superb notifications bar that encompasses access to quick and full settings. The iPhone 5S runs iOS 7 which brings across a whole new unified design, albeit in the same grid pattern that we are all used to. It also packs in some really useful features, such as the Control Center for improved multi-tasking and a full screen notifications.
Processor: The HTC One is Qualcomm's quad-core 1.7GHz Snapdragon 600 chip, backed up with 2GB of RAM to help move things along. Similarly, the Galaxy S4 sits 2GB of RAM, this time with a 1.9GHz quad-core chip (although a few markets have the 1.6GHz octa-core). While the iPhone 5S processor is popping in a 64-Bit A7 chip. According to Apple, this is 40 times faster than original iPhone.
Screen & Dimensions: For the Android phones it's a Full HD experience, with 4.7 inches at 468ppi on the HTC One, 5 inches of Super AMOLED at 441ppi on the Galaxy S4, and the Retina display on the front of the iPhone 5S is testament to that - providing a 1136 x640 resolution that's 326ppi more than 4 inches.
The HTC One is the heaviest of the four, weighing in at 143g. It's also considerably larger than the iPhone, at 137.4 x 68.2 x 9.3mm. The Samsung Galaxy S4 is 13g lighter at 130g. It's also shorter and thinner, at 136.6 x 69.8 x 7.9mm. The iPhone 5S is identical to that of the iPhone 5. Measuring in at 123.8 x 58.6 x 7.6mm and at 112g.
Cameras: The HTC One comes with a diminutive sensor measured at 4MP. It also records Full 1080p HD video, and has HTC Zoe on board to bring your gallery to life. The front sensor is 2.1MP. Samsung's offering brings a 13MP sensor on the back, with a 2MP sensor on the front. Amongst the Galaxy S4's camera features are Dual Shot, Sound and Shot, Animated Photo and Drama shot. The Samsung also records Full HD video. The iPhone 5S comes with an upgraded 8MP camera, with an f/2.2 aperture, True Tone flash and a 15% larger sensor area than the iPhone 5.
Storage: HTC's One has 32GB or 64GB of internal. And the Samsung Galaxy S4 does come with micro SD support - up to 64GB - to sit alongside the 16GB, 32GB and 64GB offerings, meaning up to a potential 128GB of storage is available. And iPhone 5S has 16GB, 32GB or 64GB of storage backed up with iCloud.
How to Transfer Files among HTC, Samsung and iPhone ?
The MobiKin Transfer for Mobile software will help you transfer files between HTC and Samsung, HTC and iPhone, Samsung and iPhone in two simple steps. Now you can download the Windows version and follow the instructions below. Mac users and turn to the Mac version instead.
Step 1. Connect either two of the smart phones from HTC, Samsung and iPhone to the computer with their USB cables. Then launch the software and select the Phone to Phone Transfer feature from multiple modes. Then the program will detect and scan the smart phones and set them as the source and destination devices randomly. You can click the Flip button on the interface to adjust their positions.
Note: If you want to transfer data from Samsung or HTC to iPhone, you need to install iTunes to make sure your iPhone can be identified successfully.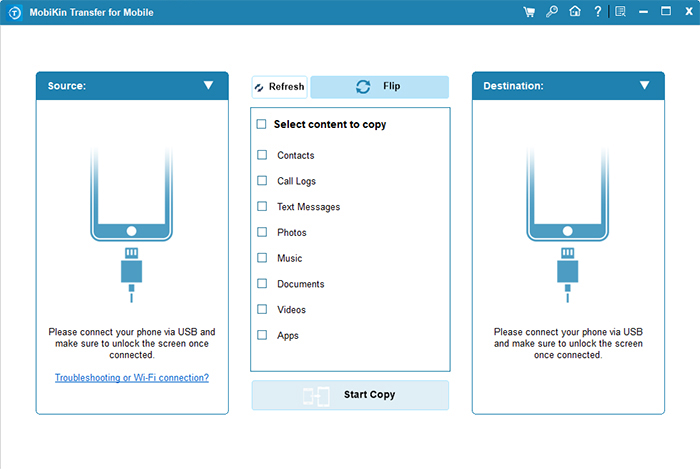 Step 2. Now you can see the contacts, text messages, apps, call logs, videos, photos and music in the middle of the interface which means these data can be transferred between smart phones. Then you can mark the data you want to sync and then hit the Start Copy button to transfer data from one to another.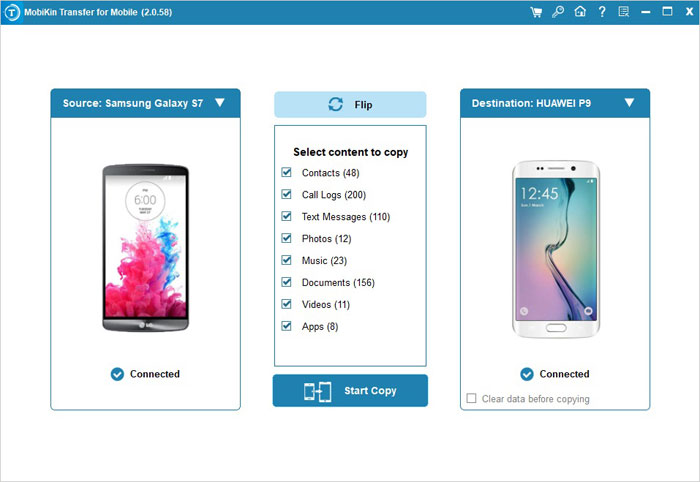 Get the phone to phone transfer software now.
By the way, you can get MobiKin Android Data Transfer if you want to transfer files from Android phone (HTC One/Galaxy S4) to computer.
Related Articles
Easy Way to Transfer Music between Android and Windows Phone
How to Transfer Contacts from HTC to iPhone Easily
How to Transfer SMS from Android to iPhone Easily