SMS Transfer between HTC and Android
Transferring text messages from one HTC phone to another Android phone can be a challenge experience if the transfer is not successful the very first time. In these situations, the user may have to troubleshoot the different issues that they encounter. For instance, when the transfer of the text messages is being made, the transfer may be deemed incomplete for several reasons. One of the most common is the USB cable has been disconnected from the computer so the transfer of the files are incomplete. Another common reason for text message transfer failing is because of corrupt files that cannot be transported from the HTC phone to another Android mobile.
Read similar guides: Transfer Text Messages from LG to HTC
Either way above, the user will need to identify the problem in order for the transfer process to be successful. Though there are many different ways available that people can use to transfer their text messages from one to another device, some are much unworthy of the name. Now, you may ease yourself to finish the SMS transfer effortlessly by using the reliable HTC to Android Transfer. It is a tool that can help you get all text messages transferred between Android, iOS and Symbian devices, including HTC, Samsung, LG, Sony, Motorola, Google Nexus, iPhone, Nokia and so forth. With it, you can save your SMS from your HTC phone to the new Android phone in one click.
Apart from text messages, the program can also copy call history, apps, photos, videos, music, contacts and many more file types between HTC One M8/M9 and other Android devices. Click to download this tool below for free and follow the plain tutorial below.
Read More: SMS Transfer from iPhone to Nexus
How to Copy Text Messages between HTC and Android Phone?
Step 1. Install the Transfer for Mobile on your computer
Install and launch the HTC to Android transfer program on your computer. Launch it and the primary interface should be lay as demonstration below. Click the "Phone to Phone Transfer" tile to continue.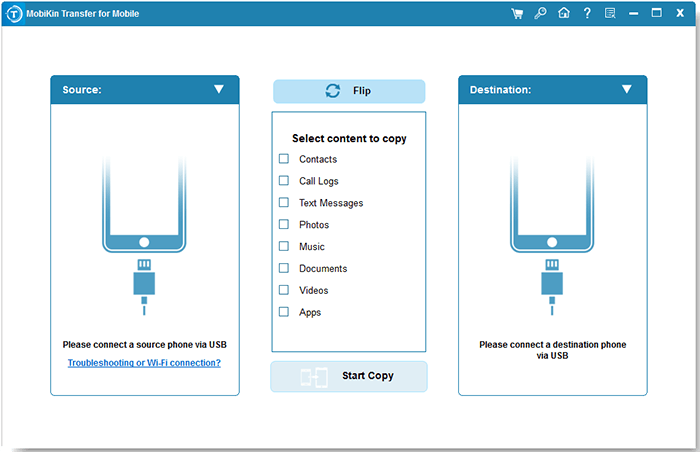 Step 2. Connect both HTC and Android phones to computer
Use two USB cables to connect the two phones to computer to make them detectable by the program. After the connection, the two phones, as well as all the transferable file types are displayed on the program interface.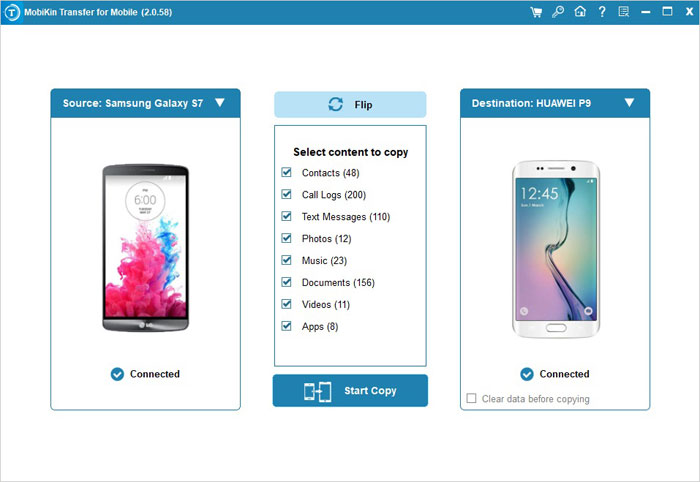 Step 3. Transfer SMS between HTC and Android
Choose "SMS" category if you just want to transfer text messages only. When everything is checked and well, you can tap the Start Transfer button to begin the SMS transfer process. You can watch the process on the pop up window.
Related Articles:
Transfer Call History from LG to Samsung