Transfer Data from Sony Xperia to Another New Android
Normally, data transfer from Sony to Android, and other similar transfers will occur for several different reasons. Some of the more notable are provided for you below:
- New Android phone user would like to make sure that they transfer all of the data, contact information as example, that they have stored so that they do not lose the information that they have been saving for years.
- If users do not use the automated transfer process, they will have to type all of them in manually again. Based on the number of files that the person has gained over the years, this automated option can save a lot of unnecessary time and effort in keeping them for personal and business purposes.
- Data transferred and deleted off the Sony phone is essential for phone transfers. This is normally the case for transfers because the new user can begin to store their own information without having to mix in the data with the previous user's information.
Read similar guides: Transfer Media Files from LG Phone to iPhone
MobiKin Transfer for Mobile (Mac version available) is a powerful phone to phone data transfer tool that enables you to transfer your phone data from one to another, such as transferring from Sony Xperia Z5/Z4/Z3 phone to a new Android phone without smartphone operating system limited. That's to say, Transfer for Mobile supports not only Sony and other Android phones like Samsung, HTC, LG, Motorola, etc. it is also compatible with Apple iPhone/iPad, and Symbian Nokia. And it is capable of transferring contacts, SMS, photos, videos, music, apps, etc. from one phone to another. Apart from the phone to phone data transfer ability, Transfer for Mobile can also back up data before a transfer process is performed, restore data that has been lost from the backup record, and erase useless data from your mobile phone in one click.
And also, the operation is very easy, you just need to do some clicks, your data will be easily transferred from Sony to new Android.
Read More: How to Transfer iPhone Data to Google Nexus?
Begin Data Switch from Sony Xperia to New Android Phones
Step 1. Launch Transfer for Mobile
After you downloaded and installed the Transfer for Mobile program on your computer, launch it and you will be asked to connect your phones to the computer.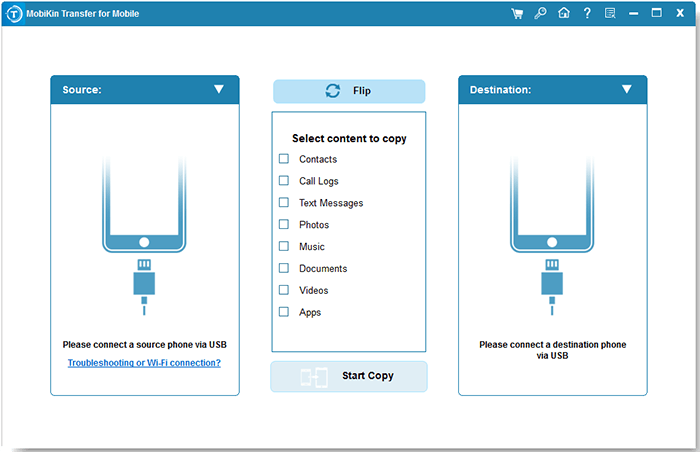 Step 2. Connect Sony and new Android phone to computer
Connect your Sony and new Android phone to the computer by using two USB cables and the Transfer for Mobile software will detect the two devices automatically. Both the phones are displayed side by side, with all transferable file types are listed.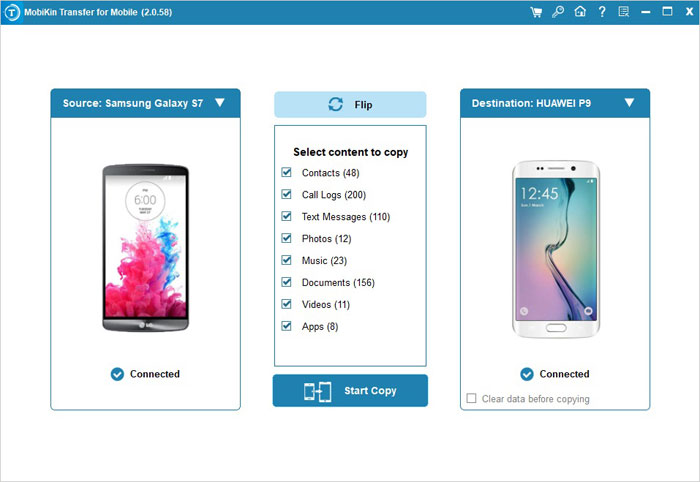 Step 3. Switch Sony Xperia to new Android
Choose the file folders you want to transfer, such as Contacts, Text Messages, Photos, Videos, Music, Apps, etc. Then, preview and tick off the detailed files you need. Finally, click the Start Copy icon to begin switching Sony Xperia data to new Android phone.
Related Articles:
How to Read HTC Calendars on iPhone