How to Transfer Call Logs from HTC to HTC?
There are many problems we may encounter when transferring call logs between two HTC devices:
- Connection issues that may hinder the transfer of data between phones.
- Although the operating systems of both HTC devices are Android, each phone has a unique way on how the call logs appear, hence causing transfer issues.
- The recipient phone may not have adequate memory to support the whole call log from the HTC device.
- The sender and recipient phone may also differ regarding configurations and transfer settings, and you may not be sure of how to reset either of the devices.
- When transferring the call history directly, you are likely to alter the data and how the call history were previously saved.
- Some of the transfer methods may be challenging due to distance and the transfer may not be complete.
Read similar guides: How to Copy iPhone Call History to HTC M8/M9?
With the troubles as mentioned above, it is time that you got data transfer software like the HTC to HTC Transfer. It is able to transfer call history from one HTC to another HTC devices without any hassle. Apart from call history, apps, photos, videos, music, text messages and many more file types can be transferred for enjoying and playing on different devices. Also, it can backup your HTC One M8/M9 phone data to the computer and restore them to your HTC or other devices later. Transfer for Mobile supports additional devices from other operating systems, such as Symbian and iOS.
It is standalone software, requires no third-party installation of additional software to run it. Then, how to use the HTC to HTC Transfer to move call history from HTC to HTC? First of all, you can download the free trial version of the software via the following buttons. Then, read the step by step guide below to learn the detailed instructions.
Read More: How to Copy iPhone Call History to Samsung?
How to Copy Call History between Two HTC Phones?
Step 1. To get started, install and launch the tool - HTC to HTC Transfer on your computer. Then, the primary window of the program is as follows. You can connect your two HTC phones to the computer via the USB cable.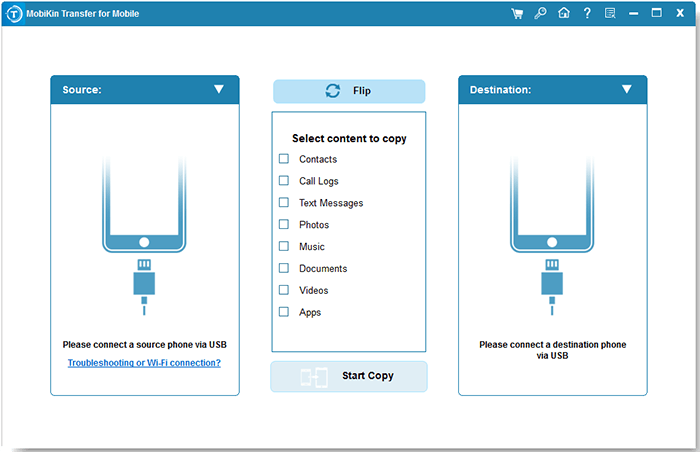 Step 2. Click "Phone to Phone Transfer" mode from the primary window of the program. Then the program will detect both phones and show them, as well as all contained file types on its interface side by side.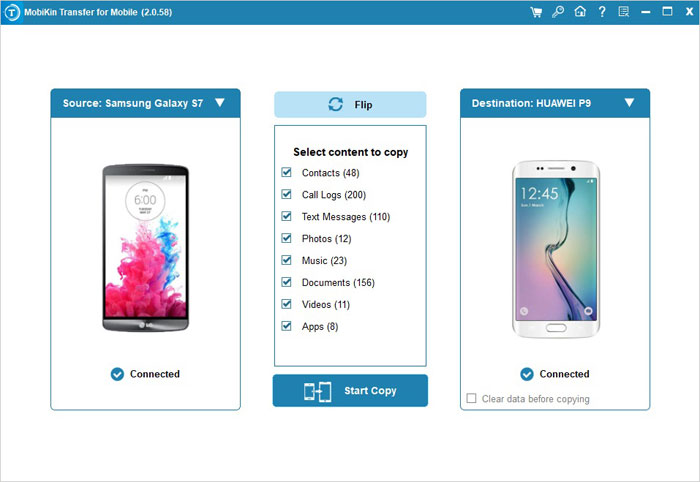 Step 3. Preview the contents and check what you want. Here, you should click "Call Logs" category, then, click the Start Transfer button to begin the call logs transfer from HTC to HTC.
Just one click, and all your selected files will be moved from HTC to HTC. It can't be easier.
Related Articles:
Transfer Call History from LG to Samsung