How to Transfer Contacts from BlackBerry to Windows Phone
Aside from iPhone and Samsung, two leading brands of smart phone at present, what brands of cell phone do you prefer to use? Some would say Nokia, because it was the most welcome and almost the first cell phone that people once owned. Others may take BlackBerry, due to its chic appearance and theme of design. It seems that either one of them would be a good choice to update your smart phone to.
Let's say you have changed your cell phone already, does it ever occur to you that you may need to move the data on the old cell phone to the new one? To be exact, files like contacts can be rather important that you'd better export them to the new phone. Here we'd like to show you how to transfer contacts from BlackBerry to Windows Phone for your reference.
Recommended Tool to Transfer Contacts between BlackBerry and Windows Phone:
To fulfill this goal, you're strongly recommended with the all-around third-party desktop application - Mobile Phone Data Transfer. With it, you will be capable of transferring contacts from BlackBerry to Windows Phone or from Windows Phone. In addition to the contacts list, other data like music, videos and photos can be copied between BlackBerry and Windows Phone freely. Apart from BlackBerry and Windows Phone, this phone transfer program can support more operating systems including iOS, Android and Symbian. Amazing, right? You are free to download the trial version on your computer to have a try on this software now.
The blue icons stand for the two version of the software, and you may click one which matches your computer or Mac. Here, we're going to introduce the Windows version, so Mac users can turn to the Mac version instead and follow the same instructions in the next section.
Tips to Export Contacts List between BlackBerry and Windows Phone
Let's preview the main interface of the phone to phone program first. Then you can follow the steps to transfer contacts from BlackBerry to Windows Phone or from Windows Phone freely.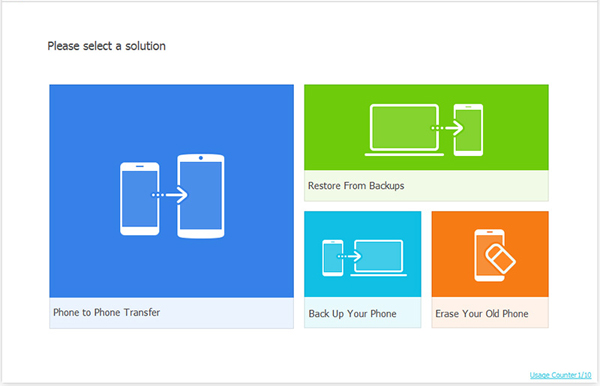 Step 1. Link your Windows Phone to your PC via USB cables. Then launch the phone transfer program on the computer. Four modes are here on the main interface, from which you can select the option of "Restore from Backups" feature directly.
Step 2. Login to your OneDrive that you have used to backup the contacts on your BlackBerry. Then the connected device and OneDrive will be in the source and destination positions at random. Make sure the OneDrive is the source device, or you have to click the "Flip" icon to exchange their places.
Step 3. Tick "Contacts" and hit the "Start Transfer" button to begin the whole process to transfer contacts from OneDrive to Windows Phone. Here if you want to sync the music, photos or videos from your BlackBerry to Windows phone, you select "Phone to Phone Transfer" mode at step 1 and move them more quickly.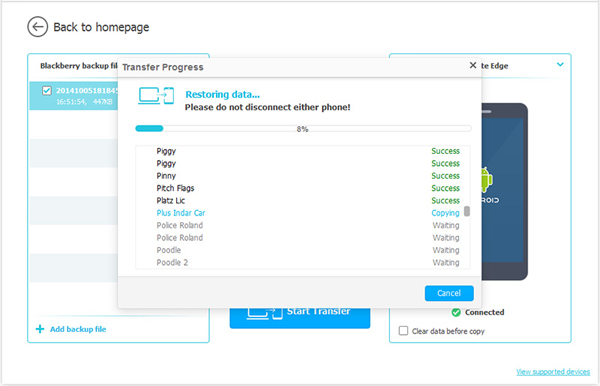 Now you can have a try on this powerful phone transfer program to move data between smart phones at will.
Related Articles:
Tips to Transfer Data between Android and iPhone 6/5S/5/4S
An Easy Way to Copy SMS from Android to iPhone