Transfer Contacts/SMS from Motorola to HTC
Because the carriers of HTC and Motorola are always making new phones with all kinds of different exciting and special features, people are switching all of their time from one manufacturer to another. Even though these switches are quite common today, there are some essential things that will need to be done. One of the most notable is transferring contacts and SMS from Motorola to HTC phone, in order to make sure the new device has all of the most crucial things that the old device contained. Transferring the data from one phone to another is not always as simple as some users may think so it is essential that the process used is done selectively.
Read similar guides: Transfer Media Files from LG Phone to iPhone
When problems are encountered, the user will need to know how to troubleshoot the problems so that they can be fixed. If not the data will need to be completely restored again. MobiKin Transfer for Mobile (Mac version available) is an application that simplifies the process of transferring data from one mobile phone to another. So, it can be used to transfer contacts and SMS from a Motorola Droid/Atrix/Moto X phone to an HTC One M8/M9/Desire/Wildfire. With this application, the user can transfer data from Motorola to HTC directly, or if you want to keep a record of the data on computer, you can start this process by backing up the data from their Motorola phone via placing the data on their desktop computer. Once this process is complete, the user will have the capability to transfer all of their data including contacts and SMS to the new HTC phone.
These steps can be taken with the use of a USB connection to both devices (HTC and Motorola connecting to a desktop computer). Download the MobiKin Transfer for Mobile for free from the download buttons below:
Read More: How to Transfer iPhone Data to Google Nexus?
How to Copy Contacts & Text Messages from Motorola to HTC?
Step 1. Install the downloaded Mobile Transfer on your computer. Launch it and then, you will see the following interface as below. Just choose "Phone to Phone Transfer" mode from the interface to go to the next step.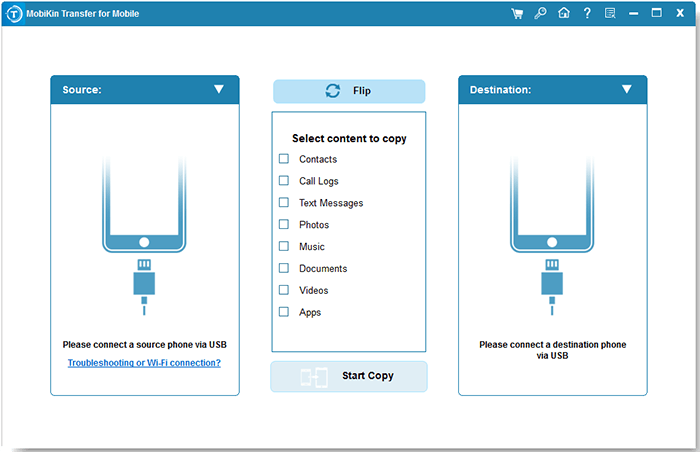 Step 2. You will be asked to connect your Motorola and HTC devices to the same computer using USB cables in order to enter the main interface of Phone Transfer. And the software should detect and recognize the two devices automatically as shown below.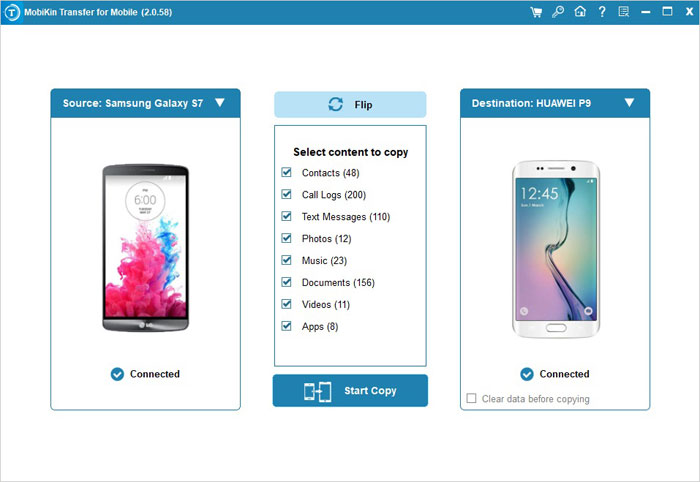 Step 3. Remove the boxes in front of other files and only tick off the "Contacts" and "SMS" you want to transfer. After that, you can click the transfer icon to begin transferring. Of course, if you want to transfer other data as well, you can neglect this.
Related Articles:
How to Read HTC Calendars on iPhone