How to Copy Data from Motorola to Sony?
You have purchased a new Sony Xperia Z5 and you want to get rid of your old Motorola phone. Therefore, before the changes have been made, all the data that is currently stored on the old Motorola phone will need to be transferred first to the new Sony Xperia Z5. All of the data will consists of text messages, contacts, photos, videos, audio files and the like. However, even though Motorola and Sony phones are running the same Android OS, time consuming process that can be very frustrating and difficult to complete without some kind of 3rd party software application to initiate and complete the process successfully. Therefore, a quicker and easier transferring method is required by more and more people.
A better and reliable solution to the data transfer problem is provided by MobiKin Transfer for Mobile (Mac version is available). It offers to do all the transfer work between two mobile devices without any hassle. In simple words, it is an one-click solution to all your data transferring problem. It allows you to transfer everything, including contacts, text messages, photos, videos, music, apps and more from one device to another in a simple 2 to 3 step process. Transfer for Mobile can be downloaded from the following download buttons for both Windows and Mac users. It ensures safe and secure data transfer from Motorola to Sony without the intervention of any third party app messing with your private data.
Supported Motorola devices: Moto G5, Moto G5 Plus, Moto X, MB860, MB525, MB526, XT910, DROID RAZR, DROID3, DROIDX, etc.
Supported Sony devices: Sony Xperia X, Xperia E5, Xperia Z5/Z4/Z3/Z2/Z1/Z, Xperia M5/M4, Xperia E4, Xperia 10, compact, Xperia ZR, Xperia T2 Ultra Dual, Xperia SP, Xperia Ultra Dual, etc.
Read similar article:
How to Copy iPhone Text Messages to Sony
Copy Call Logs between Motorola and Samsung
Therefore, instead of experiencing and encountering long processes that's difficult to do within a certain amount of time, the user can make the transfer without a lot of unnecessary hassles. In fact, these kinds of transfers can be done with several mouse clicks.
How to Transfer Files from Motorola to Sony Xperia?
Step 1. Launch Transfer for Mobile
Run MobiKin Transfer for Mobile on your laptop or computer after you have downloaded and installed it. You will see the primary interface of the program, just like the following picture.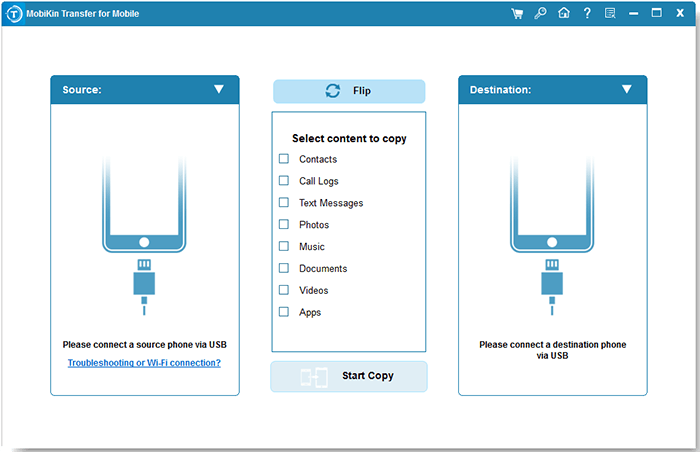 Step 2. Connect Motorola and Sony phones to computer
Use 2 USB cables to connect your old Motorola phone and new Sony phone to the computer, Transfer for Mobile will detect them and show them at the program window side by side, with all file types transferable listed in the middle column.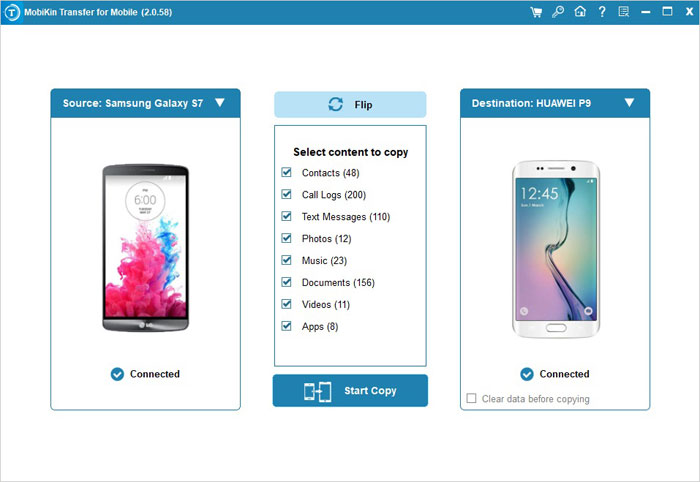 Step 3. Transfer files from Motorola to Sony
Check all the data types if you wish to transfer all data from the Motorola to Sony. You can also uncheck some, however, as per your requirement. Finally, click Start Copy icon pointing to Sony phone to start the data transferring process.
A menu will appear, indicating the progress of data transfer.
Related Articles:
Transfer Call Logs from iPhone to HTC