Transfer Data from Sony to Sony Xperia Z6/Z5/Z4/Z3
When it comes to transferring data from one phone to another, people can encounter various situations to make the transfer process break off. Have you ever encountered with the following cases when you try to transfer files from a Sony to another Sony? That's why it is important to find a transfer tool which is great for making sure the following cases do not occur:
- Transfer process is incomplete so all of the information on the Lenovo does not appear on the new Sony phone;
- Data is out of sync because the programs and instructions used is given in a format that is all messed up. For instance, text message dates and time are not the appropriate order nor the information that is connected to it.
- Transfer process stops because of problems encountered so it needs to be started all over again.
Read similar guides: Transfer Data from Sony Xperia to HTC One
The tool you can fully depend on is the MobiKin Transfer for Mobile (Mac version available). It is a powerful phone to phone data transfer tool that enables you to transfer almost all types of phone data, such as contacts, SMS, photos, videos, music, apps, etc. from one phone to another. The transferring ability from Transfer for Mobile is not just working for Sony to Sony Xperia Z6/Z5/Z4/Z3, but also other Android, iOS and Symbian devices. Apart from the capability of phone to phone data transfer, Transfer for Mobile can also back up data from phone to computer, and restore data from computer to your mobile phone in one click.
Anyone who has a mobile phone can follow these easy steps in the below and they can complete the data transfer from Sony to Sony without any unnecessary hassles. In fact, this tool is so easy that it highly recommended for fixing problems that other software application leave back.
Read More: Switch Sony Xperia to New Android Phone
Sony to Sony Transfer - Switch Files from One Sony to Another
Step 1. Launch Transfer for Mobile
After you downloaded and installed the Transfer for Mobile program on your computer, launch it and connect your phones to the computer.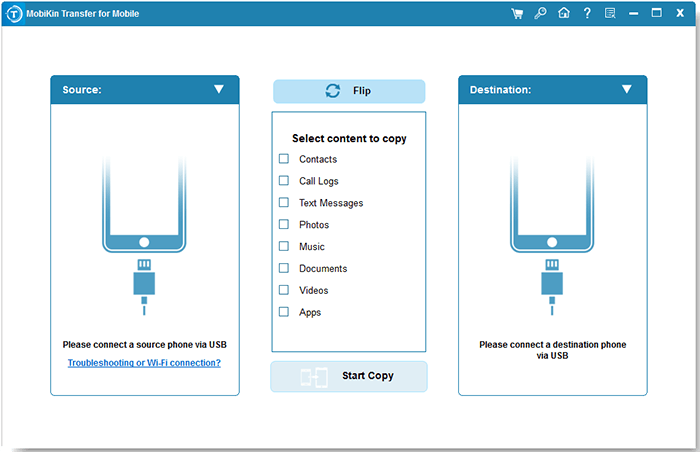 Step 2. Tick off the wanted files

After the coneection, the Transfer for Mobile software will detect the two devices automatically. Both the phones are displayed side by side, with all transferable file types are listed. Here, you can simply tick off the categories that you want to transfer, such as "Contacts".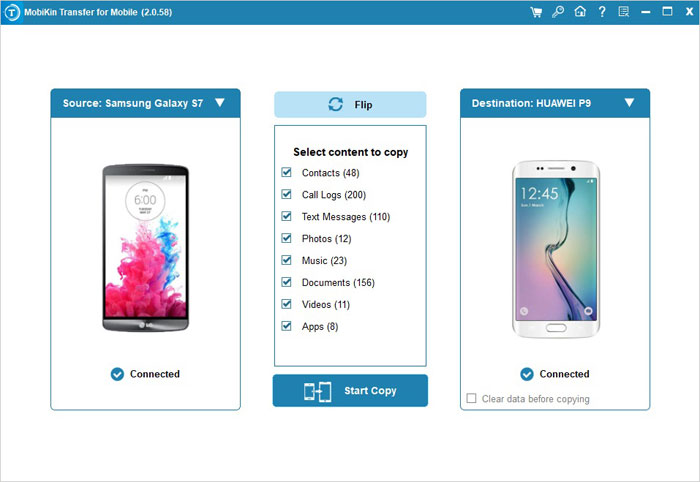 Step 3. Transfer files from Sony to Sony
Finally, click the Start Copy icon in the middle column to to copy the selected files from Sony to another Sony device.
Related Articles:
How to Read HTC Calendars on iPhone