Transfer Photos/Music/Videos from Android to Android
Some of the most special features of a smart phone that many users are taking full advantage of normally include those that will allow them to take selfies of themselves, snapshots of others and videos of events and special moments. Meaning people can use their cameras and videos on their mobile phones to record things that they want to keep as fond memories. In some cases, people like to make sure that they can keep their videos and snapshots, even when they purchase a new mobile phone. In order to keep the pictures, music, audio files and videos that they have already taken with them, it is important for them to transfer this data to their new device. This is definitely the case when an Android user is changing from one Android device to another new Android device frequently. Then, is there any way effortlessly to transfer photos, videos and music files from Android to Android?
Read similar guides: How to Copy Calendar from iPhone to LG?
Today's software developers are creating a wide array of software solutions to solve many different kinds of problems. Some of the software applications that developers design are much more effective than others, specifically in doing a good job in making a process simpler to do. For instance, MobiKin Transfer for Mobile (Mac version available) is a 1-Click phone to phone data transferring program to get all your phone data, such as photos, videos, music, contacts, text messages, apps and more from Android to Android, or from Android to iOS, Android to Symbian. It also enables you to backup these files from your phone to computer and restore them easily. For this topic of media transfer between two Android devices, we should tell you that Transfer for Mobile works on overall Android phones and tablets, including Samsung, HTC, Huawei, Xiaomi, Google Nexus, LG, Motorola, Sony and so forth.
To transfer media files using MobiKin Transfer for Mobile, proceed as follows:
Read More: How to Copy Call Logs from iPhone to LG?
How to Copy Media Files between two Android Phones/Tablets?
Step 1. Install and run this Transfer for Mobile
Start with downloading the trial version of the Transfer for Mobile software by clicking the download icon above. Install and launch it and then connect the two Android devices to the computer via a USB cable for each device.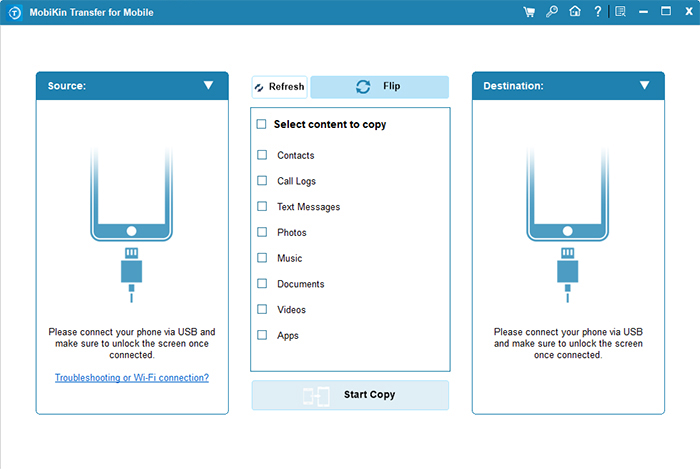 Step 2. Enter Phone to Phone Transfer option
From the main interface screen of the program, there are 3 different options for you to make the selections from. The user should click on Phone to Phone Transfer option to enter the phone transferring window.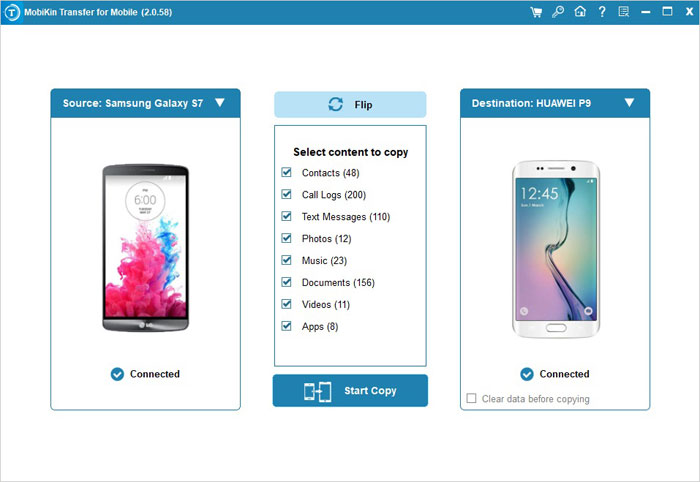 Step 3. Transfer photos, videos, music from Android to Android
Select the files that you want to transfer from one Android device to the other one by marking each file. Here you should open Photos, Videos and Music folder and make sure all the media files for the transfer has been selected, finally, click on the transfer icon to begin the transfer process.
Related Articles:
How to Copy iPhone Call Logs to Google Nexus