How to Transfer Samsung SMS to Google Nexus?
Some people buy new mobile phones all of the time. In fact, every time a new mobile phone is released with new innovative technology, it is not uncommon for people to buy a new device since they want to stay on the cutting edge with the best. Based on the type of phone that they own, they may even change from one mobile phone carrier to another. Either way, when the change in phones is made, there are some specific things that will need to be done once the new mobile phone is in their hands. For instance, if a Samsung phone user changes to purchase a Nexus phone, they may need to transfer all of the SMS from the Samsung phone to the Google Nexus phone.
Read similar guides: Transfer Text Messages from LG to HTC
Well, it is possible to transfer SMS between two phones, but how to achieve that easily and quickly? I think you will like the Samsung to Nexus Transfer. It is an ideal solution for these kinds of transfer processes.
In fact, the process that is used takes all of the trial and error and guesswork out and then makes it simple to follow without unnecessary delays and hassles. This program provides the user with the information that is needed to complete the process in a few basic steps so virtually anyone can make the updates without assistance from others. With the help of the Transfer for Mobile, you can transfer not only text messages, but also call history, apps, photos, videos, music, contacts and many more file types from Samsung Galaxy S7/S6/Edge/S5/S4 to Google Nexus 7/6/6P/5/5X/4, and vice versa.
Samsung to Nexus Transfer also supports additional devices from other operating systems, such as Symbian and iOS. Below is the guide on how to use the program to transfer text messages from Samsung to Nexus.
Read More: SMS Transfer from iPhone to Nexus
Tutorial on Copying Text Messages from Samsung to Nexus
Step 1. Install and launch the Samsung to Nexus program on your computer and then connect the both phones via USB cables to the computer (both Samsung phone and Nexus Phone).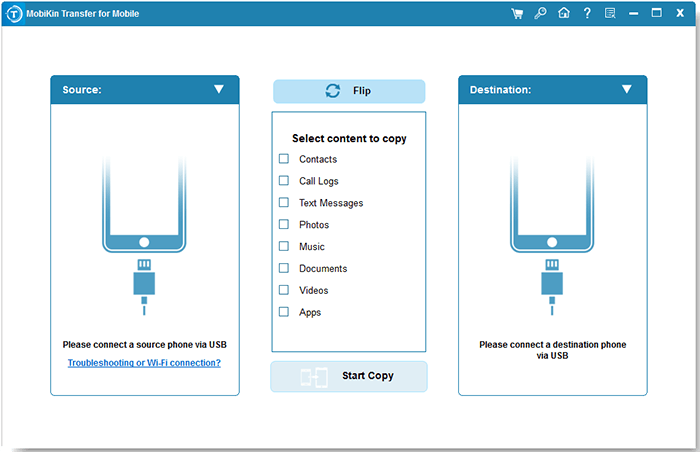 Step 2. Once the cables are connected, the user will have the capability to view the interface that displays the different options for the user. The option that should be chosen is the "phone to phone transfer" option.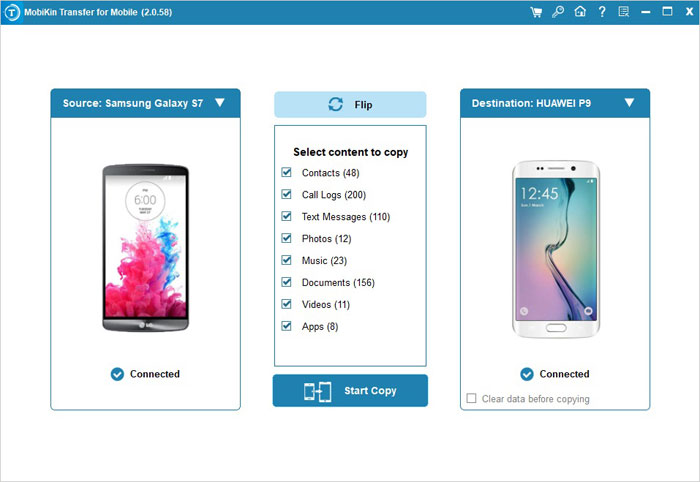 Step 3. To initiate the SMS transfer process from the Samsung phone to the Nexus Phone, all the user has to do is select the "SMS" category and begin the transfer by clicking on the Start Transfer button.
Related Articles:
Transfer Call History from LG to Samsung