Switch Music/Songs between Nokia and LG Smart Phones
"My brother is very fond of music but he doesn't feel like spending time downloading the songs from the Internet. So he asked me to drag some songs from my LG phone to his Nokia. It got me because I have no idea where to start. I've been told that I couldn't make it unless I have certain software. Then, how can I get the software and how to perform it once I have it in my hand? Thanks a lot if you can give me some advice."
Nokia, one of the former leaders in the mobile phone industry, still has great effects on people's choice of smart phones. Meanwhile, well known for its quality display screen, LG gains considerable numbers of users as well. Either one of them could offer you a great experience on your mobile life, doubtlessly.
However, sometimes you may come across several problems as stated in the first paragraph. As Nokia and LG run completely different systems which are Symbian and Android OS, it doesn't allow you to transfer music between these two devices only with the MobiKin Assistant for Android software. In this case, you should turn to a program that can support both Symbian and Android operating systems cell phones.
Tool to Transfer Music between Nokia and LG Devices:
The Mobile Phone Transfer program, tested and recommended by many Android and Symbian users, is here to be your helpful assistant. Being a standalone third party program, MobiKin Phone Transfer enables users to switch music and songs from Nokia to LG or from LG to Nokia. Just with two USB cables, you can transfer or share songs you loved between the two cell phones in one simple click.
Furthermore, it empowers you to copy or move more than music data, say, videos, photos, contacts and text messages between Nokia and LG. Surprisingly, it almost can support all devices running on iOS, Android, Symbian, Windows, Blackberry OS including Nokia, LG, HTC, Samsung, Sony, Motorola, Nexus, iPhone and Blackberry, etc. Now it's time for you to have an overall knowledge of this all-around software to switch music between Nokia and LG smart phones.
Click the icons below to get the free trial version and then follow the guide we're about to show you.
Full Guide to Transfer Songs from Nokia to LG or from LG to Nokia
This software provides you with the ability to switch music or songs from Nokia to LG or from LG to Nokia at will. Check out the introduction as follows after you installed it on your personal computer.
First, run the program on your desktop computer and select the mode "Phone to Phone Transfer".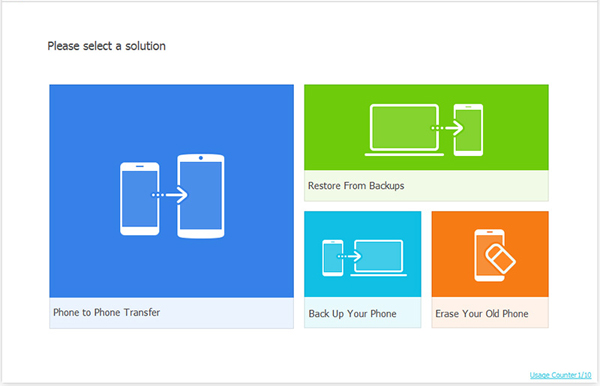 Second, connect Nokia and LG to the computer with USB cables at the same time, then the program will detect your devices and show them in the program's left and right panel as the "Source" and "Destination" devices respectively. Confirm it and continue. If you want to switch their positions, click the "Flip" button to change the order.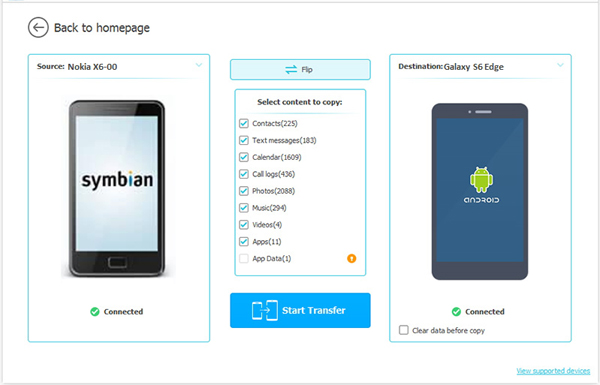 Third, view the data in the middle of the interface and tick the "Music" option, and then click "Start Copy" button to start to switch music between Nokia and LG devices.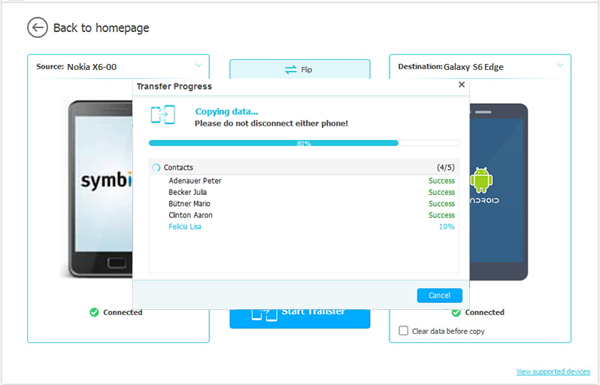 Related Articles:
Easy Way to Transfer Contacts between iPhone and Android
Tips to Transfer Contacts from HTC to iPhone Easily