Videos Transfer between HTC and Samsung
In some cases, a carrier switch may entail changing from an older Samsung mobile phone to newly released LG Phone. Before you make the switch, you should realize the necessary matter you should do, especially as you transfer your important data from the old phones and devices to the new ones. If you are familiar with the different types of transferring processes can be used to complete it. If not, they may find that they can lose data that they need later, while they also discover that they will not recover it as quickly without the assistance of someone else. The same or similar problems can occur with each video transfer that the owner of the new phone considers. It is difficult to solve those problems unless you have a smart tool to help you.
As stated previously, it is important that the new Samsung phone owner uses the right kind of applications to start and complete their video transfer process from their old HTC phones. If you have no idea about how to choose this kind of tool, just look no further than the MobiKin Transfer for Mobile (Mac version is available). It is professionally designed for Android, iOS and Symbian users to transfer everything from one phone to another. Overall file types can be supported by the program, including contacts, text messages, photos, videos, music, call logs, notes, apps and etc. Namely everything on your mobile phone. It also allows you to back up your phone data to computer and restore these files back to your phone freely.
The following guide will tell you how to transfer videos between Samsung Galaxy S7/S6/S5/Note and HTC One M8/M9, by using the MobiKin Transfer for Mobile. If you are interested in it, you can click the following button to download it and read the guide.
Maybe you will be interested in:
Transfer Media Files from LG Phone to iPhone
How Can I Transfer SMS from iPhone to Android
How to Transfer Videos between HTC and Samsung Galaxy?
Step 1. Launch MobiKin Transfer for Mobile
Use two USB cables to connect the HTC and Samsung phones to the same computer where you have installed the MobiKin Transfer for Mobile. This gives an initial interface from which you are able to choose from.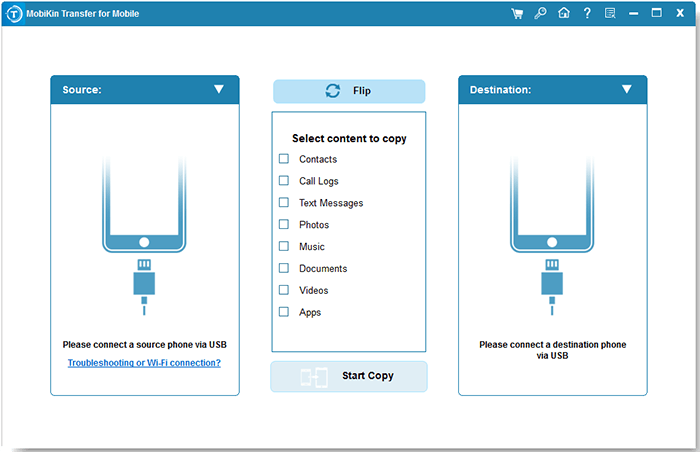 Step 2. Enter Phone to Phone Transfer mode
You can see there are three different options displayed on the interface. For this type of transfer you need to click on "phone to phone transfer" option. This takes you to a new window with the Samsung and HTC phone and all the transferable files displayed.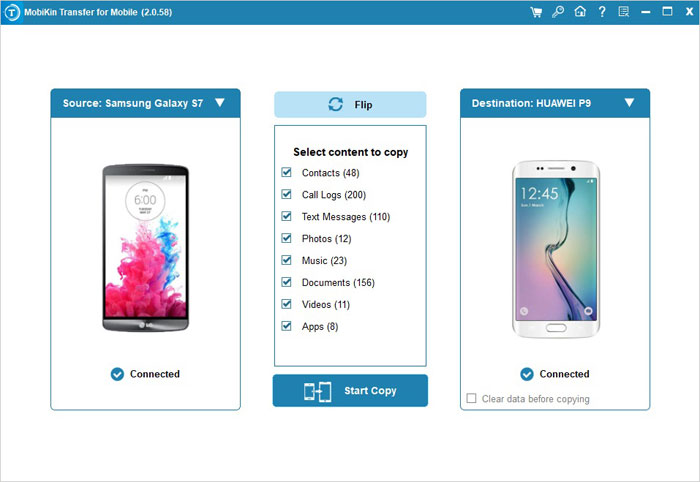 Step 3. Copy videos between HTC and Samsung
If you only need to transfer videos, just neglect other file type, only check on the "Videos" and select the specific video files from the list. After that, you can click on the left or right arrow depending on the respective phones to begin the transfer,
Related Articles:
Transfer Call Logs from iPhone to HTC