Videos Transfer between Samsung and LG
When Samsung phone users buy a new mobile phone, such as LG G3 or G4, they normally have the option of selecting a newly upgraded version or different carrier altogether if they choose to do so. Though this type of change can be quite common today, it is important that people make their purchases with a certain amount of forethought in mind. Meaning people should make sure that they are doing their research well in advance so that they can make the best decision possible when they change out devices. It is also important for these buyers to make sure that they are familiar with what kind of procedures and process that they will need to us, specifically, when the person is transferring their videos from their Samsung Phones to the LG Phones.
Transferring videos from one phone to another does not have to be difficult if the person have a right-hand phone transfer tool to help him. So, for those who are interested in software that has a number of effective and efficient transfer features, you may want to look closely at MobiKin Transfer for Mobile with its Mac version, which is provided by coolmuster.com. Some of the more notable include the following:
* Transfer content between two phones in one-click!
* Be able to transfer contacts, SMS, photos, videos, music, apps, etc..
* Backup contents to computer & restore to any phone at anytime.
* Erase your old phone data permanently.
* Support 2,000+ Devices from Apple, Android, Symbian, BlackBerry etc.
How easy it is to use the MobiKin Transfer for Mobile to transfer videos between Samsung Galaxy S7/S6/S6 Edge/S5/S4/Note 7/Note 6/Note 5/Note 4 and LG G2/G3/G4/Optimus? Read the following tutorial and you will learn that clearly.
The following Guides & Tips for each of the transfers are also provided on this site.
Copy Call Logs from iPhone to LG Optimus/G3/G4
How to Transfer Videos between Samsung Galaxy and LG G3/G4?
Step 1. Launch phone to phone transfer tool
User will open up the Transfer for Mobile program and then connect the two devices (i.e. Samsung phone and the LG phone) via USB cables. This step is completed after the application has been downloaded and installed.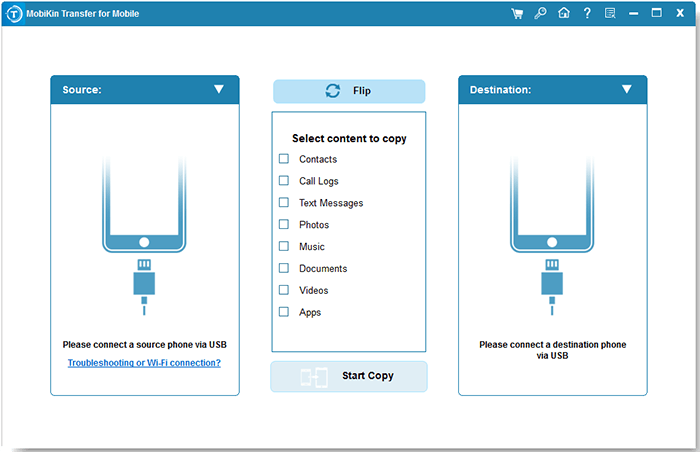 Step 2. Connect your LG and Samsung phones to computer
Just choose the first "Phone to Phone Transfer" mode from the primary interface. Then, the Transfer for Mobile program will detect the two phones as soon as possible and you can see the two phones, with all transferable files are displayed on the interface.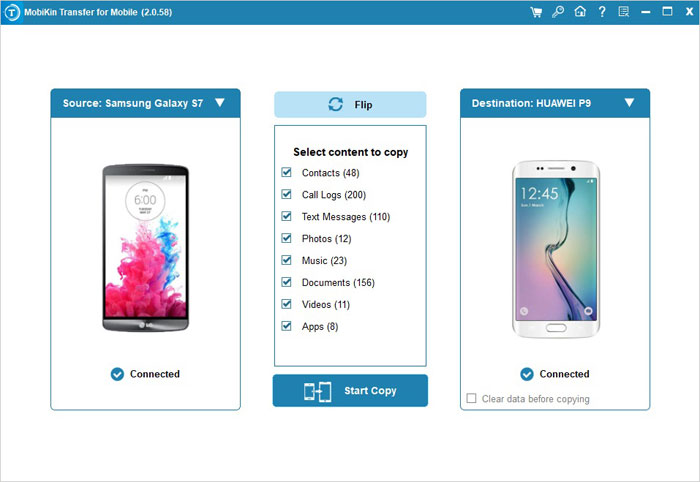 Step 3. Move Samsung apps to LG phone
Mark the folder of Videos, preview and tick the video files you want to transfer. After that, you can click the transfer icon to begin the task. These files can be transferred all at one time or the user can select each video file one by one.
Related Articles:
How to Transfer iPhone Call History to LG