Top 6 Things You Should Know about Apple Watch [Significant]
Sep 9th, 2014, Apple have officially confirmed the news of Apple Watch which will come in the early 2015. In the Apple official site, they describe the Apple Watch is the most personal product we've made, because it's the first one designed to be worn, so we can know Apple has attached great importance to this product. And it might really have the ability to open a new chapter in the relationship people have with technology. But this is not the focus in this page.
After the WWDC in 2014, we have known Apple Watch is a smart watch with inductive charging, a square face, sapphire glass, swappable bands, a heartbeat sensor and a rotating digital crown. And it will come in two different sizes and three different collections: Watch, Watch Sport and Watch Edition. Determined to become the best smart watches, Apple Watch not only uses multiple technologies in conjunction with your iPhone to keep time within 50 milliseconds of the definitive global time standard, and auto-adjust the time to local time when you travel, but also provide users with lots of interactive features. For example, you can use Apple Watch to control the music on your iPhone without taking it out of pocket, or you can enjoy music through Apple Watch while you're go out for a jog, or you can freely control iTunes library on your Mac or PC through Apple Watch and select movies, listen to radio, etc., or you can send messages, make a quick-chat, read emails, etc. on the device without any limitation. All in all, Apple Watch has so many features to attract people to buy, but before you decide to spend $349 to buy the Apple Watch, there are some issues that you may need to figure out.
Top 6 FAQs about the Apple Watch
1. How long the battery can exist?
It is no doubt that battery life will be crucial for Apple Watch, but the early signs have informed that Apple Watch may need to be recharged every night just like other smart phones do. In this case, Apple Watch battery life will have the similar performance as other smart watches on the market like Android Wear or more. What's more, if the problem of battery life can't be solved when it is finally released, that means it will not meet the examples that shows in the WWDC - a subtle vibration alarm.
In the coming years, wearable devices will become common, and people need to wear it every day. But if you Apple Watch is power off, you'll have to put it at home.
2. What is the price of the other two types (Watch Sport, Watch Edition)?
Because the Watch is personalized, so Apple offers a variety of Apple Watch customization options, which is much larger than the iPhone or iPad. When Apple Watch is finally sold on the market, there will be a variety of styles for your choice. First of all, you have to choose a size from its two different sizes, then you have to choose one of the three kinds of style: Watch, Watch Sport and Watch Edition. Finally, you just have to choose a strap among 6 different options. Since to so many options for your reference, the price of Apple Watch obviously could not be at the same level, but Apple has only released the price of the mainstream version: $349. So, what is the price of the Watch Sport and Watch Edition?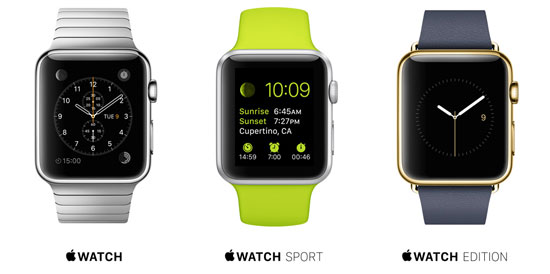 3. Monitor your health and fitness
As Apple Watch sits on your wrist, it is able to monitor pulses and even send heartbeat signals to other users. You can use the built-in Workout app to show real-time stats such as time, distance, calories, and pace. And you can track your progress overtime on iPhone as you like. From that, Apple Watch can suggest personalizing daily fitness goals and encourage you to achieve them. So you can live a better day and a healthier life.
4. Is it 100% safe the data on Apple Watch?
Just like other digital products, the more you using it, the high risk you'll face of losing. Hence, no one can guarantee that the data on your Apple Watch will be 100% safe. So if you don't want to lose data due to any reasons, you'd better to backup Apple Watch contents to other security places like Mac or PC regularly through a third-party program like Apple Watch Backup software or more.
By the way, for other iDevices, we'd like to suggest you backup data as well as Apple Watch, here you can turn to MobiKin Assistant for iOS (Windows/Mac).
5. If something important on Apple Watch is lot, is it possible to get them back?
Even though you have backed up Apple Watch before, but you may still lose something important without backup. So in order to reduce the loss, you are required to find a data recovery program for Apple Watch to works as your daily assistant. With it, you can never worry about the data losing on your Apple Watch. Here is also a powerful Doctor for iOS (Win/Mac) for iPhone users' reference.
6. What you have to do before giving up the Apple Watch?
So many important data stored on the Apple Watch, including your health data, emails, as well as important contacts, messages and other privacy files. Thus, in order to avoid these data leaking out, you need to find a tool like Apple Watch Data Eraser program to permanently wipe all personal data on Apple Watch before selling, donating or giving it away.