5 Options to Recover Deleted Contacts on Android with or without Backup
Today, staying connected is more critical than ever. When we can't reach those close to us, it can be a source of great concern. Imagine that you urgently need to contact someone, but some of your essential contacts have mysteriously vanished from your Android phone. Even after re-inserting the SIM card or thoroughly checking your phone for viruses, these crucial numbers remain elusive.
The good news is that this page is dedicated to resolving how to restore deleted contacts on Android. We'll delve into the intricacies of this challenge, providing you with five trusted methods to recover those vital files.
Part 1: Why Restore Deleted Contacts on Android?
Losing Android contacts can happen due to accidentally deleted contacts on Android, OS crashes, quick finger movements, system updates, syncing to new apps or cloud services, physical damage, factory resets, phone loss, virus attacks, and a lot more. Then, can I retrieve deleted contacts on Android? That's possible; to recover deleted contacts with a higher probability, you're recommended to halt using your Android phone to prevent data overwriting at first.
You Might Also Enjoy:
Part 2: How to Recover Deleted Phone Numbers on Android by Unhiding Contacts
If your Android phone is in guest mode, contacts are not backed up properly, or the contacts app is faulty or corrupted, the system may hide some information automatically. Then, how to restore deleted contacts without a Google account by unhiding contacts?
Begin by opening the Contacts App. Then, click on the three-dot icon or access the "More" option in the upper-right corner.
Choose "Settings" from the resulting dropdown menu.
While on the "Contacts Settings" screen, navigate to the "Contacts to display" option.

On the subsequent screen, opt for the choice that enables the display of all contacts.
How to restore contacts from trash on Android? (Where's the recycle bin on Android?) Open the Contacts app; access the menu (usually three dots); find and open the "Trash" or "Deleted Items" folder; select the contacts you want to restore; finally, use the "Restore" or "Undelete" option to recover them.
Part 3: How to Restore Deleted Contacts on Android without Backup
Due to unpredictable reasons, your important phone numbers and their attached info may disappear from your phone. What's worse, you didn't have a backup of them beforehand. Then how to retrieve deleted contacts on Android without backup? To recover deleted Android phone numbers directly, you could pick a reliable tool like MobiKin Doctor for Android (Win and Mac). This software offers "Android Data Recovery" and "SD Card Recovery" modes, making it easy to retrieve lost data from various sources on your device.
What can MobiKin Doctor for Android do for you?
Restore deleted contacts on Android with a high success rate.
Recover deleted files from an SD card or Android internal memory.
Supported file types: Contacts, call logs, SMS, photos, songs, videos, audio, documents, etc.
Perform contact recovery after easy preview and selection.
Work for 8000+ Android devices, including Samsung, Huawei, Xperia, Motorola, HTC, Xiaomi, LG, Pixel, OPPO, etc.
It always safeguards users' privacy.
How to retrieve deleted contacts from phone memory/SIM via Doctor for Android?
Step 1. Install the software and link your Android phone
Initially, you have to root your Android device to provide the necessary access for the recovery tool. Then, install and run the program on your computer. Connect your Android smartphone to the computer through a USB cord.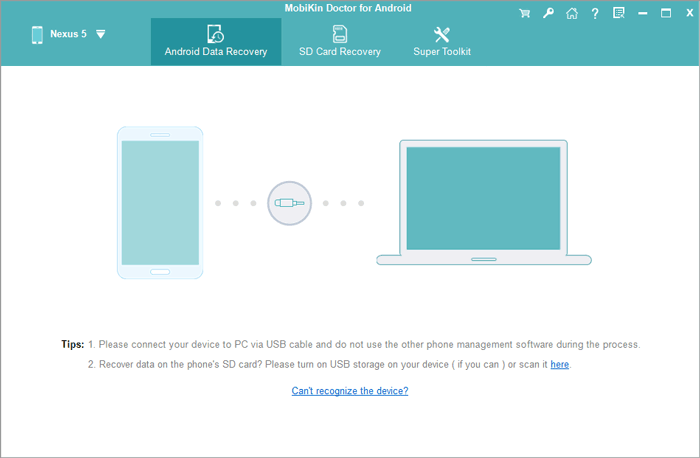 Step 2. Scan all contacts on Android
Follow the on-screen instructions to have the program recognize your phone. Once your device is recognized, you'll access the main interface. Following this, select the "Contacts" tab and click "Next" to initiate the scanning process.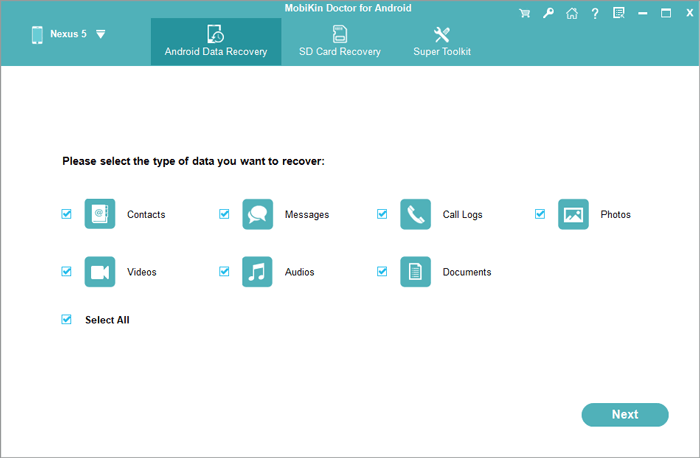 Step 3. Restore deleted contacts on Android
After that, you'll be able to preview all the deleted contacts and associated info on the right-hand window. Finally, choose the items you wish to recover and click "Recover" to retrieve the deleted content from your Android device.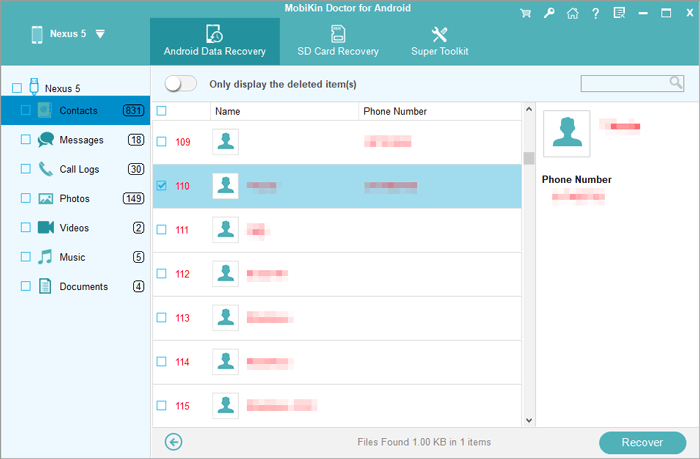 If you still don't know how to perform this program, you can also take a brief look on the below video tutorial:
Click to Access:
Part 4: How to Retrieve Deleted Contacts on Android with Google Contacts App
Google's sync system backs up your contacts to your Google account, providing a safety net for device changes. Deleted contacts are retained in a trash bin for 30 days, making recovery easy. Whether you use Google Contacts or other contact apps, cross-app restoration is usually possible.
How to get back a deleted contact using the Google Contacts app?
Open the Google Contacts app and tap the "Fix & manage" tab to manage Google contacts.
In the upcoming menu, select "Bin" or "Trash".

Contacts deleted within the past 30 days will be listed here.
Tap the recently deleted contact to select it.
Then, tap "Recover" to restore it to your contact list.
If you need to recover contacts deleted more than 30 days ago, go to "Fix & manage" > "Restore contacts" and choose "Restore" to retrieve contacts from a previous Google backup.
Part 5: How to Retrieve Deleted Phone Numbers on Android from Google Contacts Website
When you remove contacts from your Android device, they disappear immediately. Fortunately, they are retained in your Gmail account linked to your Android phone and will remain on Google servers for 30 days before permanent deletion.
How to recover deleted numbers on Android via the Google Contacts app?
Visit contacts.google.com in your web browser and sign in with your Google Account.
Click the gear icon (Settings) and select "Undo Changes" from the menu.
Choose a restoration period: 10 min ago, 1 hr ago, Yesterday, 1 week ago, or Custom.

Click "Undo" to restore the deleted contacts. In doing so, you can even recover contacts from a lost Android phone.
Part 6: How to Find Deleted Contacts on Android from Google Backup
First, ensure you have your contacts synced with your Google account. The restored contacts will sync across Android phones/tablets using the same Google account. Again, during contact restoration, duplicates are automatically eliminated, and only new phone numbers are added to the device.
How to see deleted contacts on Android from a Google backup?
Open the "Settings" app on your cell phone and scroll down to locate "Google".
Within the "Service" section, choose "Restore contacts".
If you have multiple Google accounts, touch "From account" to opt for the specific account from which you want to recover deleted contacts.

In the "Device backup" area, select the phone containing the contacts you wish to restore.
If you prefer not to recover contacts from SIM card or device storage, uncheck "Device storage" or "SIM card".
Tap "Restore". And once complete, you'll receive a "Contacts restored" message.
Word in the End
Losing your contacts can be a daunting experience, but you have the expertise to work out how to check deleted contacts on Android wisely. As we conclude this page, we shall give a more intuitive presentation of the ways above:
Occasionally, your phone may hide contacts by itself, and to reveal them, just navigate through its settings.
You can recover lost contacts through one of three services offered by Google, provided you have a prior backup within its validity period.
For unmatched success in restoring lost contacts, consider picking MobiKin Doctor for Android, a professional software. To enhance the recovery process, refrain from using your phone before scanning with it.
Related Articles:
Best 7 Ways to Share/Transfer Contacts from Android to Android
5 Trusted Ways to Transfer Contacts from Android Phone to Computer/Laptop/PC
How to Back Up Outlook Contacts to CSV/PST/Gmail/Android [Answered Here]
How to Transfer Contacts from iPhone to Android via Bluetooth? [Answered]
4 Useful Ways to Transfer Contacts to SIM Cards (Android & iPhone)
How to Print Out Contact List from Android Phone (Way 1 Is Incredible)