[User Guide] Back Up/Transfer Text Messages from Android Phones to Computer/PC
Summary: From this article, you will learn more than one way to transfer text messages from Android to computer. After reading it, you will know how easy it is to perform the Android SMS transfer. Just read on to get a super easy way as liked!
Nowadays it is quite popular for us to use an Android phone as the tool for communication and entertainment. We send and receive messages every day, among which there are some important or confidential texts that we do not want to lose. However, sometimes a fat finger or wrong click would lead to the forever loss of important messages and it is too late to regret after the "tragedy" have happened. At this moment, what you need to do is to frequently transfer text messages from Android to computer for backup.
How to Save Text Messages from Android to Computer Selectively?
MobiKin Assistant for Android (Windows & Mac) empowers Android users with the ability to transfer messages on their mobile phone to computer quite safely, quickly and professionally with very easy operative procedures to free up more space on Android devices. You can choose to transfer the selected or whole message folder to computer according to your own needs. Now, let's have a brief look on its main features:
- Transfer or copy text messages from Android to a computer in 5 different formats, like CSV, HTML, TEXT, BAK and XML.
- Restore or import texts from PC to Android within few clicks.
- Send and reply text messages on desktop computer directly.
- Delete or remove unwanted messages from Android in a batch.
- Back up other types of data to desktop computer, including contacts, apps, photos, etc.
- Support a wide range of brands, such as HTC, Samsung, Motorola, Sony, ZTE, LG, Huawei, Dell and many other phones with Android system.
Step 1. Connect Your Android Phone to PC
First of all, you need to launch the installed program and use a USB cable to connect your Android phone to PC. Then you should start USB debugging on your phone. Here, you can follow the onscreen prompt to open it or click to learn how to enable USB debugging on different Android OS.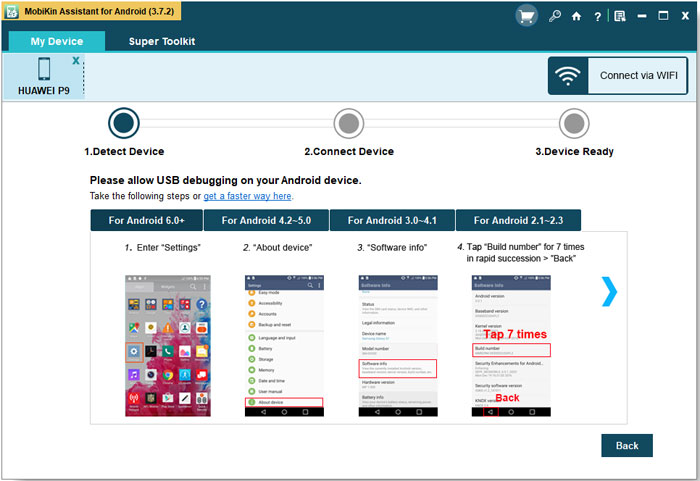 When your phone is recognized by the program successfully, the parameter information of your phone, such like phone model, system version and storage space capacity can be seen in the window like below.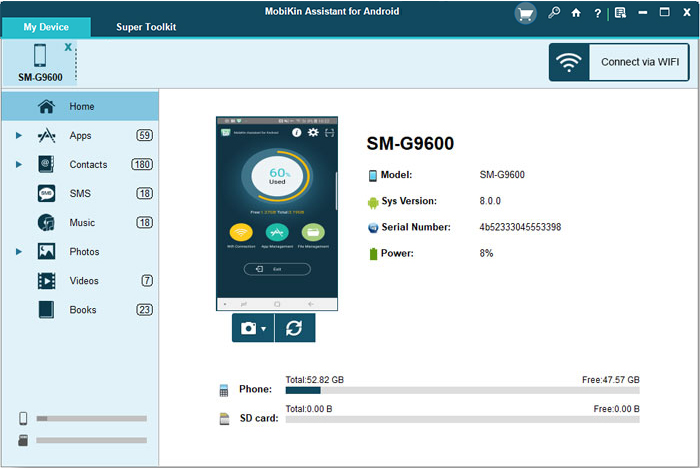 Step 2. Preview and Begin to Transfer the SMS
You should choose the "SMS" button on the left panel. All the SMS in your Android phone will be shown in the right panel. View them in the program directly and then find the one you want to backup. And then click the button of "Export" and select the suitable format to save the text messages you need to computer.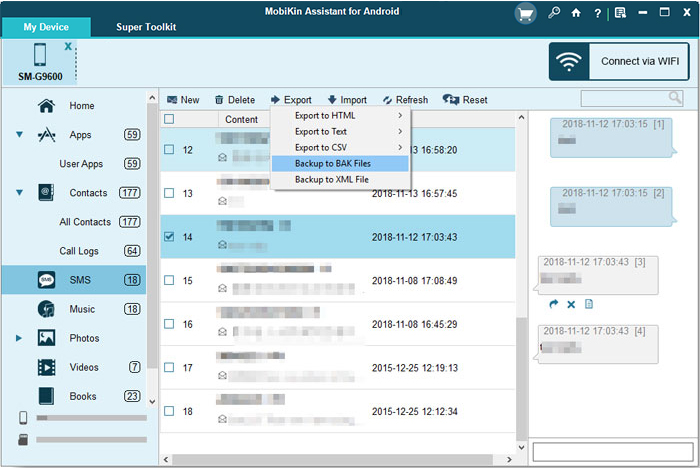 Video Tutorial
Back Up Android SMS to Computer with 1-Click
As the extended feature, MobiKin Assistant for Android also equips the 1-click Backup & Restore feature which allows you to directly back up the whole message folders to desktop computer with few clicks. So, if you wish to transfer the whole message folder to computer for backup, you can also use the 1 Click Backup Feature of this program to easily achieve your goal. The detailed steps are as below:
Step 1. Download and Install the Program on Your PC
Certainly, the first thing you need to do is to download and install the software on your computer and then connect your phone to PC with a USB cable. After that, you should go with the prompts on the screen to make the connected device be recognized.
Step 2. Back Up the Messages Folder to PC
On the primary interface, you need to click the "Super Toolkit" option at the top menu and then choose the "Backup" option. After that, a window with several categories will pop up. Just tick the "Messages" or other folder you wish to back up and tap "Browse" to choose a location to store the files. Finally, you can simply hit "Back Up" to start the backup process.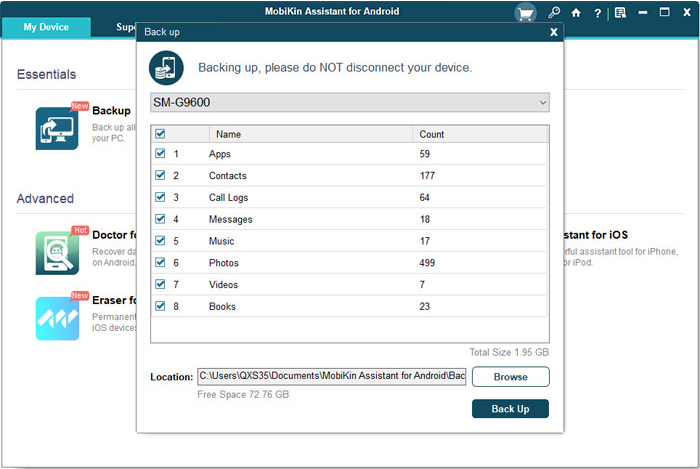 Maybe you are interested in:
How to Group Texting from Computer?
How to Print out Text Messages from Android?
How Can I Export Text Messages from Android to PC with Official Tools?
It is known to all that many mobile phone manufacturers have released their own Android phone to capture the market, such as Samsung Galaxy, HTC One, LG Optimus, Sony Xperia, and so on. So you can also find the related official management tool from these brands like Samsung Kies, HTC Sync Manager, LG PC Suite, Huawei HiSuite, Sony Xperia Companion, etc.
These tools can help you easily transfer Android messages to computer, but every tool has its own supported devices. For example, you can't use the Samsung Kies to back up HTC text messages to PC because the Samsung Kies can only be used on Samsung devices. What's more, you may also need to check the supported file types of every official tool before taking it as your final option.
Use Applications to Move Android Messages to PC
In recent years, more and more people like to manage their devices with applications for their convenience. So here you can search a high-rated Android SMS transfer application like SMS Backup & Restore and SMS Backup+ in Google Play Store and use it to accomplish the transmission as well. With the help of this kind of App, the transferring process would be much easier. Let's take SMS Backup+ as an example!
Step 1. Download and Install the App on Your Phone
Doubtlessly, the first step is to download the SMS Backup+ App from Google Play Store and then properly install it on your Android phone.
Step 2. Back Up SMS to Google
After that, you can launch the application and then tap the "Connect" check box to choose your preferred Gmail account. Next, you need to choose to begin a full backup of all current messages on your device or skip the initial backup. If you hit "Backup", the App will start to back up all the currently saved messages on your phone. But if you hit "Skip", all the messages on your phone will be flagged as already backed up and will be ignored. After skipping the full backup, you can click "Backup" to save the selected messages.
How to View & Import the Exported SMS on PC?
Then how to view and import the exported SMS? It is easy! You just need to find the SMS folder on your computer and then use Assistant for Android to import them from computer to Android phone. Here is the detailed process:
Step 1. View/Download the SMS on PC
If you have backed up the messages to computer directly, you can simply open the folder to view the messages. But if you have backed up the texts to Gmail or other emails, you can login to your account and download the attached file.
Step 2. Import the Files from Computer to Android
After confirming the saved messages, you can start to import them to your mobile phone now. Just launch the Assistant for Android and then connect your device to the computer and make the connected phone be recognized. Then you can click the option "SMS > Import" to sync the messages.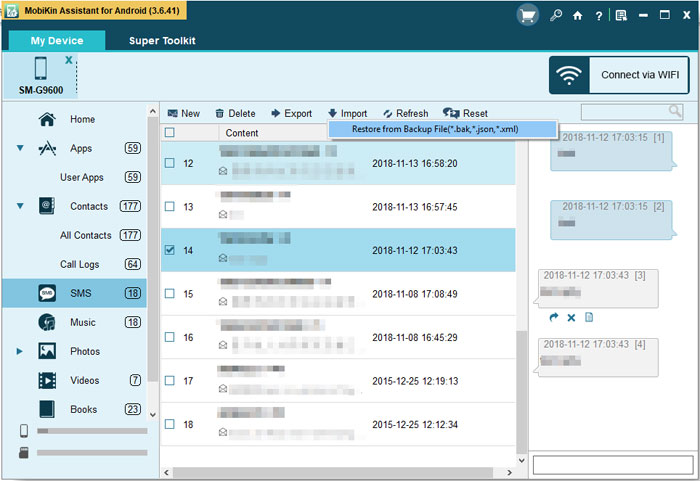 Final Thought
As you can see, there are 4 different ways for you to back up text messages from Android to PC or Mac. Which one is the best in your mind? In my opinion, the first method will be the ideal choice because it is not only an Android SMS Transfer program, but also a helpful Android Files Manager software. Do you agree with me? Just share your ideas with me!
Related Articles:
How to Transfer Text Messages from Android to iPhone?
How to Transfer Text Messages from Android to Android?
How to Transfer WhatsApp Messages from Android to iPhone X?
Android SMS Recovery: How to Recover Deleted Text Messages Easily?