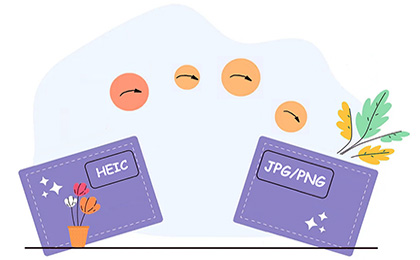 Convert HEIC to JPG/JPEG/PNG without Hassle
HEIC is an image format on iOS 15/14/13/12/11. This image format saves a lot of space while preserving the original quality of the image. However, on some outdated platforms, HEIC files cannot be opened and viewed. This requires converting HEIC files to JPG or PNG format for compatibility with other platforms.
Convert HEIC to JPG/JPEG: Effortlessly convert all HEIF (.heic) photos to JPG/JPEG, which is more useful and compatible with the majority of platforms.
Convert HEIC to PNG: HEIF (.heic) images can be converted to PNG format, which supports multiple colors and internet graphics, without any restrictions.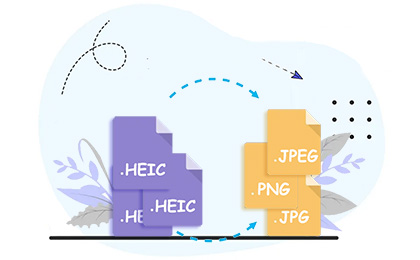 Batch Convert HEIC/HEIF Files on Windows
If you shoot a lot of HEIC images and find that you can't open HEIC files on PC, Dropbox or Google Photos, you can use this HEIC converter to help you out. This tool allows users to upload unlimited HEIC photos for one-piece batch conversion during one session, which is bound to save you a lot of time.
Batch convert HEIC photos: You can convert from HEIC to JPG/PNG one by one, or add all the .heic photos you want to convert at once, then batch convert HEIC to JPG/PNG with one click.
Drag and drop HEIC files: You can choose to click the "Add HEIC" button to add HEIC/HEIF files, or simply drag and drop them directly onto the main interface of the program.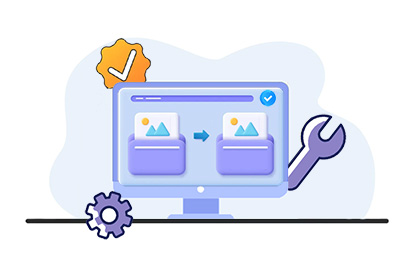 Image Quality Will Not be Sacrificed
What is an HEIC file? HEIC is the image format Apple named for the new HEIF standard. HEIF stands for High Efficiency Image Format. This efficient image format lets you store smaller-sized photos without sacrificing image quality. Well, many people worry about whether converting HEIC to PNG/JPG will damage the image quality. Absolutely not!
Adjust image quality: Before conversion, you can customize the quality of the output image. For example, by selecting the 100% option, the converted image will maintain the same quality as the original image. In order to keep high quality images, we recommend that you choose 90% above.
Keep Exif data: You can also preserve Exif data during conversion. The Exif data contains all the image info like camera model, date and time, location, etc.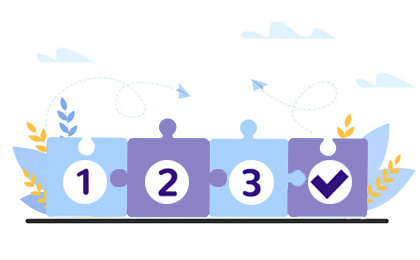 Easy and Fast to Use
This HEIC file converter brings you the best converting experience. It uses powerful conversion and acceleration technology that enables you to convert HEIC images to JPG/JPEG or PNG on Windows 10/9/8/7 quickly and efficiently.
One-click method: Users only need to navigate to the target HEIC file, add it to the interface of this HEIC to JPG/PNG converter, and then click the "Convert" button to automatically convert it to JPEG or PNG.
100% safe and green: This HEIC image converter doesn't have any restrictions or ad pop-ups and it works great on Windows.