How to Transfer Data from Samsung to Xiaomi Mi/Redmi Note?
Xiaomi, followed by Samsung Galaxy S20 Ultra, also launched the phone with 100 million pixels - Mi 10. Today, Xiaomi boasts an absolute competitive edge over Samsung in terms of its price and overall performance. This burgeoning smart terminal is reaching more and more people.
You know, data transfer is often a hot topic after phone upgrading. Well, as a non-technical fan, how to transfer data from Samsung to Xiaomi phone can be a tricky issue. To ease up the task and make this process interesting, we'll dwell on 6 easy fixes in this page. Primarily, let's take the best Samsung to Xiaomi data transfer tool to get started with.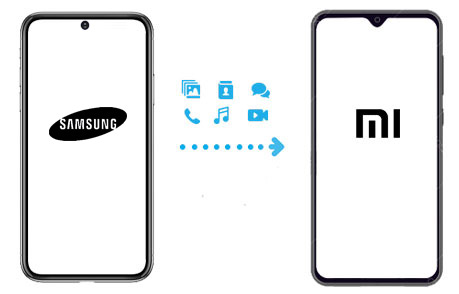 Way 1: How to Transfer Data from Samsung to Xiaomi Phone via Transfer for Mobile
As for the file transfer from Samsung to Xiaomi, why do we first think of using MobiKin Transfer for Mobile (Win and Mac)? Alright, its professionalism makes it perform better on the whole. After it identifies the phones, it clearly groups the data types. You just need to check the file categories you want and then transfer all the desired content in one click.
Core features of MobiKin Transfer for Mobile:
Transfer data from Android to Android, from iPhone to iPhone, from Android to iPhone, and vice versa.
The supported file types: contacts, text messages, call logs, music, videos, photos, documents, apps, etc.
Enable you to clear the saved items on the target Android phone before file transfer.
Available on both Windows and Mac computers.
Run smoothly on various Samsung and Xiaomi devices, such as Samsung Galaxy S23/S22/S21/S20/S10/S10e/S10+/S9/S8/S7, A51/A71/M20, Galaxy Note series, Xiaomi Mi 13 Pro/13/12/11/10/9 Pro/9 SE/8/8 SE/6X/MIX Alpha/MIX 4/MIX 3/Max 3, Redmi Note 9/Note 8/Note 7/Note 6, etc.
It implements point-to-point precise transfer, which can ensure your privacy while completing the task rapidly.
How to transfer data from Samsung to Xiaomi with Transfer for Mobile?
Step 1. Run the tool and link phones to your computer
Download and install MobiKin Transfer for Mobile before launching it on your computer. You'll then be asked to connect Samsung and Xiaomi phone/Redmi Note to the computer with USB cables. You may need to enable USB debugging on your Android device. Just check it as needed.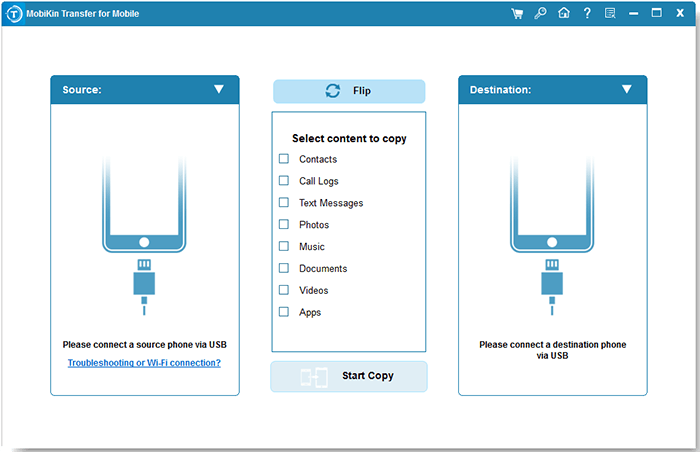 Step 2. Get both phones detected by the software
After the physical connection, you should get two devices detected by following the on-screen directions. Once done, you will see the main window like below. Just make sure the source phone is Samsung and the destination phone is Xiaomi. Otherwise, click "Flip" to correct their positions.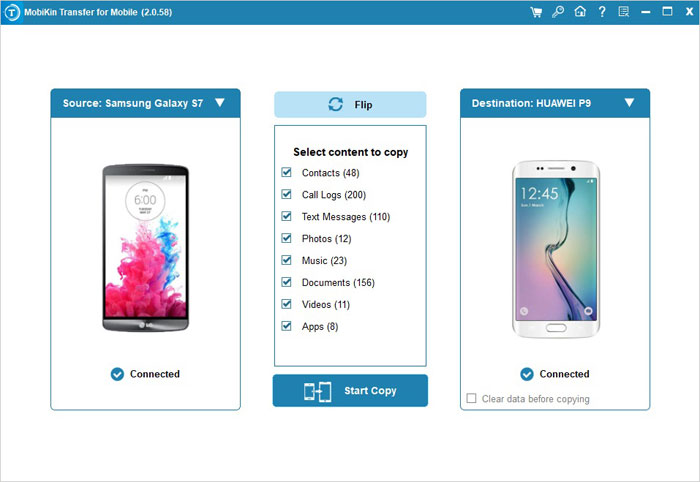 Step 3. Select files and trigger the transfer
Mark the data type(s) you want to copy, such as the "Contacts", "Call logs", "Photos", "Videos", etc., and then click "Start Copy" to trigger Samsung to Xiaomi phone data transfer.
Of course, you can also do the similar steps above to transfer data from MI phone to Samsung with ease.
Way 2: How to Transfer from Samsung to Xiaomi with Assistant for Android
MobiKin Assistant for Android (Windows and Mac) is a full-fledged Android mobile management expert. It supports both USB and WiFi connection modes. It can complete the transfer task by backing up the content of Samsung to a computer and then restoring the backups to Xiaomi. In addition, it also provides you with personalized data migration options. For instance, its "Export" and "Import" functions empower you to select your wanted call records, contacts, and SMS to copy from Samsung to Xiaomi.
You can refer to this page for more details: how to transfer call logs from Android to Android flexibly. Next, let's take contact transfer as an example to show you how it works.
How do I transfer contacts from Samsung to Xiaomi with Assistant for Android?
Step 1. Start the program after the download and installation. Attach Samsung to the computer via a USB cord and have it connected. Then, go to "Super Toolkit" from the program interface, and you'll see the screen as below.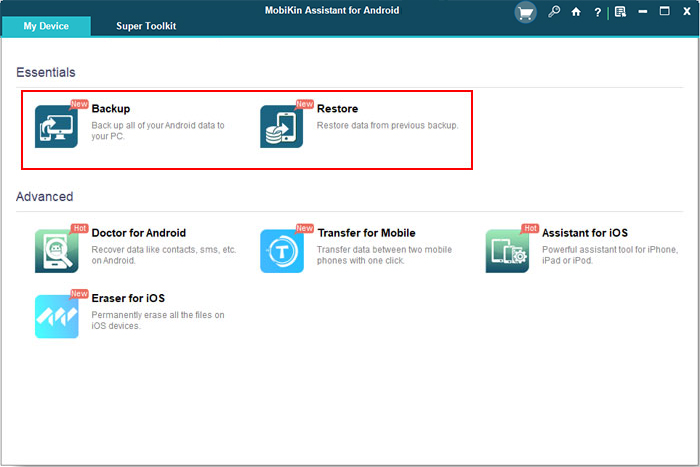 Step 2. Choose "Backup" and select "Contacts". Specify an output folder on this computer to save the items. Then, click "Back Up" and wait for the end. After that, just unplug the cable between Samsung and your computer.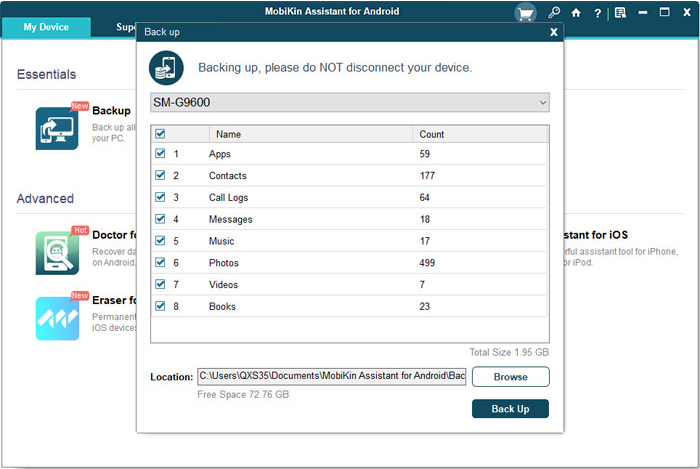 Step 3. Attach the Xiaomi Mi/Redmi to the computer and then click "Super Toolkit" > "Restore". Next, choose "Contacts" from the backup you've made to restore them to the linked phone. Finally, tap "Restore" to put the content on your Xiaomi phone.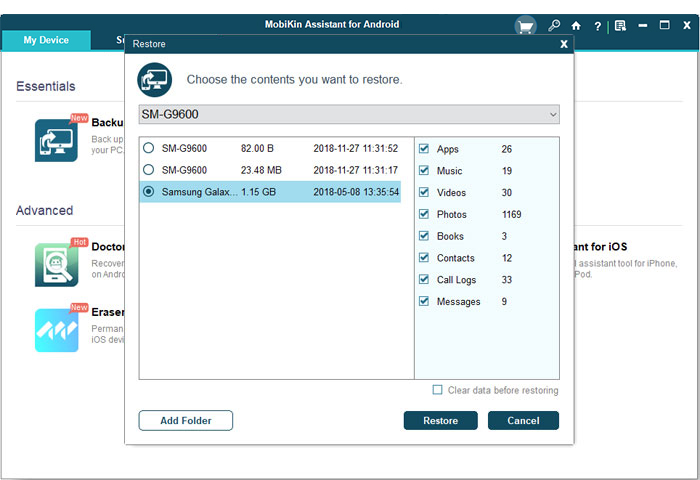 You can also choose Contacts from the left panel after you connect your Samsung phone to the computer, preview and select the contacts you want to transfer, and click "Export" button from the top. Then, plug Xiaomi phone into the computer, choose Contacts from the left panel and click "Import" button from the top. Finally, you can select the backed up contacts and import them to the Xiaomi phone.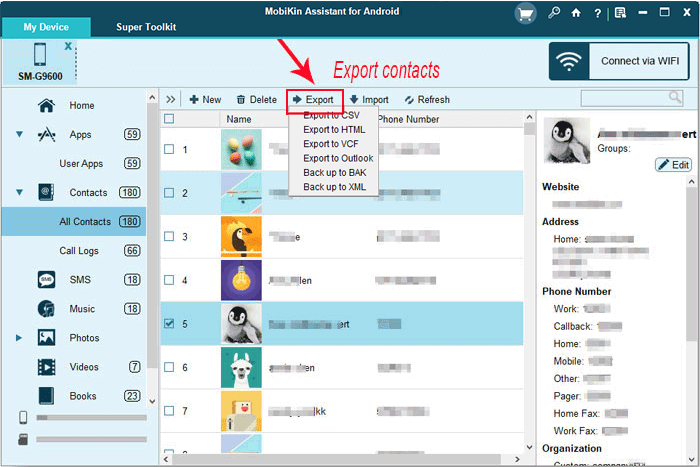 See Also:
Way 3: How to Transfer Data from Samsung to Xiaomi via Mi Mover
While you Mi Mover Samsung to Xiaomi phone, your target device temporarily servers as a WiFi hotspot. It is efficient indeed, but it divides the transferable data like contacts, call record, SMS, applications, and other data into only 3 categories: "System data", "Apps", and "Files". This is not very friendly.
How to transfer files from Samsung to Xiaomi Mi/Redmi Note via Mi Mover?
Download Mi Mover onto the Samsung and Xiaomi phone.
Install and run the application on both devices.
On your Samsung phone, tap on "I'm a sender". And touch "I'm a receiver" on the Xiaomi device.
Use the receiving device to scan the QR code that appeared on the window of Samsung.
Choose the data types you'd like to migrate to the Xiaomi phone.
After the selection, tap "Send" to commence.
Once completed, tap on "Finish". And all your needed data should be moved over.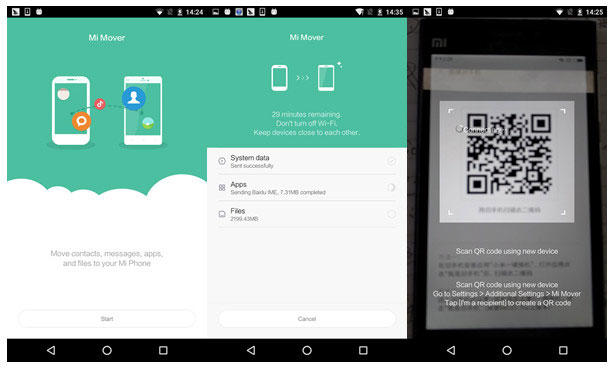 Way 4: How to Transfer Data from Samsung to Redmi with ShareMe
ShareMe (Mi Drop) allows you to move data from an Android phone to a Xiaomi device, including data like images, videos, music, apps, documents, etc. Before using it, you need to turn on both Bluetooth and WiFi. Plus, it runs faster than Bluetooth. Also, it won't treat the transferable items for fine division, which would add an extra burden to the Xiaomi phone after the completion of the task.
How to transfer data from Samsung to Xiaomi phone with ShareMe?
Launch ShareMe on Xiaomi Mi/Redmi Note, go to its menu > tap on "Receive".
The phone will then optimize Wi-Fi and Bluetooth before create a QR code on its screen. (The WiFi connection is not available for the time being? You can turn to top-notch apps for WiFi hacking without root, though it is not recommended.)
Download and install ShareMe on Samsung. Then open it, touch "Send", and choose your desired content for transfer.
Click on the "Scan QR code" option as prompted on the Samsung phone, and scan the code created by the Xiaomi phone.
Once the connection is made, the transfer should initiate automatically.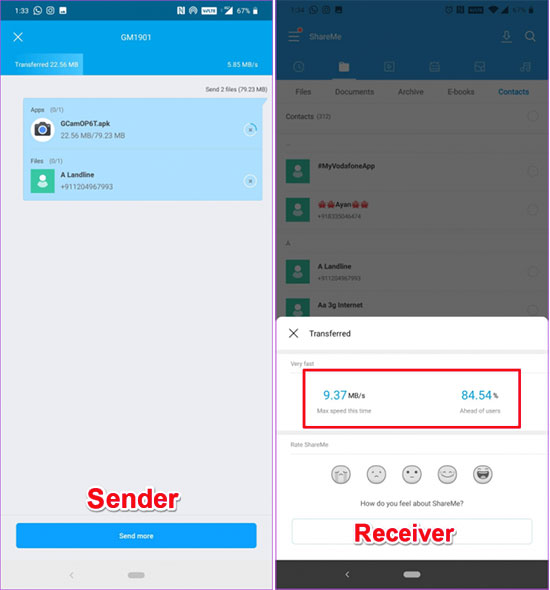 Can't Miss:
Way 5: How to Transfer Data from Samsung to Xiaomi Mi with Bluetooth
To fulfill this, first, you need to turn on the Bluetooth on both devices, then place two devices near each other and start pairing. In this process, you might be required to input a password. And please follow the screen prompts to do that. After that, just select the stuff from Samsung and share it with Bluetooth. Bluetooth is able to transfer contacts, photos, videos, etc. Now, let's take photo migration as an example to see how to use it.
How to transfer photos from Samsung to Xiaomi over Bluetooth?
Enable Bluetooth from Samsung and Xiaomi phone from the system trays.
On your Samsung phone, go to the Bluetooth Settings to search for the Xiaomi phone/Redmi.
Then, tap on the destination phone and pair the two devices.
After the pairing, choose the pictures from Samsung and then click Share > Bluetooth.
Tap "Accept" to save the incoming images on your Xiaomi phone.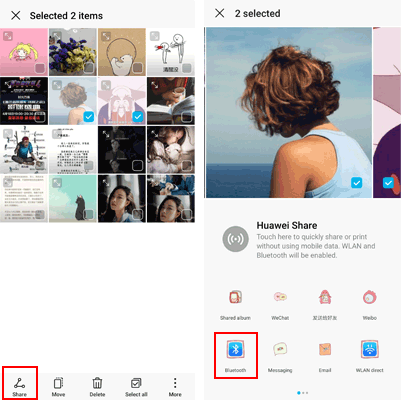 Notice: Bluetooth can be slow to transfer multiple files and may fail. If the latter occurs, please go to the file transfer interface and click the items one by one to try the tasks again.
Way 6: How to Transfer Files from Samsung to Xiaomi Phone Using Email
This method can be simply summarized as: sending the items by email with Samsung and then logging in to the mailbox with Xiaomi to view and receive them. It is not complicated, but it is likely to be tedious, for the items of attachments sent each time is limited to 20M or 25M. And many data types cannot be sent as attachments.
How to transfer data from Samsung to Redmi Note 4/5/6/7/8/9/Xiaomi Mi 9/10 with Email?
1. Unlock your Samsung phone, and run email like Gmail, Foxmail on it. Then, tap on the "Compose" option to create a new email.
2. Attach a file by browsing and selecting a media file or a document, etc. Next, upload the file as an attachment, and enter your other email address to send to.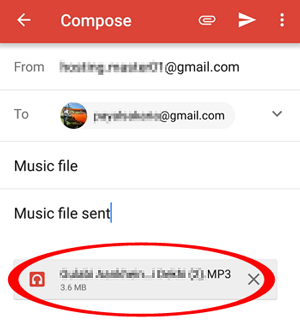 3. At last, turn to your Xiaomi Mi/Redmi Note and get into the email used to receive the file. Then, check the mail, download your wanted items, and store them on your Xiaomi phone.
Summing Up
Going through this passage, we can easily draw the following conclusions:
The directions of MobiKin Transfer for Mobile is super easy to follow. And it can categorize data types in detail before moving them quickly and losslessly.
MobiKin Assistant for Android can help transfer bulk data wisely and copy specific content according to the needs. Further, it works as a standout Android file manager.
Mi Mover and ShareMe enable you to transfer Samsung stuff quickly, but they are weak in detailed data classification, which is inconvenient for data management after the transfer.
Email and Bluetooth are easy to operate but only appropriate for transferring a small number of specific data types.
Related Articles:
Xiaomi File Transfer Tutorial - 5 Easy Ways to Transfer Xiaomi Files
Mi Data Transfer: How to Transfer Data from Mi to Mi [Easy Steps]
How to Transfer Data from Sony Xperia to Samsung Galaxy S23/S22/S21?
Top 5 Quick & Safe Xiaomi Data Recovery Software
Mi PC Suite Reviews, How-tos, Download, and Top 3 Alternatives
Tips & Tricks to Remove Swipe Screen to Unlock Android Phone