How to Authorize Computer in iTunes?
Authorizing computers means giving rights to the computer to get accesses to your applications, movies, music, books and other files even the personal data. Many computer need to be authorized especially the new computers to allow you the use every functions of the computer. If you authorize the computer in iTunes, you are able to use the media files like the movies, audiobooks and TV. What's more, every iTunes account can authorize 5 computers at most, and that means you are allowed to play your contents on 5 different computers.
The tutorial are as follows and you can finish the process in one or two minutes. Besides, we also offer you the guide to see how many computers you have authorized.
How Can I Authorize the Computer in iTunes?
Step 1. If you did not install the iTunes on your computer, then you should download and install the latest version. You are ought to upgrade the iTunes to the newest version if you have installed the iTunes on computer. After that, just start it.
Step 2. - If your computer is Mac Version, you should go to the main screen on your computer and then select the Store option on the menu bar on the top of the screen to click the Authorize This Computer button like the pictures below shows.
- If you use the Windows computer, you can follow the steps below. Tap the Control and B keys on your keyboard at the same time to open the iTunes menu bar. Then select the Store button to hit the Authorize This Computer option.

P.S. if you are using the full-screen mode of the iTunes, you can move your mouse to the top of the screen and then the menu bar will appear.
Step 3. Finally just enter your Apple ID and click the Authorize button.
How to Know How Many Computers I Have Authorized?
Method One. You can open the iTunes and sign in. Then you can see your account information. Next you can find how many computers you have authorized in it.
Method Two. Follow the steps below.
1. Open the iTunes and input your Apple ID and password in it to sign in.

2. hit your name on the top of the window and select the Account option.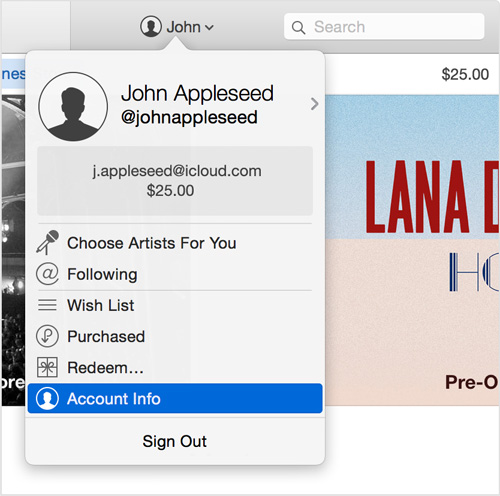 3. Enter the password again and you will see the Account Information screen then like the below picture.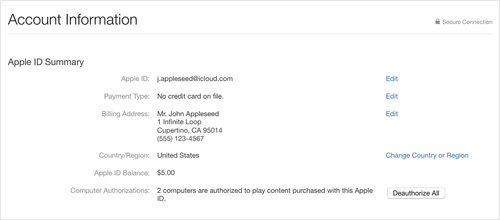 If you want to manage the files of your iPhone, you can use the MobiKin Assistant for iOS (Windows/Mac) to manage your iPhone apps, contacts, messages, movies, books and so on easily.
Related Articles
How to Find & View iTunes Backup Files on PC/Mac
How to Reset iPhone Password without Hassle
Listen to Audiobooks on iOS 9