How Can I Switch from Android to iOS, Symbian or Android
Switching one smart phone to another is as a routine as having a dinner. People are apt to ditch their old cell phone for a brand new state-of-the-art phone every 2 years, according to a survey on the Internet. Some of them used to have Android phone and then replace it with iPhone, others would like to change a device running Symbian operating system which is Nokia, and the rest of them seem to stick on the Android OS but to choose a much more famous brand like Samsung Galaxy, Sony Xperia, HTC, Moto X or LG Optimus.
Consideration about Transferring Data among iOS/Symbian/Android:
Why do people like to change cell phones from time to time? Apparently they pursue better experience of using different ones. Then how to deal with the data on the old cell phone may make you feel puzzled.
Admittedly, the files like contacts, SMS consist of the everyday communication between you and your friends, family and colleagues. Once you replace your old Android phone with a new one, you may need to keep these current contacts and messages. Setting these data aside, some multimedia files including photos, music and videos could be the same valuable as the communication information. Consequently, you need to transfer these data to your new cell phone as soon as possible.
Recommended Tool to Transfer Data among iOS/Symbian/Android:
In this tutorial, a targeted phone transfer program will be presented to all of you. Mobile Phone Data Transfer is what we are talking about. It is a dedicated third party program devoted to assist consumers to switch from Android to any device with iOS, Symbian or Android operating system or switch from iOS, Symbian and Android to Android.
To be more specific, the compatible devices include Samsung Galaxy Note/S series, Sony Xperia series, Motorola, LG, HTC, Nokia, iPhone 6 Plus/6/5S/5/4S and so forth. Using this software, you can move data like contacts, messages, call log/history, photos, music, movies, etc. from Android to Symbian, iOS or Android without any limitation.
Both Windows version and Mac version are available now, you can select one of them to download and install it on your computer to test first.
Switch or Sync Data from Android to iOS/Symbian/Android in One Click
1st - Download the program by clicking the blue icons above and install it on your computer. Then launch it and you'll see a window like this. Select the "Phone to Phone Transfer" mode from the four modes.
Note: If you'd like to transfer data from an Android device to an iOS device, you need to make sure that you have installed iTunes on your computer, or the software won't detect your device.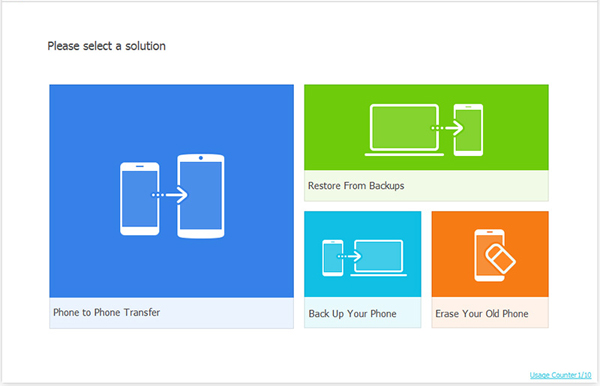 2nd - Then connect the two devices (They can be Android, Symbian or iOS devices) to the computer via their USB cables in the meantime. Your devices will be displayed in the position as "Source" and "Destination". Confirm that they are in the right place, and if not, you can click "Flip" to reverse it.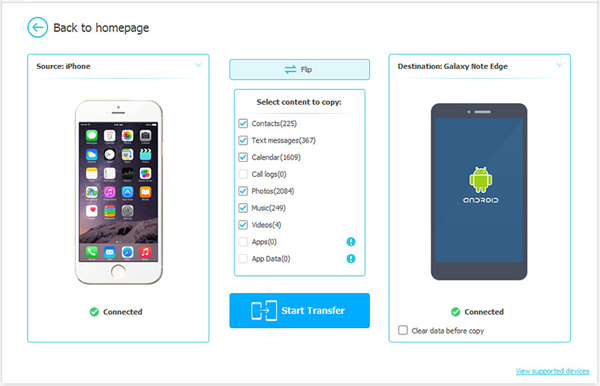 3rd - After that, you can preview the main interface and choose the data you want to switch and click "Start Copy" to move the data between these two cell phones. The transferable files include contacts, call history, messages, photos, music/songs and videos, etc. You can select whatever you want.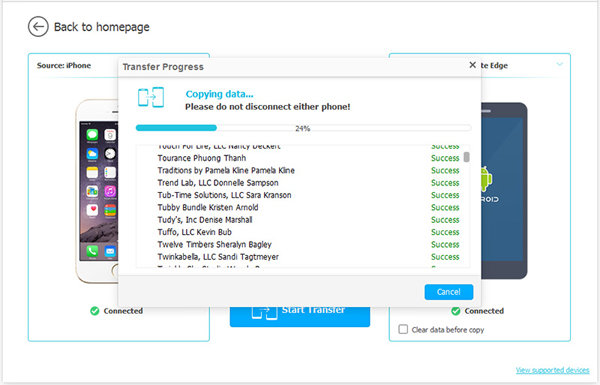 Related Articles:
How to Transfer Contacts from BlackBerry to iPhone 6
Tips to Transfer or Copy Data between BlackBerry and Android