How to Transfer Data between BlackBerry and Android Phone
Jumping from BlackBerry to Android phone, and wish to move the whole contents on BlackBerry to your new cell phone? I think that almost every BlackBerry mobile phone users will get stuck in the situation of transferring files from BlackBerry to a new Android phone due to its different operating system. So if you're frustrated by the problem now, don't worry, you can find an ideal solution here today.
Consideration about Transferring Data from BlackBerry to Android:
After using your BlackBerry phone for a couple of years, and getting a little tired of it and looking for a change to the latest Samsung, HTC or Sony Android smart phone? Then you'll meet some problems, for example, how to move the contacts, emails or text messages to the new phone for daily communication? How to switch device by ensuring no quality losing? How to make sure all your favorite ringtones, photos, or even movies will be transferred to the new Android phone without downloading again?
You don't have 100% faith to reach it, and it seems to be a little bit trouble, right? But now, you can rest assured. Here, we could like to strongly recommend Mobile Phone Data Transfer to help you get out of these troubles.
About Mobile Phone Data Transfer:
It could be the best BlackBerry to Android Transfer program, that empowers users to transfer files like contacts, call history, text messages, videos, photos, music, etc. from BlackBerry to Android or from Android phone to BlackBerry without hassle. Even though Android phone have a large amount of brands, but the program can compatible with them very well.
Now, just download and install the program on your computer, and follow the below steps to see how easy the program works.
How Can I Transfer Files from BlackBerry to Android Phone?
Even though the program is an all-round software, but here we'll only take the transmission from BlackBerry to Android as an example for saving your time.
Preparation: Before beginning, you need to install and launch Blackberry desktop software on your computer and connect Blackberry mobile to computer. After detecting Blackberry mobile in the Blackberry backup software, click on "Backup Now" button to backup file from your BlackBerry phone. Just choose a location on your computer to keep the backup record.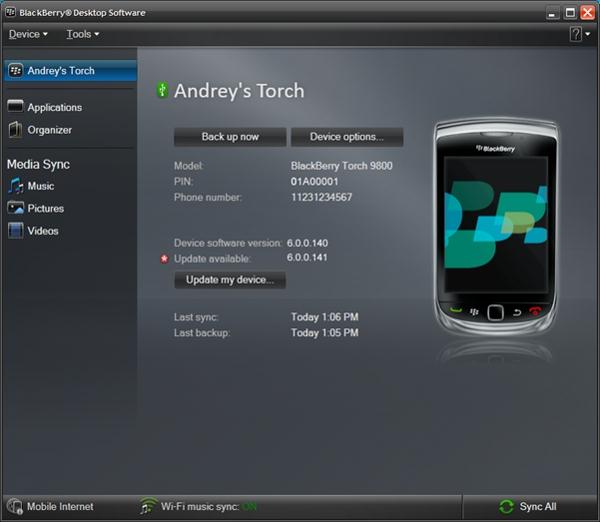 Step 1. Run the Program and Choose "Restore from Backups"
Directly launch the program after the installation, then you'll see an interface that list four different modes. According to your needs, here, you're recommended to choose "Restore from Backups" mode.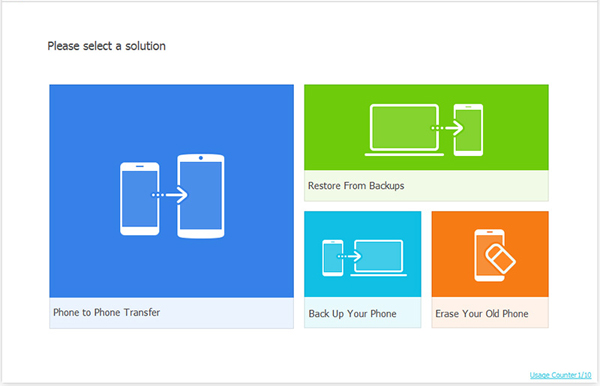 Step 2. Connect Android Phone with Computer
Link your Android mobile phone with your computer via USB cable, then the program will detect your device automatically. The backup file for your BB phone will be detected and displayed on the left, and the Android device will be displayed on the right.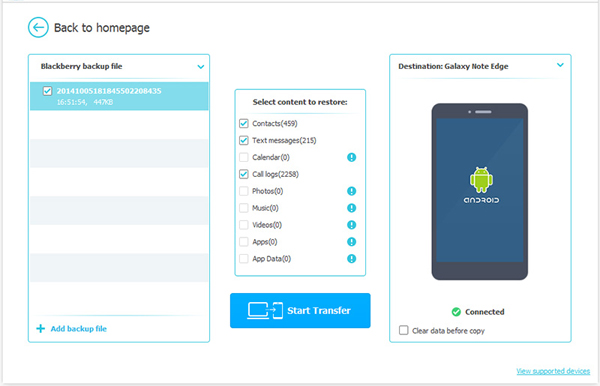 Step 3. Mark Data and Begin to Export
Select the data you wish to move to the new Android phone, and then click "Start Transfer" button to begin the process on your personal computer. And you're allowed to check the process in the program as follow: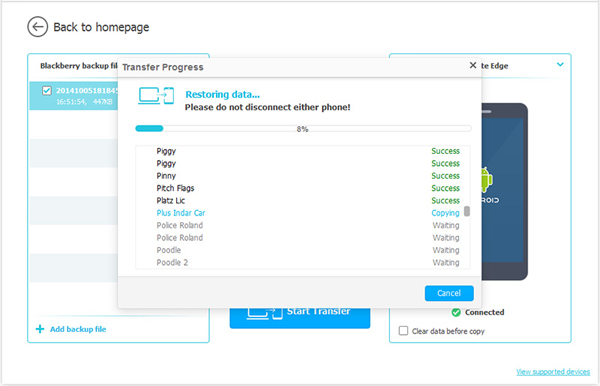 Related Articles:
How to Transfer Contacts from BlackBerry to iPhone 6
How to Transfer Contacts from HTC to iPhone Easily