How to Setup and Use Passcode with Your iPhone, iPad or iPod?
Every time you turn on the iPhone, iPad or iPod, you will need to unlock it with the passcode that designed by yourself if you setup the passcode on your device. So the people who do not know the passcode are not able to use the device or see the content in it, which can protect the personal information. By the way, if your device support the Touch ID, you can use the fingerprint to lock the screen of your device instead of the passcode. This article will provide you the tutorial to setup, change and use the passcode.
How to Setup the Passcode?
Step One. Head to the main screen and click the Setting icon to enter the interface like the left picture below. Then hit the Touch ID & Passcode. Or you should hit the Passcode button if your device is without Touch ID.
Step Two. After that you will see an interface like the below picture in the right. You can just hit the Turn Passcode On.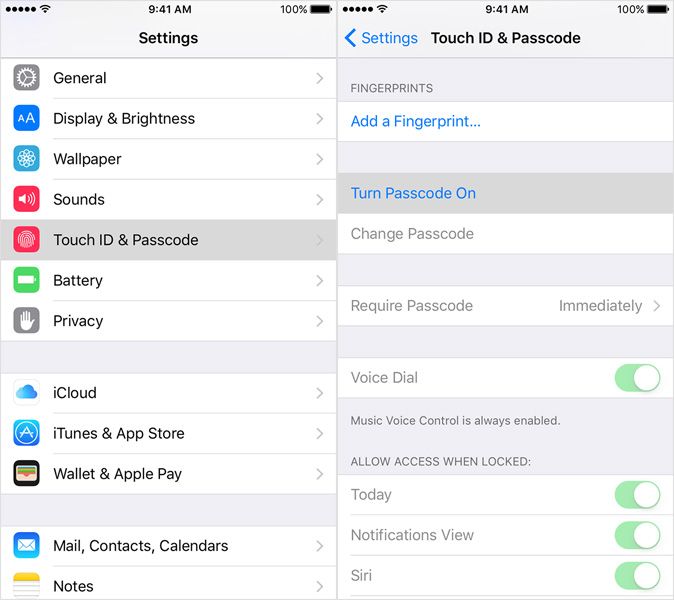 Step Three. You can tap the Passcode Options button to decide whether to setup a six-digit passcode, four-digit numeric code, alphanumeric code, etc. Then design your own passcode.
Step Four. Type the passcode again to confirm it in case that you setup the wrong code and you did not realize it.
When Will You Use the Passcode?
Every time when you turn on or wake the iPhone, iPad or iPod or you want to unlock the screen. Besides, you also need to enter the passcode if you want to update the application or change or delete the passcode.
How to Change the Passcode on Your Apple Device?
First, hit the Setting icon on the main menu of your device. Then click the Touch ID & Passcode button or Passcode button if there is no Touch ID on your device.
Then you will see an interface like the below one. If you don't want to use the Passcode anymore, you can directly tap the Turn Passcode Off. If you want to tap change the passcode, you should tap the Change Passcode button. Then you can hit the Passcode Option to change the mode of the passcode and then enter the new passcode.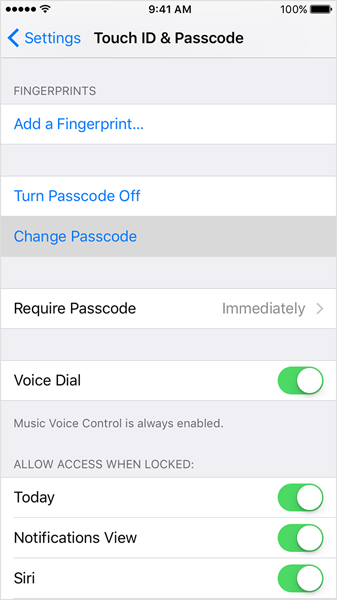 The other options in the interface can offer you other functions. If you don't need the device be locked as soon as the screen become black, you can change the settings by clicking the Require Passcode Immediately.
You can still get access to some functions by switching on the buttons of Today, Notifications View or Siri according to your needs.
Related Articles
How to Transfer Photos from iPhone to iPad
Tips to Transfer or Copy Contacts from iPhone to Computer
How to Transfer Music or Songs from iPod to iPhone