How to Downgrade iOS 9 to iOS 8.4?
Over the past few decades, Apple Inc has continued to offer us with quality hardware and software tools that make life better every new day. The iOS 9 firmware is one of those. However, as it happens in every aspect of product development sometimes newer and better versions or products experience some "teething problems" that may cause them not to function optimally.
Why You Want to Downgrade iOS System?
For quite some time new iOS 9 users have complained that they have been having problems using the new version. Some users complain of bickering screens, others experienced a damaged installation or collapsed installation, while others complain of slow performance while opening or operating certain apps. Despite the challenge, the good news is that you can easily downgrade the iOS 9 to the iOS 8.4x firmware versions. Below is a detailed guide of downgrading iPhone, iPad, and iPod touch devices using iOS 9 firmware versions to older iOS 8.4 firmware.
Note: Apple only offers limited downgrade options. The company may stop availability of certain older firmware versions without prior announcements. In addition, to make sure or to protect yourself from losing important data, backup your data before you begin this process. This can be easily accomplished using iTunes or iCloud or ask help for a 3rd-party program like MobiKin Assistant for iOS, because you can restore your data after downgrading.
Which Kinds of Models of iOS can be Downgrade?
All iOS compatible devices are easily down gradable to their earlier firmware. These include the iPhone 6 & 5, iPad minis & iPad Airs, and the iPod touch's generations to mention a few. However, as observed above you need to make sure that the older firmware version is still being supported by Apple. Otherwise, when the "signing" window ends you will be permanently stuck to the current version if no upgrade is available.
Steps on Downgrading iOS 9 to iOS 8.4
Here, you have something need to prepare:
- Install the latest version of iTunes player on your Windows or Mac computer (currently iTunes 12.3) if that is not the current version you have.
- Ensure you have the correct IPSW file of the iOS 8.4. If you are not sure, you have the correct version download one from the www.ios8release.com website.
- Turn OFF the Touch ID & Passcode and "Find My Phone" feature on your phone.
- Lastly but definitely not least, make sure you have compatible USB cable in good working condition. Alternatively, you can use your lightning connector. This will come in handy when connecting your device to your computer.
Now, it is time to downgrade your system by using IPSW file.
Step 1. Run iTunes on your computer and connect your iOS 9 devices to the computer with USB cable.
Step 2. Go to "Summary" tab in the iTunes, then you can hold the Option / Alt Key on your Mac keyboard, or left Shift Key on your Windows computer and click on the Restore iPhone button in iTunes.
Step 3. Select the IPSW file you have downloaded earlier. The iTunes window will present you with a number of messages depending on the device you are downgrading
After the process is completed, iTunes will indicate on the window. And once you see the confirmation message, you can successfully unplug your device.
NOTE:
Instead of using the IPSW file to downgrade your iOS 9 device, you can also use the Restore and Update functionality to downgrade your devices. However, to do this you need to put your phone in recovery mode. The process is much trickier and sensitive than using the IPSW file mode. That is why I recommend this mode for downgrading your iOS 9 devices. Please remember that you can only downgrade your Apple devices as long as the "signing window" provided by the company is still available. Otherwise, you can only upgrade to newer versions. Please check from the company website before starting the process.
If you find something important is lost during the downgrading process, you can take the MobiKin Doctor for iOS (Windows/Mac) software to find back your lost data on Windows or Mac computer as you like.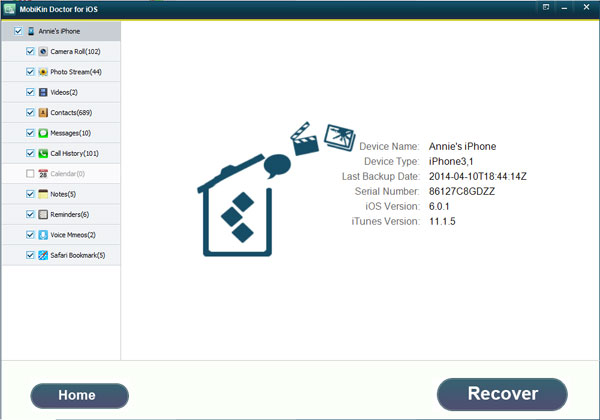 Related Articles:
Want to Downgrade iOS 15 Beta to iOS 14 without iTunes? 3 Simple Ways are Here!
7 Best iOS Downgrade Tools/Software [Most People Don't Know]