Tips to Transfer Contacts from Windows Phone to Android
"There has been two years since I used the Nokia Lumia 520. I recently changed a new HTC One 'cause the Nokia always gets stuck these days. But after I get the HTC phone, I realize there are quite a lot of cell phone numbers of my friends and business partners. So I have to get them out before I throw the old Nokia away. I guess I could just transfer the contacts list to my new HTC, right? But I'm not sure what can be done to achieve that. I'd appreciate it if you can help me out. Thanks again."
To successfully transfer contacts from Windows Phone to Android phone, the most efficient way is to ask for a professional phone to phone transfer program. Sophisticated enough, the Mobile Phone Data Transfer software would be the fittest one among all other software.
About Mobile Phone Data Transfer:
Apart from the functions to transfer contacts from Windows Phone to Android, music, videos and photos can be extracted between these two types of smart phones. More than that, other smart phones which run on the iOS, Symbian and BlackBerry operating platforms can be supported by this software as well.
Now you can download a Windows version or a Mac version and install it on your computer to have a try.
Before the process, let's see what the specific compatible Windows Phone and Android devices can work perfectly in the phone transfer software.
Windows Phone

Android Phone

- Nokia: Lumia 808, Lumia 810, Lumia 822, Lumia 830, Lumia 900, Lumia 920, Lumia 925, Lumia 1020;
- HTC: HTC 7 Pro, HTC Rada, HTC Titan, HTC 8X, HTC 8S
- LG: LG Optimus 7, LG Quantum, LG Jill Sander, LG Fantasy.

- Samsung: Galaxy Note 5/4/3/2, Galaxy S 5/4/3;
- HTC: HTC One, HTC One M8/M7;
- LG: LG G2, LG G3;
- Sony: Xperia Z1/Z2/Z3, etc.
Extra: How to transfer and edit contacts list from Android phone to computer?
How to Transfer Contacts from Windows Phone to Android Phone?
1. At first, you need to run the program on your computer and enter the mode Phone to Phone Transfer. Then you can connect your Windows Phone and Android phone to the computer via USB cables and remember to enable the USB debugging on both devices.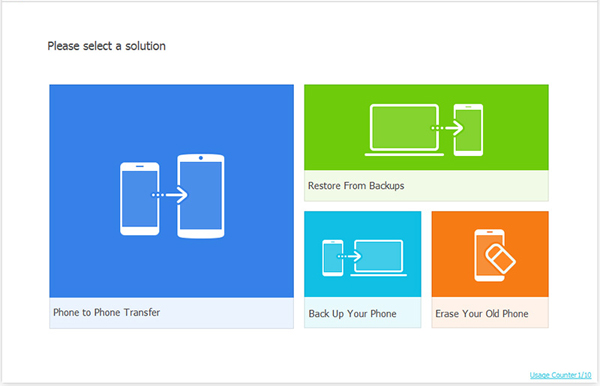 2. Next, to transfer the contacts from Windows phone to Android, you need to select the Restore from Backups mode cause contacts cannot be transferred directly. And now you will see several cloud storage are listed on the interface. Just select OneDrive and sign in to enter your Microsoft account that you have used to backup the contacts on your phone.
3. After entering the OneDrive, you can tick the Contacts folder on the screen. and click on Start Transfer to begin the tramission.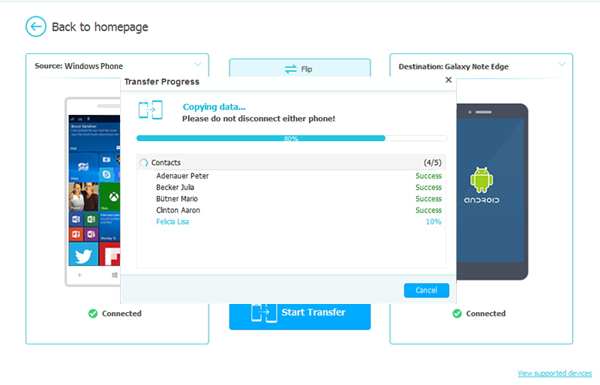 Get the Android Contacts Recovery to restore deleted contacts from Android on PC or Mac.
Related Articles:
Tired of iTunes? Here're Top 11 Alternatives to iTunes for Windows
How to Transfer Text Messages from Samsung Phone to Computer Effectively?
Top 5 Ways on How to Transfer Contacts from iPhone to Android