Android File Transfer - How to Transfer Contacts from Android to PC/Computer
Currently Android phone have become one of the most popular communicating and entertaining tool in the daily life due to its powerful functions and trendy design. People like to use it to save some important information or files like contacts for convenience. But there are unexpected storms for the data in the phone so some users may like to transfer contacts from Android to computer for backup. If you are also one of them, you can find some ideal solutions in the below contents:
How to Transfer Contacts from Android Phone to Computer with 1 Click?
Using a professional third-party software can help you complete the transferring process more effortlessly. Here MobiKin Assistant for Android or MobiKin Assistant for Android (Mac Version) is what you need. With the help of this software, you can transfer your contacts information only in a few seconds by several clicks. Not only contacts, it also allows you to copy other valuable data from Android devices to PC safely and accurately, such as the text messages, call logs, music, pictures, etc. In addition, this software supports overall brands of Android smart phone, including HTC, Samsung, Motorola, Sony, ZTE, LG, HUAWEI, Dell and many more, so there is no need to worry about the compatibility.
See, Lifehack also thinks highly of this software: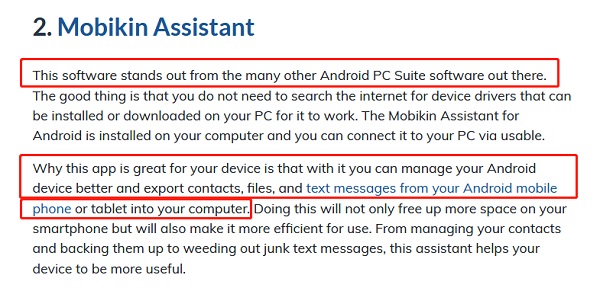 Now, follow the steps to export and save your Android contacts onto your personal computer easily.
Step 1: Install and Launch the Software, then Connect to the PC
After downloading and installing the program, you can launch the software on your computer, and then connect your Android phone to the PC with a USB cable. Here, you need to turn on USB Debugging on your device to let the tool recognize the connected device. If you do not know how to do, you can click to learn how to enable USB debugging on different Android devices.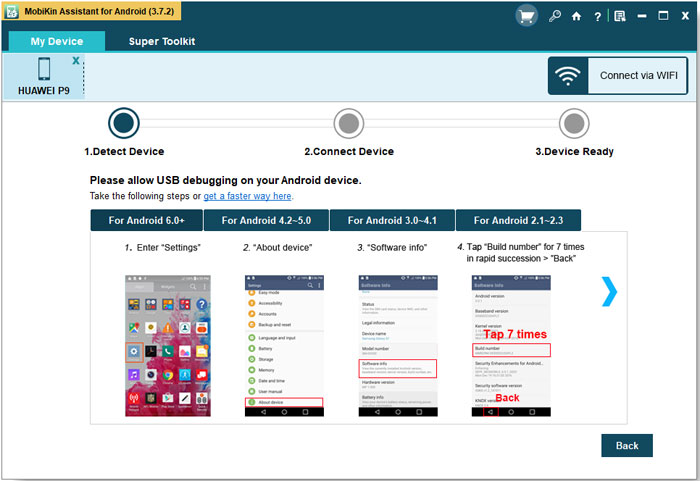 If you find the detailed info of your Android phone have been displayed in the program just like the below, then you device have been connected and recognized by the program successfully. If you can't find an interface like below, that means your device is failed to connect. In this case, you can go to this page to find solutions.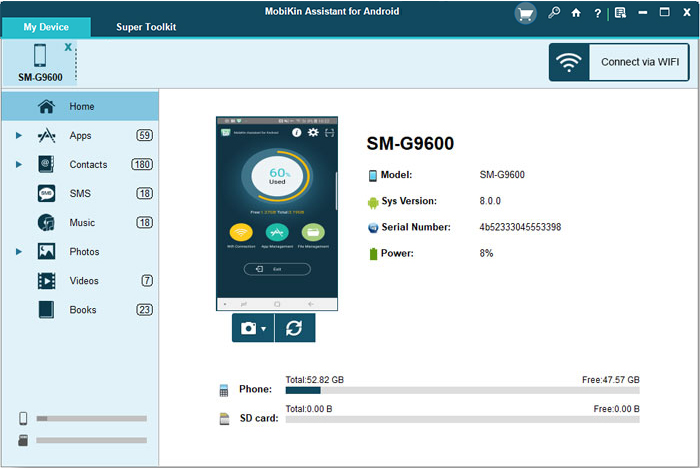 Step 2: Preview and Export Contacts to Computer
On the primary interface, you can directly click the "Contacts" button from the left panel. Then you'll find that all the contacts in your phone will be shown in the program accordingly. Click any contact in the program for viewing, and then mark all number you need, and click the "Export" button to back up your contacts to the PC.
If you wish to export all contacts from Android to computer, you can directly click the option "Super Toolkit" on the top menu, and hit "Backup" button in the main screen. After that, tick the file type of Contacts, and hit "Back Up" button to back up your selected data to PC.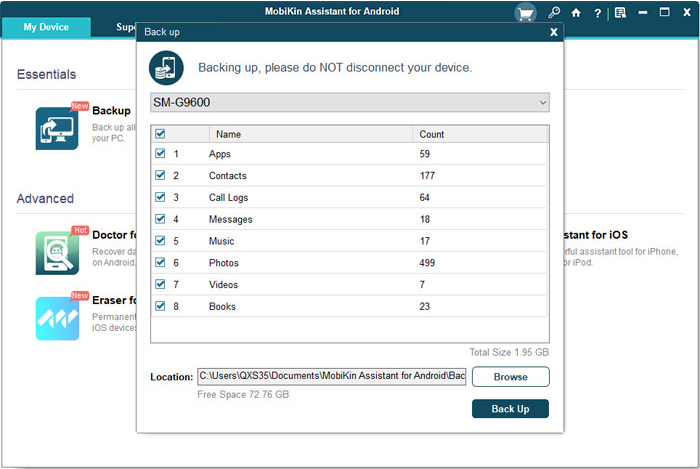 How Can I Export Android Contacts to PC with Google Account?
Do not like to use a Android data transfer software? Then you can try to export the contacts with Google account. By using this way, you just need to sync your Android contacts with your Google account and then export them to computer easily. Here are the details and you can follow them to have a try.
Step 1. Sync Your Android Contacts with Google Account
Go to "Settings > Accounts" on your Android phone and find the icon of Google under the "Accounts" section. Then you should login with your Gmail account and check whether you've enabled the sync "Contacts" option.
Step 2. Export Contacts from Android to PC with Google Account
Now you can turn on your computer and sign in your Google account. Then you can navigate to "Contacts" in your account, and tap on "More > Export". After that, you'll see an interface like below. Just choose the contacts you wish to export and decide the exported format as you like. After that, you can click "Export" button to begin the process.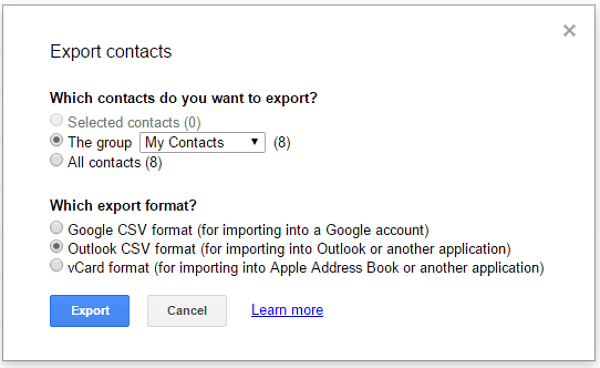 How to Move Android Contacts to Computer via USB Cable?
Apart from two methods above, there is an original and simple way to move the Android contacts - making use of the inbuilt "Contacts" feature on your phone. The inbuilt "Contacts" feature of some Android phones enables users to import/export contacts from Android to USB storage. With it, you can move the wanted contacts to USB storage first and then transfer them to PC. Here is how:
Step 1. Export Android Contacts to USB Storage
Click the "Contacts" icon on your phone to open the application and then choose the option "Import/Export"> "Export to USB storage" from the menu to save your contacts as a .vCard file.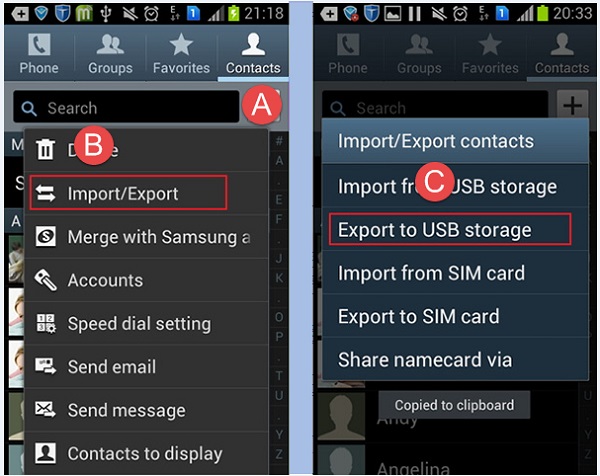 Step 2. Move the Saved vCard File to PC
Use a USB cable to connect your Android phone to computer. When the mobile phone is recognized, you can simply drag and drop the vCard file to PC. If the computer fails to recognize your device, you can click here to get the solutions.
Comparison among 3 Transferring Methods
To help you choose the proper method more easily, we would like to make a comparison for these 3 ways:
| | | | |
| --- | --- | --- | --- |
| | MobiKin Assistant for Android | Google Account | USB Cable |
| Contact | | | |
| SMS | | | |
| App | | | |
| Music | | | |
| Videos | | | |
| Photos | | | |
What Can You Do If You Want to Restore Contacts Backups to Android?
Now, you have exported or backed up your Android contacts on the desktop computer, and you may feel free to delete some files to release the storage space or return the Android phone to the factory resetting. However, you may change your mind after removing the files and wish to recover the deleted contacts. It's easy! To reach it, you still can use the above recommended tool to load contacts from desktop computer as you like. Below are the detailed steps:
- Make your Android be recognized, and directly go to "Contacts" category.
- Click the button of "Import" to find the contacts backup files in your local disk, and then choose the one you wish to restore and click "OK" to load them to your connected Android easily.
If the backup file is generated with the MobiKin's Backup function, you can directly go to "Super Toolkit" and click "Restore" button to get contacts back to any Android device as you like.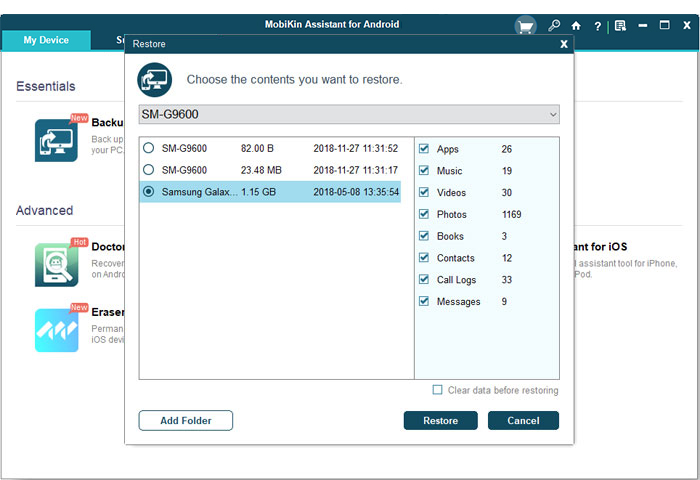 Write in the End
With the methods mentioned above, you are able to back up your Android contacts with clicks and prevent them from losing meanwhile. It is such an easy and helpful thing so why don't you have a try?
Related Articles:
How to Transfer Contacts from Android to iPhone?
How to Transfer Contacts from Android to Android?
Simple Methods to Transfer Samsung Files to External Hard Drive
The Tutorial to Print Contacts from Android Phones