How to Clean User Storage from Android?
Q: "I bought my Samsung Galaxy last year and I found that the operation of the mobile phone is slower and slower as time goes. So I deleted many files to free the space of memory card. It did works and my Samsung operated fast again. But the situation did not last for a long time. Later the device began to respond slowly. But all the files in my smart phone are all useful and I do not want to erase them. So what should I do to speed up the Samsung phone? It will be appreciated if anyone could give me some detailed advices."
Android phone users may be familiar with the problem that the person who asked questions above. With time past, the operation of the Android phone will become slower. It did not help a lot after users clean many files they downloaded before. Why? You should clean junk files like user storage from the device. You may know that various traces will leave on your device when you use the smart phone. For example, the temp files will be left on your smart phone when you browse the web page online. If the apps crashed, there will be crash logs on your iPod even after you fix the applications; Photo caches will be generated when you browse pictures on the internet. These files are useless to you so cleaning them is the best choice for you if you want to free the memory space and speed up the device.
Recommended Tool to Clean Android Device:
Then how to clean them efficiently? I don't think it is a good idea to clean them manually. Because you need to find them among different folders. Here we will recommend you a third party tool - Android Data Cleaner to help you solve the problem. As a professional and powerful cleaning software, the program can detect the connected device automatically and scan all the junk files like app temp files, app cookies, app caches, user storage files, photos caches, crash logs, etc on your mobile phone deeply and thoroughly. It can also support all brands of Android phones like Samsung, Motorola, HTC, LG, Sony and so on with high compatibility.
Now, just click the below icon to download the free trial version on Android mobile phone as you like. Then follow the guide below to perform the cleaning process. Besides, the guide will take the user storage as the example and actually the processes of cleaning other junk files are same to this.
Steps to Clean
User Storage on Android
Step 1. Download and install the software on your computer. Then connect your Android phone to PC with its USB cable. Install the MobileGo connector on your device and then you might see the interface like this.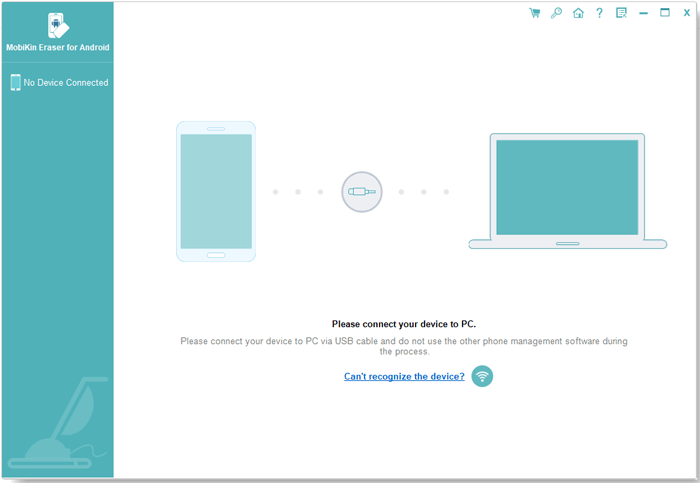 Step 2. Then select the Erase All Data mode on the interface to continue.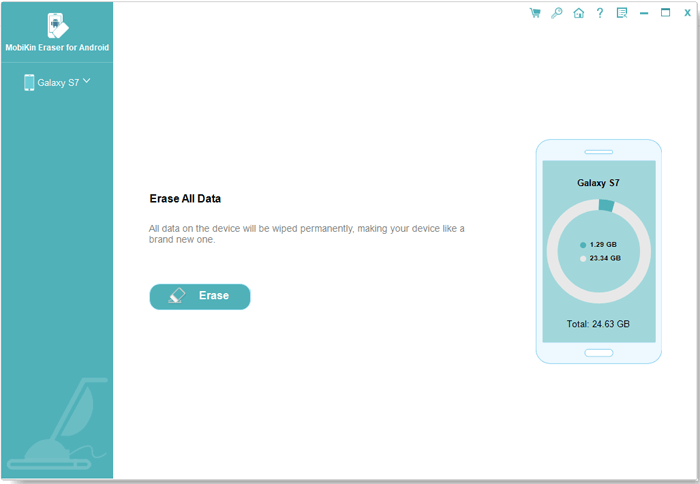 Note: For Android device, the software now only supports the Erase All Data mode, so please make a backup before you start the process.
Step 3. Then you will see a new window, just type the word of "delete" to confirm your action and then hit Erase Now button to clean them all.
Related Articles:
How to Remove Contacts from Android SIM Card Permanently?
How to Fully Erase SD Card on Android Phone?