How to Download Facebook Videos on iPhone
Hi, so I saw this video on Facebook that one of my friends had posted and I wanted to download and store it on my phone somehow. I have an iPhone 5s. Is there any way I can do it?
As it is known to all that Facebook is one of the most famous social connecting network all over the world. You can use it to upload your own photos or videos for sharing with your friends or family members whenever you want. Thus, you also can view the uploaded videos in the Facebook that your friends shared on their Facebook account without limitations. Sometimes, you may find some good videos and wish to save them on your iPhone or mobile phones for reviewing later, but how to do it? Theoretically, it is impossible to download Facebook videos on iPhone directly and view them again and again due to the restrictions of Apple, but in fact, you still can reach the goal with some small applications.
Every time when you view Facebook videos on your iPhone, you may used to tap on the video and wait for the download options will be appeared, right? However, you never see this options any more. That is mainly because there is no Downloader Manager application in iOS devices, so if you wish to download videos from Facebook on iPhone, you need to manually install a downloading manager tool on iPhone, iPad or iPod touch. Then, things could be very easy for you. In this article, we'll show you how to achieve the goal step by step.
Steps to Download or Get Videos from Facebook on iPhone Directly
First of all, you need to download and install the Video Downlaoder Plus app from Appstore to your iPhone easily. Here, you'll be required to enter the Apple ID and password to finish the installation.
Then, you can launch the app and login Facebook app with your Facebook account directly. Here, you can browse anything as you like. And when you open a video, tap and hold on it, a Download option will be appeared.
Don't hesitate to click on "Download" button and continue to choose "Add to Camera Roll", then you selected videos will start downloading, and you can check the process in the app clearly.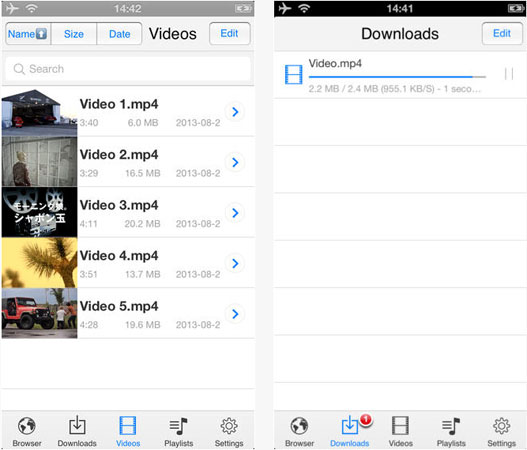 How to Upload iPhone Videos to Facebook?
If you wish to upload the customized or recorded videos to your Facebook account, you can take a brief look on the below steps:
1) Download Facebook application on your iPhone 6/5S/5/4S/4 from App store, and sign into it by using your Facebook username and password.
2) Touch the "News Feed" icon to enter a new window. Here, please select "Photo" > "Take Photo or Video" or "Choose from Library" to select a video for uploading.
3) Type a video title or caption into the supplied box, then click "Done" button to begin the uploading process easily.
As you can see, download or upload videos between Facebook and iPhone are so easy for every iPhone users. And if you're going to sync Facebook contacts with iPhone, you also can do it within few clicks.
Related Articles:
How to Transfer Music from Mac to iPhone?
Top 8 iPhone Voice Memo Apps You Can't Miss
How to Recover Voice Memos from iCloud Backups?
4 Ways to Transfer Voice Memos from iPhone to PC/Mac without iTunes
How to Put Ringtones on iPhone from Computer? Fix Here!