How to Sync Songs from Mac to iPhone X/8 Plus/8/7/6S/6
Apple products are some of the most loved items in gadget history. It's about the quality of hardware and software which this tech-giant produces that makes their products a darling among tech-loving consumers across the world. There has seen an increasing number of people making the shift, say from other operating systems, to iOS. These people own Mac computers and iPhone at the same time. But because they are first-timers, they find it hard to transfer music from Mac to iPhone. In regard to that, this short tutorial has been written to help those who don't know learn how to do this transfer. But first, why would you want to make that transfer in the first place? The answer is simple; the 21st century consumer loves everything that has the word "mobile" associated with it. An iPhone is small enough to fit into your pockets. Once you plug your headphones, you're ready to go with your music. You don't have to rely on your Mac computer at all times. And secondly, knowing that music files are backed up in both your Mac and iPhone gives peace of mind. It tends to bring laxity, as file transfer can be affected from Mac to iPhone and from iPhone to Mac.
Steps to Sync Music from Mac to iPhone X/8 Plus/8/7/6S/6
First, you can transfer music from Mac to iPhone by using iTunes. You can follow the steps below.
(1) Actually, using iTunes is going to be the easiest way for us to make this transfer. So you can start iTunes on Mac, and then go to Edit, Preference, and Devices. Then go to check "Prevent iPod, iPad, and iPhone from establishing syncs automatically".
(2) In this step, you can plug in the iPhone into the computer using a standard USB cable. In this stage, iTunes should be able to pick up your iPhone and display it on the upper right corner of the user interface. You can click file, then "add file to library", on the upper left corner of the screen to add the selected music files.
(3) iTunes will add music files into the library, so the next step is to click on the iPhone icon towards the upper right corner. Then you can choose music in the summary panel. There should be an option which will let us check the box that says "Sync music from". Here, you can select your music files from the various playlists.
(4) If all the steps highlighted above were executed correctly, iTunes should automatically begin to initiate the process of transferring music to iPhone. The progress will show in the middle of the screen so you know how things are going.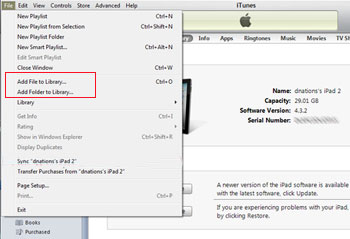 As you can see, iPhone users can easily transfer their music from Mac to iPhone effortlessly. However, iTunes will delete music that was not downloaded or purchase from iTunes, i.e. CD copies and so forth. This means you should pay attention to the non-purchased music files if you wish to keep them.
Written in the End
The good news is that there's a way of going round it to ensure that the music files are not lost. We shall use an iPhone Transfer program which syncs to both devices. There are many apps that can do this job on the web. You can search them on the internet. And apart from that, you may need another program to help you transfer music from iPhone to Mac, so here we recommend one of the best which is called the MobiKin Assistant for iOS (Mac version). This app lets iOS users seamlessly transfer files without encountering challenges on the way. It simply lets users make this transfer possible without syncing with iTunes. Furthermore, this transfer is not limited to music alone, as the software can handle all types of iOS files. It's as straight-forward as that. With it, you can easily and quickly transfer music from iPhone to Mac as you like.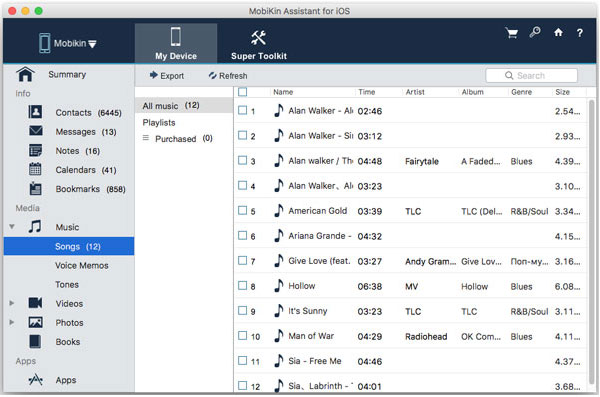 Related Articles
How to Transfer or Copy Music from iPod to Computer
Tips to Transfer Music from iPod to iPhone Easily
How to Copy Songs from iPod to iPod