How to Transfer Files from Nokia and Nexus 5 Easily
The smart phone running Android operating system can be the most easy-to-handle cell phone around the world, and there is no doubt about that. So when you get used to using an Android mobile phone, you may not be accustomed to change another phone with totally different operating system.
Consideration about Transferring Data from Nokia to Google Nexus 5:
Supposing you used to have a Nokia phone and recently switch to a Google Nexus 5 cell phone, you can absolutely operate your new phone in a very short time. Let's set this part aside. What is the most important thing after you bought a new phone? The answer is how to cope with the data in the old phone. It's necessary to transfer the basic files from Nokia to the new Nexus 5 phone.
Basically, you need to keep the contacts, messages, music, videos, photos for sorts of reasons. But it's little bit difficult if you only use a USB cable because it doesn't get the ability to transfer files directly. So it's time to turn to some professional guidance.
Recommended Tool for You:
In this article, we are glad to introduce a powerful third party program to achieve the goal. It is the Mobile Phone Data Transfer software. With it, you can not only copy the contacts, messages, but it allows for transferring multimedia data like music, photos, video, voice memos, etc. between devices. In short, you can move files from Nokia to Nexus 5 or from Nexus to Nokia effortlessly. So you can consider the professional program as your assistant.
This program is a standalone program with high security and compatibility. In addition to Android operating system devices like Samsung, LG, Motorola, Sony, Nexus, HTC, other devices running iOS, Symbian, Windows and Blackberry are also supported by the software.
Now you can download a free trial version to transfer files between your Nokia to Nexus 5 device by hitting the blue icons below.
Guide to Transfer Files from Nokia to Google Nexus 5
1st - Download and install the program in the first place and launch it on your computer. Then choose the mode "Phone to Phone Transfer" and link your Nokia and Nexus 5 to your computer via USB cables.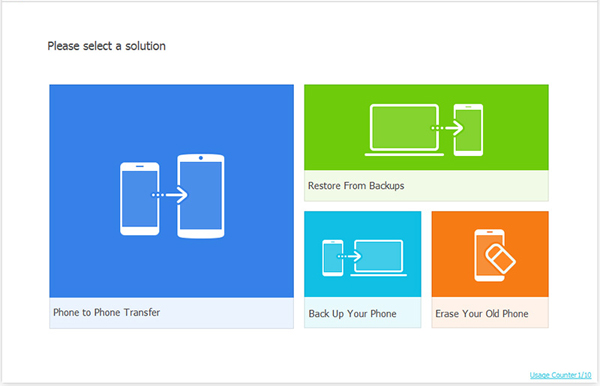 2nd - To transfer files from Nokia to Nexus 5, you need to check whether the devices are detected by the program and displayed in the "Source" and "Destination". If not, click "Flip" to reverse the wrong order to the right.
Then you can tick the file options of "Contacts", "Music", "Photos", "Messages", etc. to copy them from the Nokia to Nexus 5 and click the "Start Transfer" button to begin the syncing process. Check the details as follows.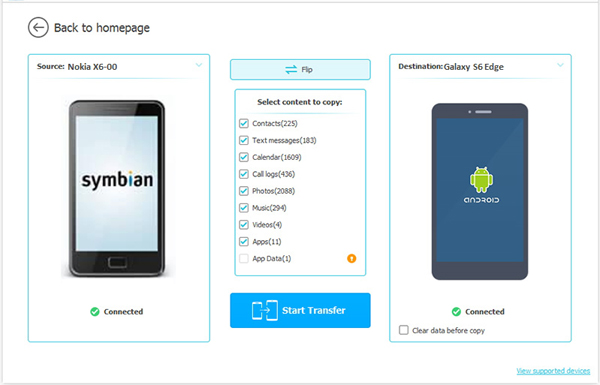 Note: You can also move files from Nexus 5 to Nokia by clicking the "Flip" button on the program after the connection, then the Nexus device will be put in the "Source" spot and Nokia "Destination". All in all, you can transfer files between Nokia and Nexus 5 freely with this software.
Related Articles:
3 Ways to Recover Deleted Contacts on Samsung Phones
[8 Proven Ways] How to Backup Samsung Messages Safely