[2023] Full Guide to Recover Deleted Photos in Redmi Note 8/7 Pro
Among all Android device brands, Xiaomi can be said to be one of the most popular ones. Especially the Redmi Note series is sought after in the market. However, no matter what the brand, data loss is still inevitable. So, there are two issues that the majority of users are more concerned about:
Can we recover deleted photos from MI Phone?
Losing or deleting photos is a prevalent situation. Sometimes it's because the user accidentally pressed the delete button by mistake. Sometimes, viruses, water damage, and system upgrades may cause smartphone data loss. So, once the beloved photos are gone, do we still have a chance to retrieve them? The answer is yes. In fact, the deleted photos do not disappear from your phone immediately, and they are just marked as invisible by the system. If you use a professional data recovery tool, you can find and restore them effortlessly.
Where are deleted photos in Redmi?
The deleted photos are actually still in your Redmi phone, but they are set to be invisible, so you can't see them. The places where these photos were previously saved are also marked as available by the system. If you receive new data at this time, these places will be occupied, those deleted photos will be overwritten by the new data, and you will lose the opportunity to recover them back.
Therefore, it is vital that once you find that the data is lost, please stop using your phone immediately and use a professional Xiaomi data recovery software as soon as possible to help you recover the deleted data from Xiaomi/Redmi.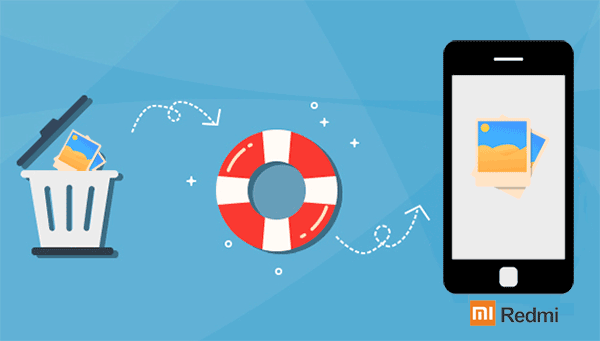 Part 1. How to Recover Deleted Photos in Redmi without Backup
How can I recover deleted photos from Xiaomi without doing any backup? Well, if you wish to retrieve lost data from your Redmi Note 8/7 Pro directly in a fast and easy way, you can pick out the MobiKin Doctor for Android. It is one of the powerful and effective Android data recovery programs, which is particularly designed for recovering all types of data from Redmi, as well as other Android phones, without any hassle.
Main features of this Xiaomi Data Recovery software:
Directly recover photos, music, videos, contacts, SMS, call logs, etc., from Redmi/Xiaomi phones.
Recover photos/videos/audio from Xiaomi/Redmi SD card without connecting phone to PC.
Preview deleted and existing pictures before recovery.
Supports to transfer existing and recovered data to the computer for backup.
Compatible with almost all popular Android devices, including Redmi Note 8/7 Pro/4/4A/4g, 3S/3S Prime/3S Plus, Redmi Pro, Mi Max, Mix, Note 2, 5S, 5S Plus, Y2, 5A, 6 Pro, etc.
How to recover deleted photos from Redmi by using Xiaomi data recovery software:
Step 1. Download and install the software on your computer. After installation, launch it and connect your Redmi to this computer with a USB cable. Make sure you have enabled the USB debugging mode on your Redmi. After that, the software will detect the Redmi, and its main interface will appear like the picture below.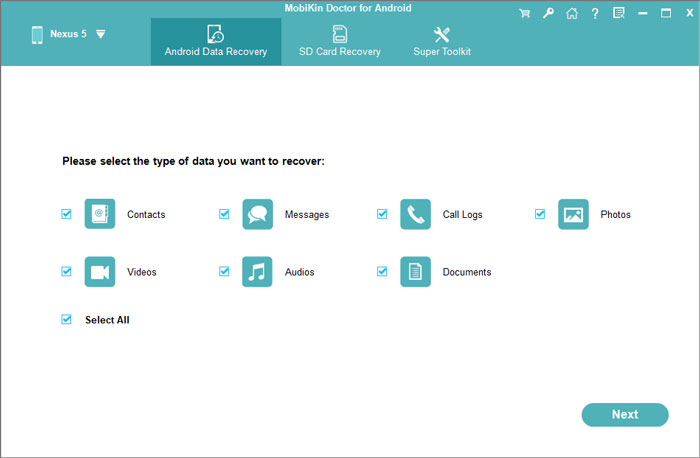 Step 2. The software window shows you a selection of different file types, including contacts, SMS, call logs, photos, videos, music, documents, etc. For this topic, you should choose "Photos" and click the "Next" button to proceed to the next steps.
Step 3. You will be taken into a new screen that all scanned out photos are displayed. Preview and tick off the photos you want back and click on the "Recover" button to get back the selected photos into a safe location on your computer.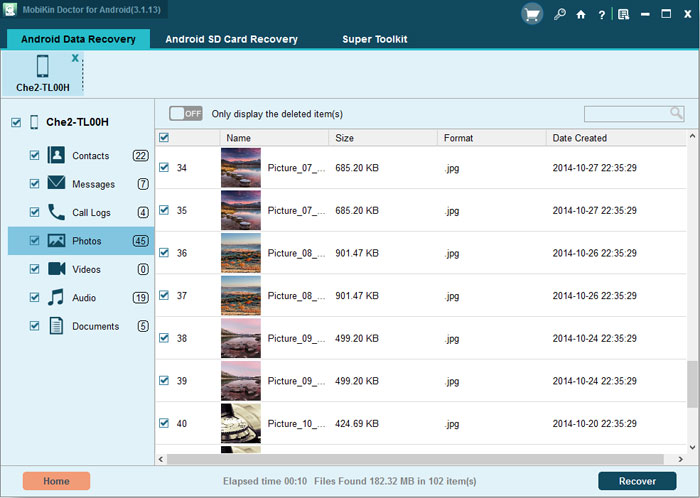 You can watch the video tutorial below to learn the operation steps more intuitively.
Related Posts:
Part 2. How to Restore Deleted Photos in Redmi from Xiaomi Backup
Mi phones come with a backup function, allowing users to back up and restore their data. As long as this function is turned on, the data will be automatically saved in the phone, and then the user can restore the deleted photos from the backup. Please follow the steps below to recover deleted photos from the Xiaomi backup.
First, launch the built-in backup app on your Redmi phone.
A list of files on the backup will be displayed for you to choose from.
Select the files you want to restore.
Tick the "Restore" option and wait for the photos recovery to complete.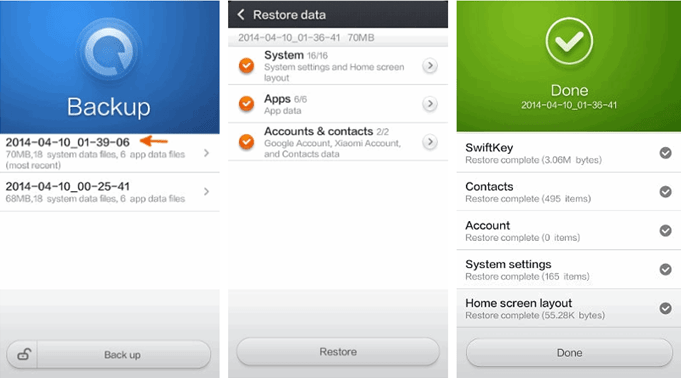 Note: Make sure that you have turned on the built-in backup feature on your Redmi.
Part 3. How to Recover Deleted Photos in Redmi Note 8/7/6 from Mi Cloud
Xiaomi has its own cloud platform so that its users can easily and safely back up the pictures and other valuable content in their phones. The cloud platform is called Mi Cloud. It provides 5GB of free storage space for each Mi Cloud account, where you can synchronize or store various data such as videos, photos, recordings and other items. If you have backed up your photos to Mi Cloud before deleting them, then you can perform the following steps to restore deleted photos from the Mi cloud backup.
To start with, sign in to your Mi account on your Redmi phone.
Next, go to "Settings" > "Mi Account" > "Mi Cloud" and choose "Restore from Backup" option.
Select the backup files that you want to restore and then click on the "Restore from this backup" button.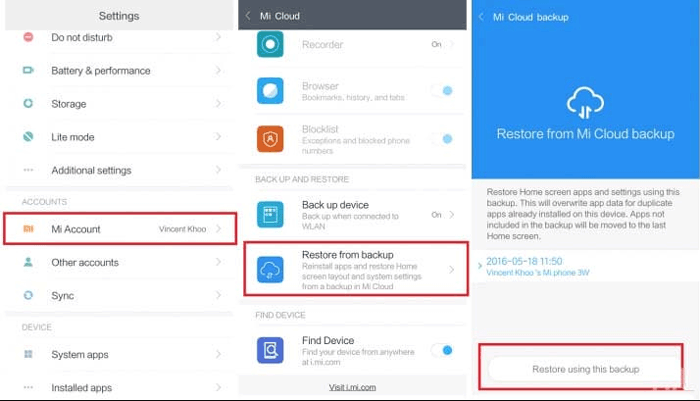 Can't Miss:
Part 4. How to Recover Deleted Photos in Redmi with Google Photos
Google Photos is mainly a platform for storing and sharing photos and videos. If you want to recover deleted Redmi photos from Google Photos, you must first meet the following prerequisites. If you do not meet these conditions, I am afraid you cannot use Google Photos to recover lost photos from Redmi:
Your local photos have been automatically stored in Google Photos, provided that you use the Internet before deleting the photos.
You have manually uploaded photos to Google Photos.
You have not permanently deleted the photos you want to recover in the Google Photos storage.
The photos will be erased from the Google Photos Trash within 60 days upon deletion, therefore, to ensure that the recovery operation is performed within the 60-day validity period.
Steps to recover deleted photos in Redmi with Google Photos:
Launch the "Google Photos" app on your Redmi phone.
Go to the top left corner to click the menu icon, which looks like three vertically-aligned dots.
Select the "Trash" option from the list.
Preview and select the photos you want to recover by tapping them one by one.

Turn to the top right corner to click the Undo icon to restore those selected photos into the Google Photos app.
Tap on the "Restore" button to transfer these photos from Google Photos to the Gallery or Album in your Redmi phone.
Part 5. How to Retrieve Deleted Photos in Redmi with Dropbox
Dropbox is a file storing, sync, and backup tool for Windows, Mac, Android, iOS and etc. users. Similar to Google Photos, it also has a trash folder that contains deleted photos for 30 days. To recover deleted photos on Redmi from Dropbox, you should:
Log in to your Dropbox account on your desktop.
Go to click "File" and choose the "Deleted Files" option.
Select the photos you want to recover and click on the "Restore" option.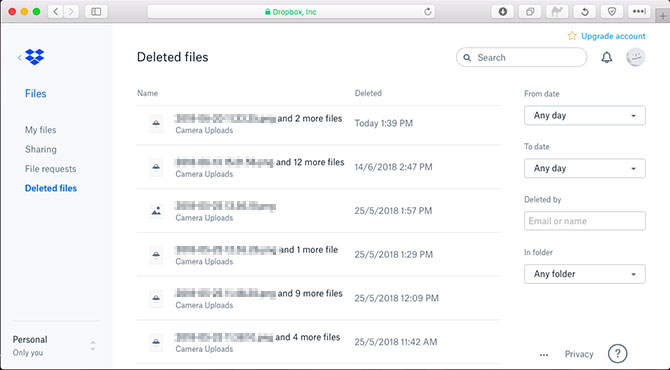 Words in the End:
From the five recommended solutions for photos recovery for Redmi above, we can see the importance of backup. Backup is the most effective way to solve data loss. Therefore, it is necessary for us to learn how to back up Redmi/Xiaomi.
And when you have accidentally deleted or lost photos or other important data, and didn't make a backup in advance, don't be discouraged. With the help of MobiKin Doctor for Android, you can easily restore deleted photos directly from Redmi.
Do other people a favor and share this information. Besides, if you have any suggestions or questions, you can mention them in the comments section below. We appreciate every input we receive.
Related Articles:
How to Recover Deleted Photos from Samsung Galaxy
3 Easy Ways to Recover Deleted Files from Android in 2021
Best Samsung Galaxy Recovery in 2021 - Recover Deleted Files on Samsung Galaxy
How to Recover Lost Contacts from Samsung Galaxy
Recover Files from Android SD Card
How to Recover Data from Water Damaged Android Phone or Tablet?