Mi Data Transfer: How to Transfer Data from Mi to Mi [Easy Steps]
Xiaomi 10 has been officially released in Mar 2020, which is one of the few mobile phone brands supporting 5G network throughout the world. For many Xiaomi fans and some young people who pursue independence and freedom, Xiaomi mobile phone, ranking top 5 in the world deserves their trust. If you just want to start a new Mi, at this time, the data such as call logs, contacts, SMS and photos may be your first consideration to transfer to a new Mi. It is necessary to have a feasible app for transfer. So how to transfer data from Mi to Mi can be a challenge.
This post will focus on introducing several easy-to-use tools for Mi data transfer for you accordingly. Thus, you can enjoy the high-quality service brought by the software while solving your problems.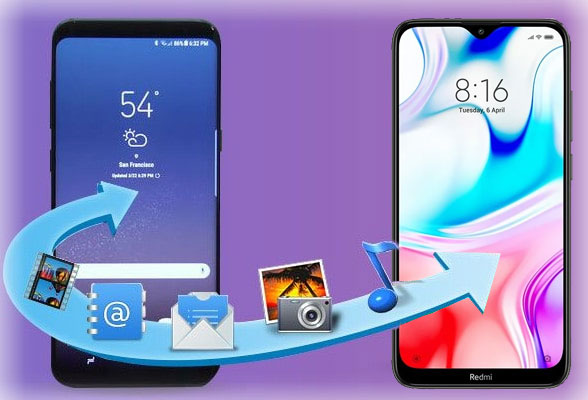 Part 1: How to Transfer Data from Mi to Mi via Transfer for Mobile
(Trustworthy)
People often say that happiness needs to be shared with others, and so does practical mobile software. With the praise of hundreds of thousands of users, and characterized by its design, function and user experience, MobiKin Transfer for Mobile - an excellent program, can always make your issues of MI data transfer disappear. What kind of software is this?
Here are the highlights of MobiKin Transfer for Mobile:
> Send contacts, call logs, SMS, apps, music, videos, photos, documents, etc. between two Xiaomi devices.
> Supports cross-platform transfer, such as Android to iOS transfer, and iOS to Android transfer.
> Move data from one device to another without damage. You do not need to worry about data loss issue.
> Be compatible with practically all the phone with iOS and Android OS, including Xiaomi as Xiaomi 10/9 Pro/9 SE/8/8 SE/Play/6X/MIX Alpha/MIX 3/Max 3, Redmi Note 8/Note 7/6, etc.
> The operation is very simple, just a few minutes, you can complete the transmission task smoothly.
Download the trial version of this Mi sync program to perform your Mi data transfer now.
After you download it, let's check out how to transfer data from Mi to Mi with MobiKin Transfer for Mobile:
Step 1. Install its trial version and open it on PC or Mac to see the initial interface. Here, we take Windows version as the example.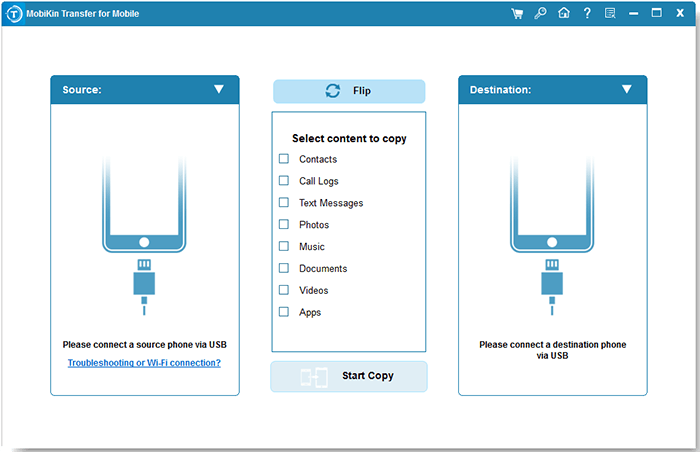 Step 2. Connect both your Mi phones to PC via USB cords to wait for the automatic detection by the tool. Then, enable USB debugging on both phones and tap OK or Allow to move on. After that, you can see the main interface as below.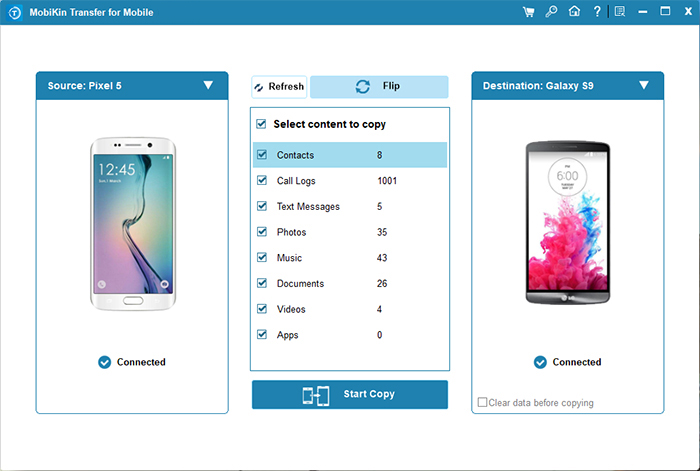 Note: Ensure that your two Mi phones are in the right place. If they are wrongly placed, tap Flip to switch them.
Step 3. Select the data types you want to move, such as Contacts. Then click Start Copy to start to transfer data from the source Xiaomi phone to the destination Xiaomi device. Of course, other data like music, videos, photos, can also be sent in the similar way.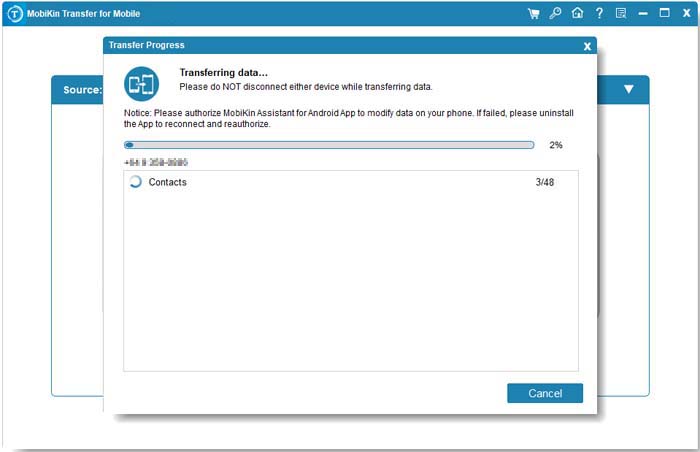 Part 2: How to Transfer Data from One Mi Phone to Another via Assistant for Android
The software just introduced for you can directly transfer data from one Xiaomi phone to another. Here's another program named MobiKin Assistant for Android. Although it can also directly transfer data like contacts, call logs between mobile phones, it can move Mi data in other method as backing up Mi photos, videos, documents, apps and others to PC, and then recover those data from your computer to the new Mi. In addition to these traits, MobiKin Assistant for Android can also help do other operations on apps, SMS and others in your Xiaomi phones, such as installing and uninstalling apps, sending and receiving text messages and so forth.
Let's see how to use this Mi transfer app to transfer data from one Mi phone to another:
Step 1. Install and open the program. Then, connect your source Xiaomi/Red mi/Mi mobiles to PC via USB cables and enable USB debugging on this Android phone as prompted. Then click Allow or OK to authorize the connection. Next, you'll get the main interface.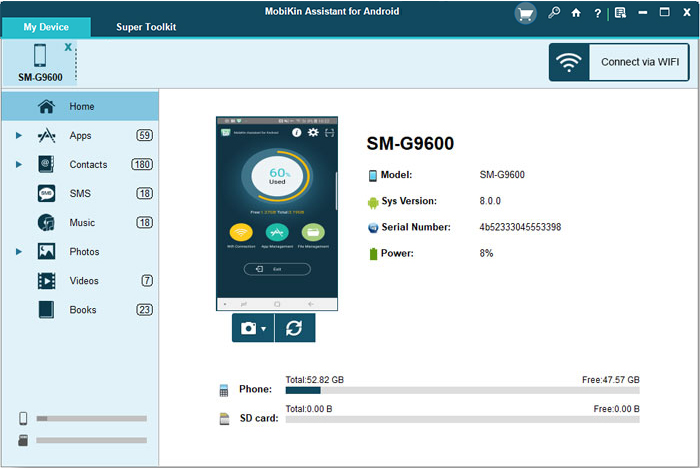 Step 2. Go to Super Toolkit > Backup to select your desired data types and tap Browse to create or find a Location on PC to house these files. Then click Back Up to send them from your old MI to PC.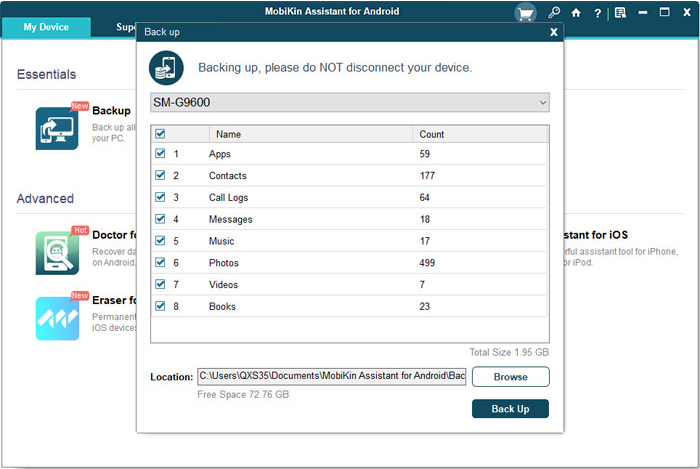 Step 3. Once the backup process is finished, you can eject the old Xiaomi phone and connect your target Mi device to the same computer. When the program detect the new Mi, you can turn to the Super Toolkit interface, tap Restore to choose your backed-up data categories, and click Restore again to get your needed data to your new Mi.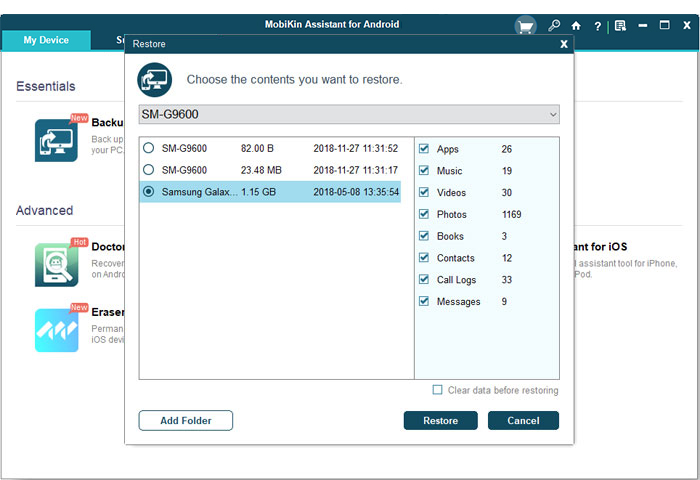 Part 3: How to Transfer Data from Old Xiaomi Phone to Xiaomi 10 with ShareMe
Not limited by mobile brands, configuration and other factors, ShareMe, an official product designed by Xiaomi Inc, also supports most other Android phones. With intuitive interface design, it can be used to transfer data as photos, music, videos and other files between Android handsets. Additionally, ShareMe boasts a Windows version, you can also transfer data from your Android phone to your computer with it.
This is how to execute this Mi move app - ShareMe to transfer data from old Xiaomi phone to new Xiaomi 10:
Step 1. Download and install ShareMe on both your Xiaomi phones. Then, open it to give permissions for data access. Next, enable Bluetooth and WiFi on both phones, and sign in the app.
Step 2. Tap on Send button on source phone and choose the data that you'd like to send, such as photos, apps, documents, music and videos, etc. You can also type the name of the data files on the search bar to find out the files quickly.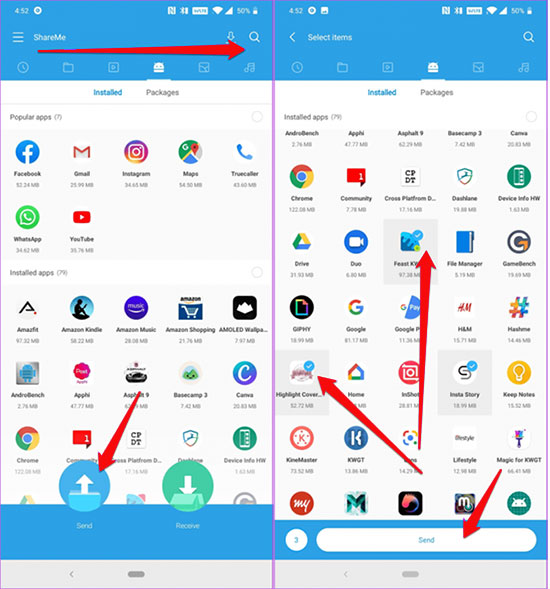 Step 3. Tap Send button again and connect to the other Mi phone as the window cues you. Place both your phones closely and just choose the other Mi from here. (you can also click Scan QR Code to connect both phones via a QR code if needed)
Step 4. After that, receive the chosen files on your new Xiaomi to wait for the task completion.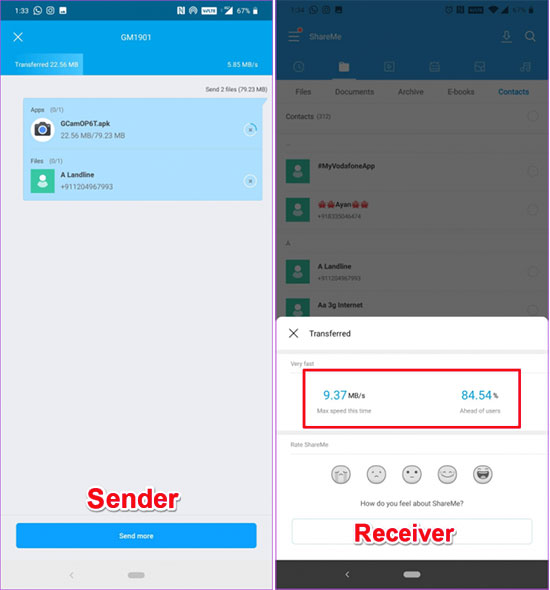 Tips: Provided that there are lots of data, the whole transfer process may be slow. Please don't remove any mobile phone during this process in case of transfer error. If that happens, touch Restart to reset.
Can't Miss:
Part 4: How to Perform Mi Data Transfer between Two Xiaomi Phones with Mi Mover
We can draw from its name of Mi Mover, which is designed for Xiaomi mobile phones. It supports the file transfer between two Xiaomi phones. And its supported data types include address book, call logs, SMS, photos, music, videos, applications, mobile ring tone, etc. When moving, it is nearly 100 times faster than Bluetooth. Besides, the new and old Xiaomi phone are encrypted for wireless transfer without networking. It can run on most Xiaomi phones, and if you want to download this tool, you can search for it from the Mi App Store.
Guide on how to use the Mi sync tool - Mi Mover to transfer data between two Xiaomi phones:
Step 1. Download, install and open Mi Mover app, or you can go to Settings > Additional Settings > Mi Mover to turn it on. Then, enable WiFi feature on both your two Xiaomi gadgets.
Step 2. Label the source and the destination Mi phones respectively on this tool. While starting Mi Mover on target Mi phone and marking it as Receiver, it will show you a QR code. Now, place your source Mi phone nearby and scan the QR code to establish a virtual connection.
Step 3. You are now asked to choose the file types you want to transfer. Then, choose photos, videos, contacts, and apps, etc. Next, click Send and receive the selected data on your destination Mi device.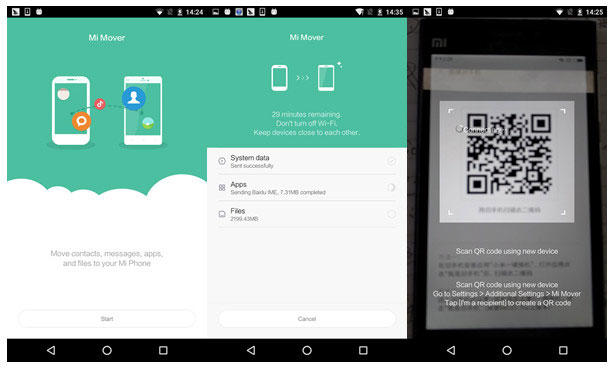 Part 5: A Comparison Among the Above 4 Methods
After talking about the characteristics and usage of these 4 Mi transfer tools, do you have a basic understanding of them? Here, in order to facilitate you to pick out the most favorite tool, I have summarized their core features and some parameters in a simple way, and present them to you with an intuitive table. Well, here we go.
| | | | | |
| --- | --- | --- | --- | --- |
| | MobiKin Transfer for Mobile | MobiKin Assistant for Android | ShareMe | Mi Mover |
| Works on | Win and Mac OSes | Win and Mac OSes | Android phone | Xiaomi Mobile |
| Compatible devices | Nearly all Android and iOS devices | Nearly all Android phone | Most Android phone | Xiaomi models only |
| File types | More data types | More data types | Less file categories | Less file categories |
| Facility value | Extremely Easy | Easy | Medium | Medium |
| Cross-platform move | Yes | No | Yes | No |
| Speed | Extremely Fast | Fast | Medium | Fast |
| Extra Function | Move data between iDevices, Android and iDevices, and etc | Export, import, edit, delete and manage Android data on computer. | None | None |
Words in the End
After discussing 4 Mi data transfer tools and comparing among them, do you find some point that resonates with your own needs from their respective properties and advantages? Assume that you have read this article carefully, you will be surprised to find the most utility solution is MobiKin Transfer for Mobile, it can not only transfer data from one Xiaomi phone to another directly, but also supports cross-platform transfer. Therefore, if you don't want to be bothered by the management problems of Xiaomi or other mobile phones, download Transfer for Mobile to free you from trivial stuff.
Related Articles:
Ultimate Guide on How to Transfer Contacts from Android to Android in 2023
Top 5 Ways on How to Transfer Contacts from iPhone to Android
Top 4 Methods to Transfer Data from Samsung to Huawei
[7 Ways] How to Transfer Photos from Samsung to iPhone
5 Methods to Transfer Contacts from Samsung to Samsung
How to Transfer WhatsApp Messages from iPhone to Samsung S23 2023