Safari Running Slow or Freezing on iPhone or iPad? Here're Solutions to Speed It Up!
Safari is the default browser of iPhone and iPad, so if Safari on your iPhone or iPad begin to run slow, it could be a terrible browsing experience for all of you, right? So more and more iPhone or iPad users want to know why is their Safari so slow and how to speed it up, then we write this article to help you get out of the trouble.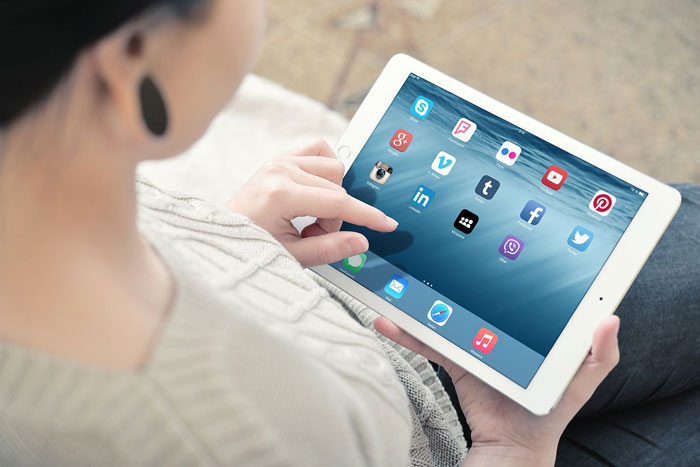 Thinking in Advance: Should I Just Buy A New iPhone or iPad?
A brand-new iPhone or iPad always runs well at anytime, but most of the time, it is not necessary to buy a new iPhone or iPad to replace the old one only because the Safari is running slower, and this is also not the focus on this page. Thus, finding out why is Safari running slow on iPhone or iPad and getting solutions to fix it could be more important here.
First of all, let's check the phenomenon when your iPhone Safari is running slow:
- Safari keep reloading pages and seems to be take forever to load webpage;
- Safari lags as you try to scroll on a page;
- Safari search bar or URL bar is slow whenever you want to type something;
- ...
When the Safari on your iPhone or iPad have appeared one or more above situations, you can follow the below factors to check why is it so slow and how to fix it one by one.
Can't Miss: How to Manage iPhone Safari Bookmarks on PC?
Why Is My Safari Browser So Slow?
To be honest, there are lots of reasons might result in Safari browser runs slower on iPhone or iPad, but here, we have picked up the most common reasons for your reference as below:
Reason 1 - Your iPhone May Out of Storage Space
We all know that the storage space on iPhone or iPad is limited, so after you've used your iPhone or iPad for a while, it's easy to run out of memory due to too many photos, music, apps, etc. have been saved on the device.
So, when you find that the Safari runs slow, you'd better to check whether the available storage space is out of limited. Here's how to check the free space on your iPhone or iPad:
Settings > General > About
If your iPhone or iPad still have more than 1GB free space, then out of space may not the reason you're looking for.
Reason 2 - Too Much Apps Are Still Running In the Background
Many people think that Apps are totally quitted after they're closed. But the facts have proved that they're still running in the background. Actually, in order to provide users with the best using experience on iPhone or iPad, it is really important for some apps to continue running even after they're closed, such as FaceBook or other messenger, YouTube player and so on. However, these apps will occupy a large amount of iPhone's capacity and result in slower performance on your iDevice.
So, just check whether there are too many apps running on the background, and close the apps that you don't want to continue running in the background of your iPhone or iPad. Now, just check it as follows:
Settings > General > Background App Refresh
Reason 3 - You Need to Update Software on iPhone or iPad
Go to "Settings > General > Software Update" to check if there's a software update available. If it is, just download and install it soon. Many people don't like to update their software to the latest one due to many reasons, but actually, a new version of software always has fixed lots of crashes, bugs or something like that, which will make your iPhone Safari runs quicker than before.
Reason 4 - Poor Wi-Fi or Cellular Network on iPhone or iPad
In most situations, a poor Wi-Fi or cellular network will slow your Safari speed and it might takes forever to load web page. So when you meet a situation like this, just change a network and try to reload pages again. If it is not working, that means network is not the main reason that resulting in Safari slow on your iPhone, iPad.
How to Fix iPhone Safari Runs Slow? 5 Tips to Speed Up It!
1. Clear History and Caches on iPhone/iPad
Browsers are used to store and record your searching history and viewing data, so that you can easily find what you want in the next time. However, when more and more history and related data have been stored, this can get clogged up and slow down Safari. So, you can go to "Settings > Safari > Clear History and Website Data" to clean all browsing history and data along with cookies.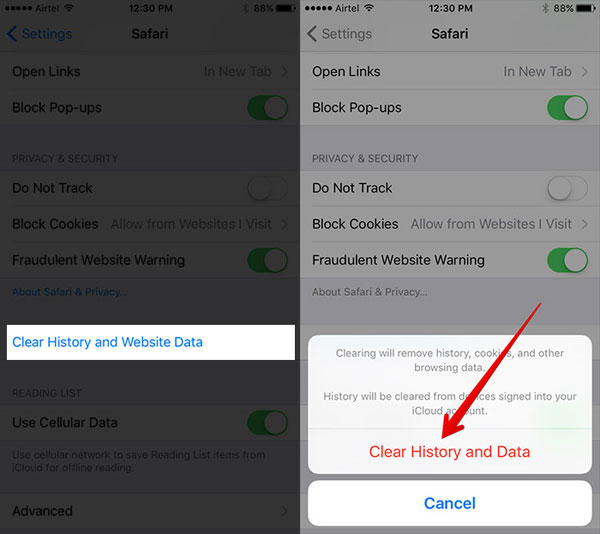 The above method is only used to clear Safari history and data, so if you wish to clean all unwanted files from your iDevice, you can take a free trial on the MobiKin Cleaner for iOS. With it, you can quickly find and remove all junk files, crashes, cookies, temp files, and even background processes on iPhone or iPad with few clicks.
Let's see how to perform it in details:
1. Connect iPhone or iPad to computer with USB cable, then launch the iPhone data cleaner software. When the device is recognized, you can see an interface like below: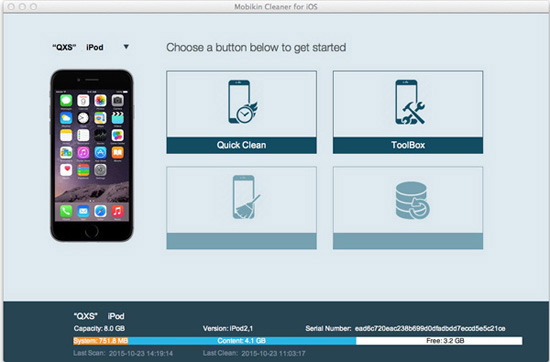 2. Choose "Quick Clean" mode and specify the file types you wish to remove, then click "Start Scan" button to scan files on your device.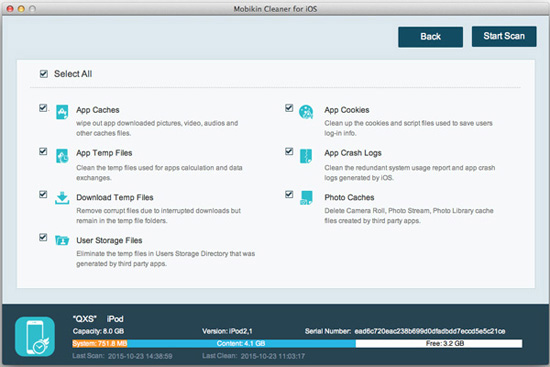 3. Check the scanning result and tick the option of "Select All" in the program. Hit "Clean" button to begin the whole process at once.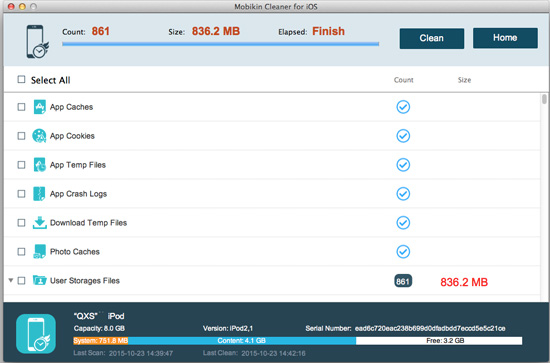 After that, your iPhone/iPad will free up more space and runs faster than before. For more info about how to clean iPhone Safari history, caches, cookies, etc., please click here.
Close Tabs
You may not notice that you have opened so much tabs in the Safari at a time, and your Safari is slower when you open these tabs, right? Actually, it has been proven that keeping unnecessary tabs open can slow down Safari. Thus, in order to improve your Safari running speed, you'd better to close unwanted tabs at once.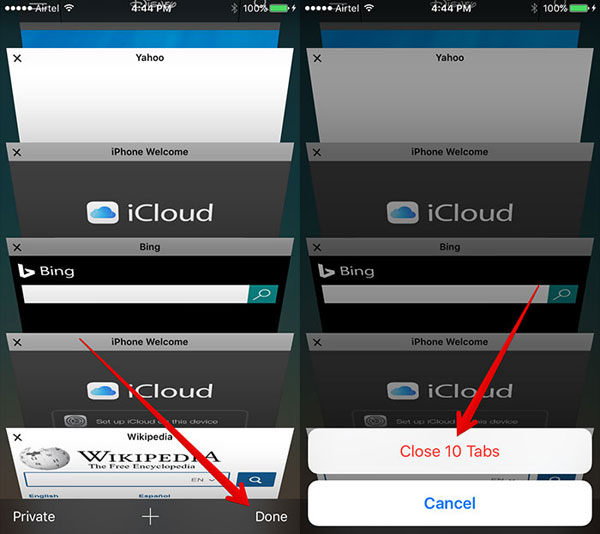 Disable Automatic Downloads, App Refresh and Background Processes
Every running app will consume the valuable system resources, so if there are too much apps running in the background, it will slow down the Safari's performance. What's more, if your iPhone is downloading updates and refreshing apps in the background while you're browsing, then your Safari may be freezing.
So please remember to close unwanted apps from background and disable automatic downloads on your device as follows:
- Go to "Settings > iTunes & App Stores > Turn off automatic downloads for Music, Apps, Books & Audiobooks, and Updates".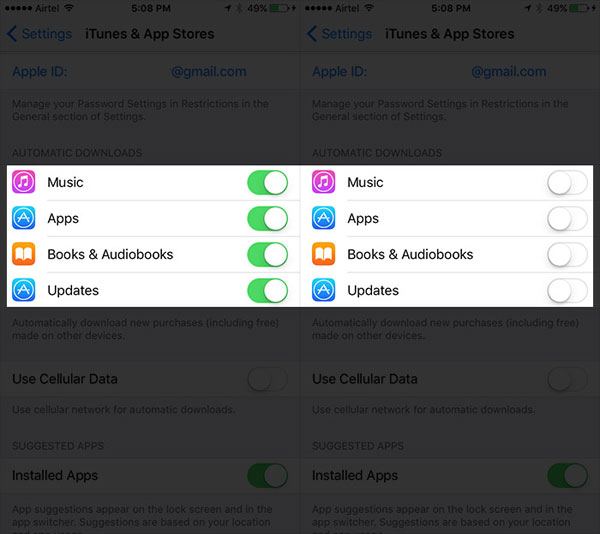 - To disable background app refresh option, you can also go to "Settings > General > Background App Refresh > Turn off".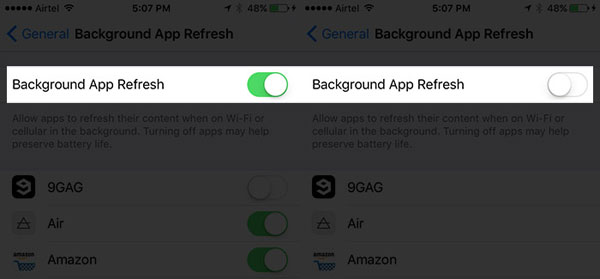 Reset Network
A good network can directly influence your using experience. So when you find the iPhone Safari keeps loading webpages and seems to be reloading forever, you can try to reset the network settings. However, please be noted that this action will let you lose your Wi-Fi password or VPN settings, but it is really useful to solve the lagging problem.
Step 1. Go to "Settings > General > Reset > Reset Network Settings".
Step 2. Confirm the message in the popup window and wait for the reboot.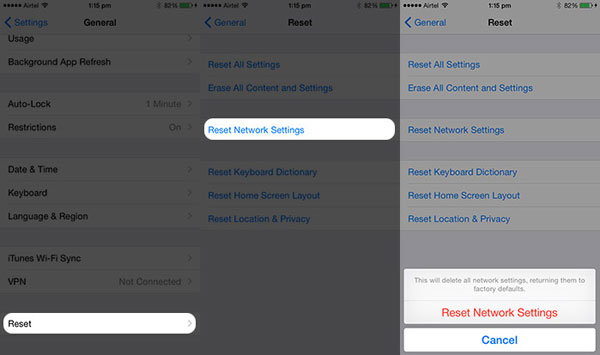 Disable JavaScript
Some users find the Safari runs faster after disabling JavaScript, but it may result in some interactive elements might fail to load. Below is the detailed clicks:
Go to "Settings > Safari > Advanced > Turn off JavaScript"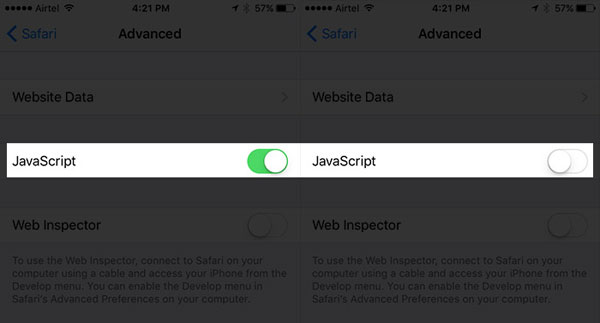 Write in the End
Do you have a clear mind of how to speed up Safari on your iPhone or iPad? In the above content, we have analyzed the reasons might result in Safari running slow on iPhone and picked up the possible solutions for your reference and we hope this post can help you get out of the trouble that you're encountering with Safari.
Related Articles:
iOS 11 WiFi Turns On by Itself? How to Fix It?
Top 4 iPhone Backup Browsers You Can't Miss
Transfer to New iPhone from Old iPhone/Android/PC [Definitive]
Want to Transfer CSV from PC to iPhone? Solutions Are Here!
[5 Ways] How to View/Get iPhone Text Messages on Computer