How to Watch Free Movies on iPhone, iPad or iPod touch?
Did you know that your iPhone can be turned to be the best source of entertainment? I don't mean the music that you always have on them but the iPhone can be utilized to watch free movies online and offline. Many iPhone users think that buying movies for playing on iPhone could be a great expense after a period of time, and some classic movies may can't find in the iTunes store, right? For this, have you ever wondered about converting your DVD collection into movie files on your iPhone or importing some amazing films from PC to iPhone? Worry less. This guide will explain the fascinating free movie sources and apps for your reference.
Best Ways to Get Free Movies for iPhone, iPad or iPod touch
Freemake Video Downloader
This is a free app that is used to download movies and videos from YouTube. However, to perform it, you may need to have some tips for you, and below is the simple steps for your reference:
Step 1. Download the Freemake Video Downloader from appstore and then search the movie of your choice on the website. You can directly copy & paste its URL in the downloader. Please ensure that the URL is copied correctly. Otherwise the downloader may download a different thing from what you were after.
Step 2. If the movie is in the format of MP4, click Download in the downloader. But if it is MP3 format, just skip it and move to the next due to MP3 format will not supported on iPhone.
Step 3. Upload the movie to Dropbox because you cannot transfer the movie from PCs to iPhones directly. So you need to open an account with Dropbox. Go to Dropbox app on your iPhone and download your imported movies as you like. You are now done and you can watch the movie anywhere.
Watch DVD Movies on iPhone with Handbrake
If you have a large amount of DVD collections at home, you can try to convert DVD to iPhone supported formats and view them on your iPhone with the help of Handbrake. Below is the detailed instructions for your reference:
Step 1. You need to visit Handbrake official site and download it on your computer. Then run it after the installation.
Step 2. Download the libdvdcss file to help you remove the copy-paste restriction on the DVD. This will allow you to copy the videos to your PC. Once the libdvdcss is downloaded, place it in the handbrake folder. If you are using windows, copy it to the programs files folder. For mac OS X, run it and it will automatically install in the required location.
Step 3. Insert the DVD into your PC. Start the handbrake app and convert the movies into iPhone supported format. Click "source" on Handbrake and click " DVD Video". After that, you can specify the title you want from the title drop-down menu and the picture tap will assist you to choose the right title.
Step 4. Click on the browse button to choose the destination where you want o save the file. From the presets list, select "iPhone". This will convert the movie into a format that can be compatible with your iPhone.
Step 5. Click on the "Start" button to begin the conversion. Wait until the process is finished. Once it is done, you can add it into your iTunes library and sync it with your iPhone. Enjoy the movie.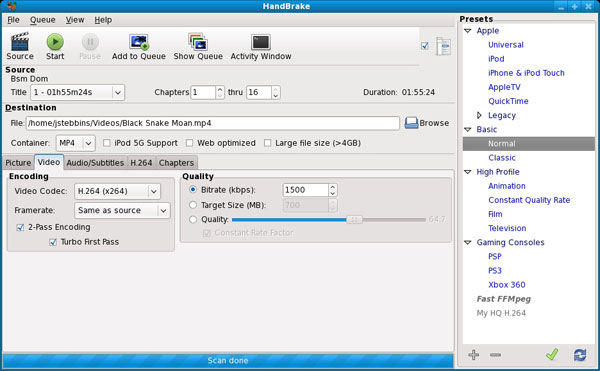 Where Can I Watch Free Movies on My iPhone?
In addition to the above methods, here we also have collected and picked few free movie apps for iPhone. You can go through them and use one of them to watch free movies on iPhone as you like.
Crackle: This is a free app that is downloaded free for iOS devices. It is utilized to download and watch movies on iPhone, iPad or iPod touch. New movies and TV shows are added to the application every month regularly, hence you'll never miss something fascinating.
Netflix: It is a greatly interfaced video streaming app for iPhone. It gets the latest movies and shows that can be streamed easily. And this app has a one month for free trial. You should utilize the free period before you switch to other free sources.
Hulu Plus: This application may be the best movie app, which has a large amount of old and new shows collections. So it can give the user a wide variety of options to choose from. With it, you can watch movies using Wi-Fi, 3G and 4G networks.
When more and more movies have been imported into your iPhone, you'll face the problem of the storage is not enough, then what will you do? Obviously, deleting these precious films is not a good idea here, then why don't you move them from iPhone to computer? Not a bad idea, right? To achieve it, you can turn to the best iPhone Movie Transfer.
Related Articles
Top 10 iPhone Security Apps
How to Transfer Movies from iPad to Computer
Easy Way to Copy or Move Videos from iPhone to PC/Mac