Top 10 iPhone Security Apps to Protect Your Device Well
There's nothing as stressful as misplacing your mobile gadget such as an iPhone or iPad. What could be even more disturbing is if your mobile gadget was linked to crucial personal data such as bank account numbers, email accounts, mobile contacts among others. Therefore, it is paramount to protect your iPhone or iOS device with verified iPhone security applications that keep your phone safe from prying eyes and malicious intruders. What follows is a list of iPhone security apps that keep your device well protected.
Related Article: How to Transfer Apps from Old iPhone to New iPhone
List of Security Apps for iPhone 14/13/12/11/X/8/76
Find My iPhone by Apple - Free
First off, the Find My iPhone utility in all iPhone devices is the most important feature that an iPhone user should ensure is activated. The Find My iPhone feature helps locate your iPhone on a Google Map in case it gets lost or misplaced. Additionally, this feature helps you track where your device has been, enabling you to determine the best course of action to take. The Lost Mode feature allows you to remotely wipe or erase your data on the lost iPhone which keeps your personal information safe from the wrong hands. The Find My iPhone utility can be activated in Settings > General on your iPhone.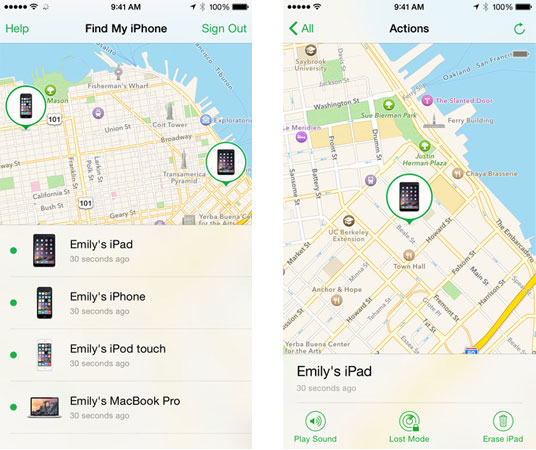 GadgetTrak by GadgetTrak - $4.99
Similar to Find My iPhone, GadgetTrak is an application that locates your iOS device on a Google Map in case it gets stolen or lost. The advantage of using this security app is that photos of the thief can be remotely taken using the devices cameras which will help trace the culprit! GPS does not have to be on to locate your lost iPhone on a map but better location-tracking is apparent if it is on. GadgetTrack also restricts the thief from deleting apps which could otherwise render the app useless.
Lookout by Lookout, Inc - Free
LookOut Mobile Security is an application that keeps your iOS device secure round the clock by keeping threats such as unsecured WiFi networks, malicious links and spam software at bay. With its backup utility, it helps keep your contacts backed up through an iCloud hence can be retrieved if you opt to wipe your personal data if your iPhone is stolen or misplaced. LookOut Mobile Security can be upgraded to Premium which offers more features such as remote locking, privacy scans, anti-phishing as well as safe browsing.
Snap Secure by SnapOne - Free
Snap Secure Mobile Security is also an anti-spyware protection application that keeps your iPhone safe from viruses which may interfere with your device's performance. This iPhone security application comes with an on-demand scan that analyses all your files for possible malware threats. Snap Secure Mobile Security also comes with a distinctive feature called the Personal Guardian that acts as a panic button in case of emergency, giving your location once you send an emergency message or email.
iDiscrete by VoteQuimby - $2.99
For all your media and document files protection, iDiscrete is the application to download. As its name suggests, this application doesn't show that files are being protected and presents a false loading screen if an unauthorized user tries to access your private documents and media files. These files can also be synced between your iPhone and computer through WiFi for better safe keeping.
MacAfee Security by McAfree - Free
McAfee is well known for creating exceptional computer anti-malware and anti-virus software programs. It has availed an iPhone security application called McAfee WaveSecure which, just like the other listed applications, allows one to remotely wipe, lock and track your iPhone in case it gets stolen or misplaced. Additionally, McAfee WaveSecure enables users to backup and restore data if you find your stolen iPhone. Best of all, the tracking feature on this app allows you to locate your phone even if your GPS is turned off.
Link: https://itunes.apple.com/us/app/mcafee-security-privacy-vault/id724596345?mt=8
Kryptos by Kryptos Communications - Free
Various individuals use their iPhones to discuss business, ongoing law suits and other sensitive information with their contacts. If such information were to get into the wrong hands, it could be used to blackmail or threaten the owner. This is where Kryptos comes in. Kryptos is a free iPhone security application that uses 256 bit AES encryption to secure mobile calls over 3G, 4G and WiFi connections. This application helps in protection of voice communications from eavesdroppers and malicious intruders.
Webroot SecureWeb Browser - Free
Still on communication, email is the most common form of communication whether used for socializing or business purposes. However, email has been often used to illegally retrieve personal information through spamming and phishing. Webroot SecureWeb is an application that secures users when they go online on their iOS devices by annotating secure and risky websites. This is done by automatically syncing the websites URL reputation data base for real-time protection. By the way, if you're used to use safari browser, you can clean the safari history on iPhone by using MobiKin iPhone Data Clean software.
Link: https://itunes.apple.com/us/app/webroot-secureweb-browser/id460986853?mt=8
Spam Arrest - Free
Many a time, individuals find spam in their email which really frustrates the communication experience. Spam Arrest is a free iPhone security app which instead of filtering spam, requests for confirmation of identity from everyone who sends you an email. This is a very effective application since emails from unverified senders will not be received by your email. Spam Arrest also comes with an Approved List of Senders feature which allows their emails to be automatically received while spam emails are automatically rejected. (Read here to learn how to clear junk files on iPhone in details.)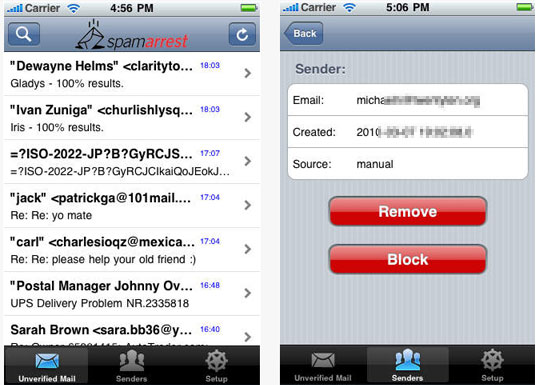 1 Password - Freeware
Finally, having many passwords for different online social and bank accounts can be quite a headache, especially if they involve many characters. 1Password Pro is an application that offers a master password for all your accounts. With its automatic password generator, it helps users to generate strong passwords that can't be easily retrieved by hackers and online intruders. Additionally, passwords stored by this application can be synced with your Mac or PC using the 1Password Pro desktop software, Dropbox or other syncing software.
With the above security apps for iPhone, you can freely enjoy your iPhone in the daily life and work. And to effective manage files on the device, MobiKin Assistant for iOS also be recommended here.
Related Articles
How to Transfer Photos from iPhone to iPad
Tips to Transfer or Copy Contacts from iPhone to Computer
How to Transfer Music or Songs from iPod to iPhone
[Top 8 Ways] How to Send Video from Android to iPhone
How to Download YouTube Videos to iPhone 14/13/12/11/X/XR/XS?
Two Ways to Upload iPhone Videos to Facebook
Send Long/Large Videos on iPhone: The Definitive Guide (7 Ways)