How to Fix: iMessages Not Syncing Between iPhone and Mac [2021]
If you have multiple iOS devices or Macs, you will definitely use iMessage, which is an instant messaging service provided by Apple, specifically for iOS devices. Users can use the same Apple ID to synchronize messages between different iOS devices. However, many Apple users complain about their iMessage not syncing on Mac. This may be caused by a variety of reasons, but mainly occurs after updating the device to iOS 14 or later.
In this guide, we will discuss how to fix the iMessages not syncing on Mac issue. Let's start with the simplest method.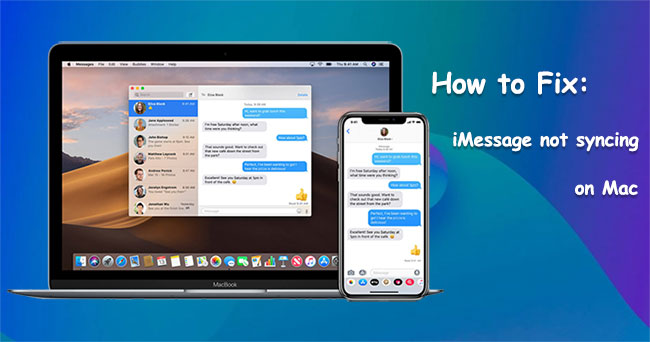 Part 1: What to Do When iMessages Not Syncing on Mac
Solution 1: Check iMessage Email Addresses on iPhone
First of all, confirm on your iPhone whether all the email addresses you want to use for iMessage have been activated.
Go to the Settings app on your iPhone.
Choose "Message".
Tap on "Send & Receive".
Under "YOU CAN BE REACHED BY IMESSAGE AT", make sure the phone number or email address is enabled.
Read Also:
Solution 2: Check iMessage Email Addresses on Mac
Now, you need to check the iMessage email address on the Mac to make sure that the same address is enabled on both devices.
Open the Message app on your Mac and tap "Messages" in the top menu.
Choose "Preferences" in the drop-down list and then choose "Accounts".
Under the "You can be reached for messages at" section, make sure that the phone number and Apple ID are the same as those on your iPhone.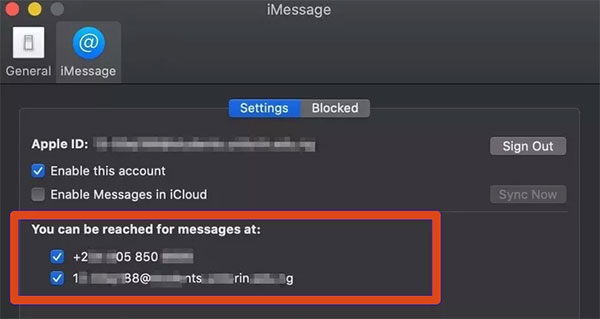 Solution 3: Sign-out & Sign-in to iMessages on Mac
Another solution is to try to log out of the Apple device and log in to iMessage. This may help you solve some account issues in iMessage.
Go to the "Messages" application on your Mac, and choose the "Message "tab.
Click on "Preference" in the drop-down menu.
In the popup Accounts tab screen, click "Log out".
Wait a while and reopen the Messaging app.
Enter the correct Apple email address and password, and log in again.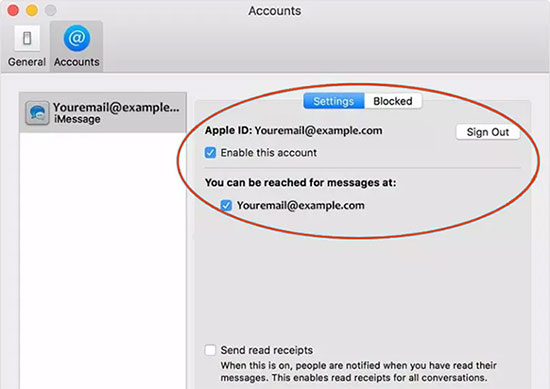 Solution 4: Turn Off iMessage and Turn It On Again on iPhone and Mac
iMessages not updating on Mac? When encountering this problem, a quick and easy way is to re-enable iMessage on your iPhone and Mac.
On your iPhone, go to "Settings"> "Messages"> Toggle off iMessage, wait a few seconds, and then turn it on again.

On your Mac, go to "Messages" > "Preferences" > "Accounts" > "Sign Out", wait a few seconds, and then log in again.
Now, you can check if iMessages can be successfully synced to Mac.
Extended Reading:
Solution 5: Confirm Your Phone Number with Apple ID
If you have tried the above methods, but iMessage on Mac is still not updating messages, you need to confirm whether the phone number associated with the Apple ID you are using is correct. Please follow the steps below to confirm your Apple ID phone number.
Go to Apple's official website at appleid.apple.com and log in with your Apple ID and password.
Navigate to "Account", and you will see all your personal information.
Check to make sure that the phone number and email address are correct.
Generally speaking, the above methods should be able to solve the problem of iMessages not showing up on Mac. But if not, don't worry, we still have many tricks to try.
Solution 6: Try to Send iMessage from Mac
Some people reported that in such a situation, they can receive messages on the iPhone, but they cannot receive these messages on the Mac. If you encounter such a problem, you can try to send iMessages from your Mac to someone. According to users, by doing so, not only will these messages appear on the iPhone soon, but they can also receive all other messages that they could not sync before.
Solution 7: Restart iPhone and Mac Devices
Just like re-logging into iMessages mentioned earlier, you can also try restarting your iPhone and Mac. Many users say that simply restarting the device will solve the problem of iMessage on MacBook not syncing. Please follow the steps below:
Restart the iPhone: (Here, set iPhone 12 as an example) Press and hold the power and volume buttons until the "Power off" slider appears. Drag the slider to turn off the iPhone. After that, press and hold the power and volume buttons again until the Apple logo appears.
Restart the Mac: Click on the Apple logo, and then select the "Restart" button. Alternatively, you can also use the shortcut key Control + Command + Eject to restart the Mac.
Part 2: A Better Way to Sync iMessages between iPhone and Mac
The last and ultimate way to solve the problem of messages not syncing between iPhone and Mac is to use MobiKin Assistant for iOS (Mac and Win), a one-stop data management tool for iPhone, iPad and iPod. It can transfer messages from iPhone or iPad to your computer with one click. In addition, it has many excellent features to help you better manage your iOS devices.
Some features of MobiKin Assistant for iOS:
Transfer and back up iPhone messages to PC or Mac in one click.
Allow you to view messages on the computer directly.
Support to transfer various data types like Messages, Videos, Photos, Music, eBooks, Contacts, Notes, Safari Bookmarks, Voice Memos, Podcasts, Ringtones, Playlists, and more.
Edit and manage iPhone/iPad/iPod data on a computer directly.
Work well on various PCs and Macs.
Compatible with almost all iOS devices, including iPhone 12/12 Pro (Max)/12 mini, iPhone 11/11 Pro/11 Pro Max, iPhone X/XR/Xs/Xs Max, iPhone 8/8 Plus, iPhone 7/7 Plus, iPhone 6/6S/6 Plus, iPads, iPods, etc.
How to Transfer Messages from iPhone to Mac with Assistant for iOS?
Step 1. Run Assistant for iOS
Download and install Assistant for iOS on your Mac. Run it and use a USB cable to connect your iPhone to the Mac. Do as the prompts suggest to let the software recognize your iPhone successfully.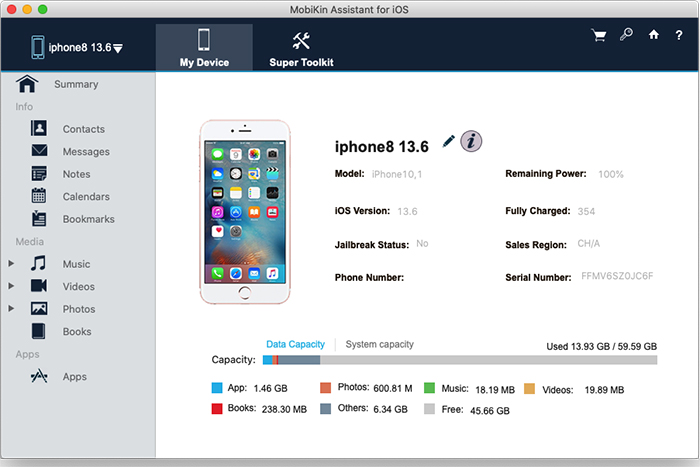 Step 2. Preview and select the messages
All transferable file types are listed on the left sidebar. Click the "Messages" tab, and all messages on your iPhone will be scanned out automatically. After that, you are allowed to preview the details of the SMS conversations in detail.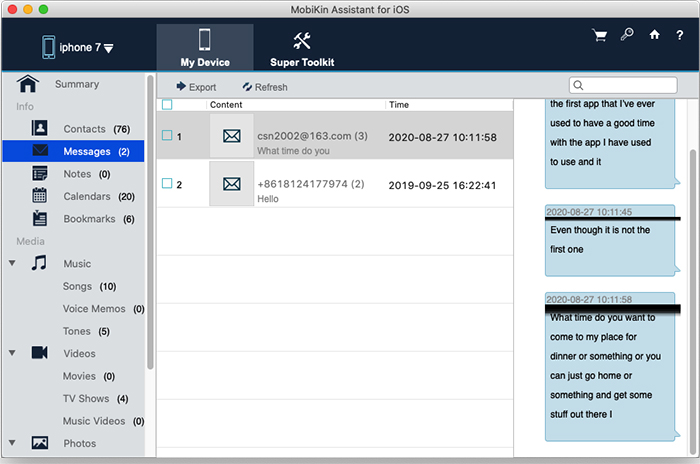 Step 3. Sync messages from iPhone to Mac
Select the messages you want to transfer, and choose the "Export" button from the top menu. Then, all the selected iPhone messages will be saved to your Mac completely.
Video guide on how to transfer messages from iPhone to Mac:
Closing Remarks
Data synchronization is a great feature, which makes you only need to carry one device, and can synchronize the data to all devices. This makes communication more convenient and easy. And when you encounter some problems in data synchronization between iPhone and Mac, don't worry. you can easily solve your problems through the steps mentioned above.
Why are my iMessages not updating on my Mac? This is difficult to explain. There may be many reasons. In fact, there is no need to go into the cause because solving the problem is the key. Please be sure to complete the steps we described and share our joy of your success in the comment section. We will be glad to hear from you.
Related Articles:
What to Do if The Program Fail to Detect iTunes Backup?
Where Does iTunes Store Backups & How to Change iTunes Backup Location?
Does iTunes Back Up Photos from iPhone? Here's What You May Need
Can I Delete Songs from iPhone But Keep Them on iTunes? Of Course, You Can!
iPod Won't Sync with iTunes? 10 Easy Solutions to Fix It!
Can't Add Songs to iPhone with iTunes? Here're the Best Solutions!