13 Ways to Fix Text Messages from One Person Disappeared on iPhone 14/13/12/11/X/8
Text messaging has become an integral part of our daily communication, enabling us to stay connected with friends, family, and others. However, it can be disconcerting when text messages from one specific individual suddenly vanish from our iPhones. The loss of important conversations or cherished memories can leave us frustrated, seeking swift remedies to restore those missing messages.
Well, this tutorial will delve into the "text messages from one person disappeared on iPhone". We shall explain why this happens and compile twelve quick fixes, as well as one ultimate solution, to help you retrieve your precious conversations.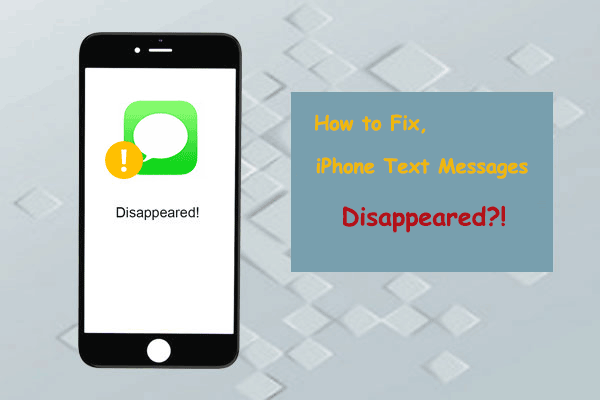 Part 1: Why Text Messages from One Person Disappeared from iPhone?
When messages disappeared from your iPhone, there could be several reasons why it happens (iPhone messages disappeared but still taking up space). Here are a few possibilities:
You mistakenly blocked the message sender.
Changed message settings on your iPhone.
You delete a few text messages accidentally.
An issue occurred during the message backup.
Glitched or failed iOS update.
Your iPhone storage is full.
Part 2: How to Fix Text Messages from One Person Disappeared on iPhone [12 Tips]
Solution 1: Check Blocked Contacts Or Messages
If you find that text messages from a specific contact have vanished, it is likely that you unintentionally blocked that contact. To check if that is the case, you can head to your iPhone's "Settings" > "Messages" > "Blocked Contacts".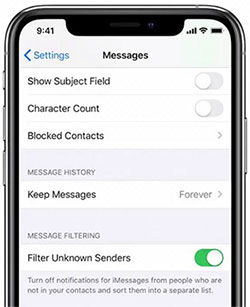 You Might Also Enjoy:
Solution 2: Reactive iMessage/MMS/SMS
Instead of attempting various solutions, you can resolve the problem by reactivating the app after checking the blocked messages. To do this, follow these steps:
Open the "Settings" app on your iPhone and tap on "Messages".
Locate the switches nearby the "iMessage" and "MMS Messaging" options and toggle them off.
Wait for a few seconds and toggle the switches back on.
Now, open the "Messages" app and check if the "text messages from one person disappeared" persists.
Solution 3: Check Message Frequency
If you're searching for deleted messages, consider checking the message retention settings to ensure they are set to the maximum duration. Here's how you can do it:
Open the "Settings" app on your iPhone.
Locate and tap on "Messages".
Look for the "Keep Messages" option.
Select your preferred duration for retaining messages: "30 Days", "1 Year", or "Never".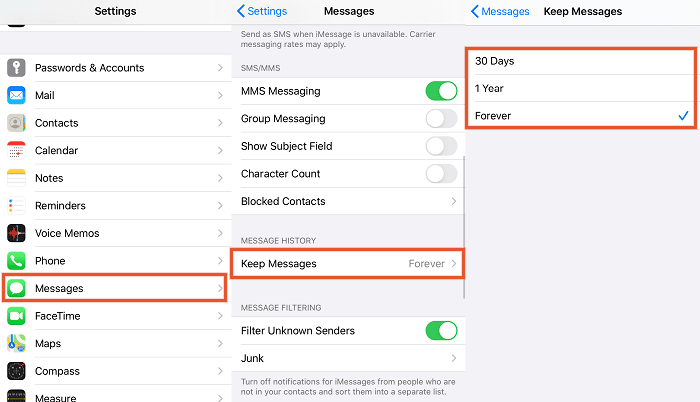 Solution 4: Enable & Disable Airplane Mode
To address "text messages from one person disappeared from iPhone 14/13/12/11/X", you can try a simple solution by enabling and disabling Airplane mode. Follow the instructions:
Access the "Control Center" on your iPhone.
Enable "Airplane Mode" by tapping on the corresponding icon.
Keep your device in Airplane mode for a brief period.
Disable the mode by tapping on the icon again.
Open your messages app to potentially find old text messages on your iPhone.
Solution 5: Check Message Filter Settings
Open the "Settings" app on your iPhone.
Tap on "Messages".
Look for "Filter Unknown Senders".

Toggle the switch to turn it on.
This can help you manage and prioritize your messages more effectively.
Solution 6: Check the Junk Messages Folder
Open the "Messages" app on your iPhone.
On the main screen, tap on the back arrow to go back to the list of conversations.
Scroll all the way up to the top of the conversation list to reveal the search bar.
In the bar, type "Junk" or "Unknown" to search for messages containing those keywords.
As you type, a section named "Junk" or "Unknown Senders" should appear below the search bar. (How to clean junk files on your iPhone?)
Hit on the "Junk" or "Unknown Senders" section to view the text messages from one person disappeared on iPhone in that folder.
Solution 7: Reset All Settings
Open the "Settings" app on your iPhone.
Tap on "General".
Scroll down and select "Reset."
Choose "Reset All Settings" from the available options.
If prompted, enter your passcode to proceed with the reset.
Confirm your decision to reset all settings.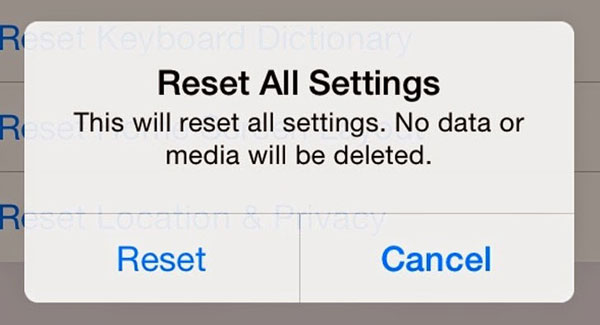 Recommended Passages:
Solution 8: Update iOS
By checking for and installing software updates, you can ensure that your iPhone is running on the latest iOS version, which often includes bug fixes that can resolve unexpected errors, including issues with iPhone text messages disappeared from one contact. Learn how to do it directly:
Access your iPhone "Settings" > "General".
Scroll down and select "Software Update".
Your device will check for any pending software updates.
If there are updates available, they will be listed on this screen.
Tap on "Download and Install".

Follow the on-screen instructions to complete the installation. (How to undo an iOS update on an iPhone?)
Solution 9: Check If Your Disappeared Messages Still In Storage
Open the "Settings" app on your iPhone.
Tap on "General" and select "iPhone Storage".
Look for and tap on "Messages" in the list of apps.
Here, you can view the storage usage related to the Messages app, including the space occupied by conversations and attachments.
Solution 10: Restart Your iPhone
To troubleshoot the "iMessages from one person disappeared", you can try a simple restart. Often, a temporary background process may be responsible for the issue, and rebooting the device can terminate it. Follow these steps:
Press and hold the "Power" button (or the power button along with the volume buttons, depending on your iPhone model) until the "slide to power off" option appears.
Slide the power off slider to turn off your iPhone.
Once the device is completely powered off, press and hold the "Power" button again until the Apple logo appears.
Release the "Power" button, and your iPhone will restart. (What if your iPhone keeps restarting?)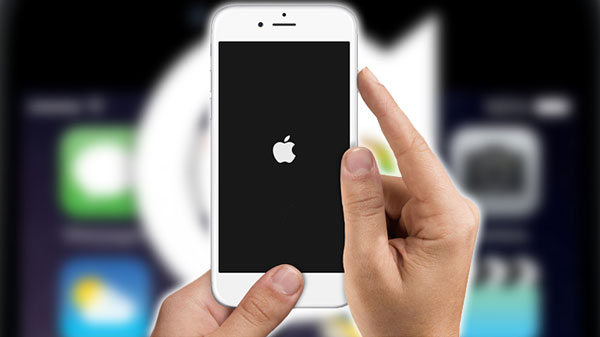 Solution 11: Restore iPhone Message from iCloud Backup
To restore your iPhone from an iCloud backup after setting it up, you will need to erase all content and settings on your device. Here is the detailed guide:
Open the "Settings" app on your iPhone.
Go to "General" and tap on "Reset".
Select "Erase All Content & Settings".
Enter your device passcode to delete everything on your iPhone.
After the reset is complete, your iPhone will restart.
Proceed through the initial setup until you reach the "Apps & Data" screen.
Choose the "Restore from iCloud Backup" option.

Enter your Apple ID and password.
Select the backup file, including the text messages you wish to restore from.
Solution 12: Restore Messages on iPhone from iTunes Backup
To utilize this method, you must have an iPhone backup stored on a PC. Using iTunes to retrieve text messages will overwrite your current iPhone data with the data from the backup.
Connect your iPhone to the computer where the iTunes backup is stored using a USB cable.
Launch iTunes on your computer if it doesn't open automatically.
Select your iPhone when it appears on iTunes.
Proceed to "Summary" > "Restore Backup".

Choose the appropriate backup from the list displayed. Look for the backup that contains the messages you want to restore.
Click "Restore" and wait for the restoration process to complete.
Keep your iPhone connected to the computer until the job finishes.
Part 3: Fix Text Messages from One Person Disappeared by Restoring from iPhone Directly
If you want to recover disappeared iPhone text messages without a backup, MobiKin Doctor for iOS is the ideal solution. This professional tool can efficiently scan your iPhone for deleted messages and recover them directly with just one click. It specializes in retrieving files from iDevices, even in the absence of a backup. Meanwhile, if you have iTunes or iCloud backups, the software can also selectively restore lost iPhone data from them without overwriting any existing data on your device.
Main highlights of MobiKin Doctor for iOS:
Recover text messages from one person disappeared on iPhone without a backup.
Retrieve deleted contacts from iPhone directly without any complications.
Effortlessly restore specific files from iTunes or iCloud backups without resetting.
Wide compatibility with various iOS data types, including text messages, contacts, photos, videos, reminders, calendars, Safari history, notes, voice memos, and more.
Work well with virtually all iOS devices, including iPhone 14/14 Plus/14 Pro (Max), iPhone 13/13 Pro (Max)/13 mini/12/12 Pro (Max)/12 mini, iPhone 11/11 Pro/11 Pro Max, iPhone X/XR/Xs/Xs Max, iPhone 8/8 Plus, iPhone 7/7 Plus, iPhone 6/6S/6 Plus, iPod touch, iPad, etc.
It won't disclose your privacy.
Restore text messages from one person disappeared on iPhone without backup using Doctor for iOS:
Step 1. Click the download button provided above to acquire the free trial version of this software. Follow the instructions to install and open the program on your computer. Then, you will be greeted with the following user interface.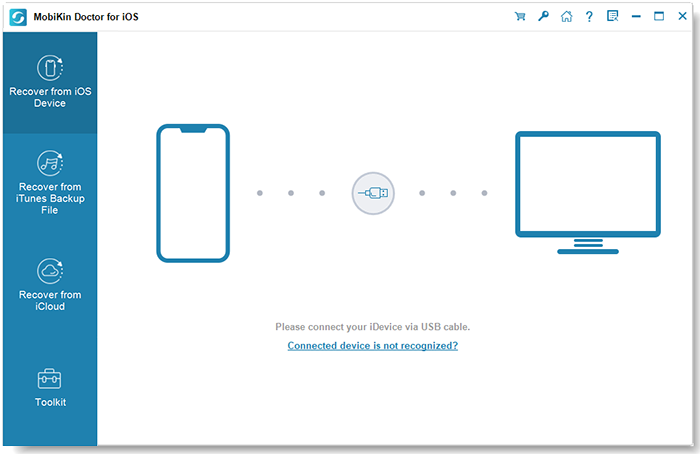 Step 2. Select "Recover from iOS Device" from the left sidebar and establish a connection between your iPhone and the computer via a digital cable. When prompted, tap on "Trust the computer" to create a successful connection. Allow the computer to detect your iPhone. Next, choose "Messages" and click the "Start Scan" button.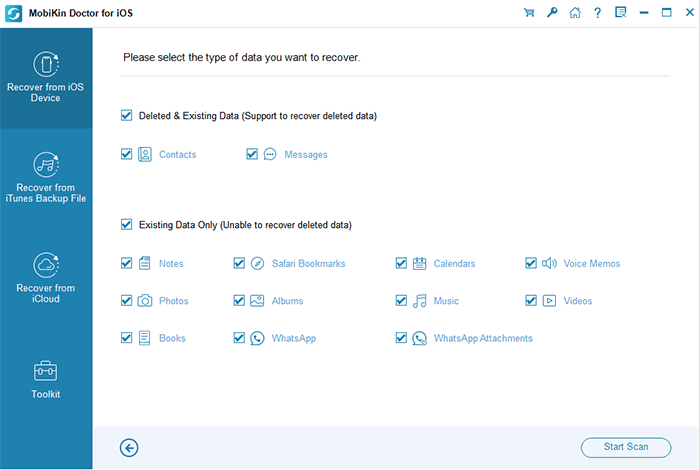 Step 3. The tool will commence the scanning. Once completed, all the recovered files will be displayed. You can conveniently examine the deleted messages on the right side of the software interface. Finally, select the desired text messages, then click "Recover to Computer" to save them on your computer.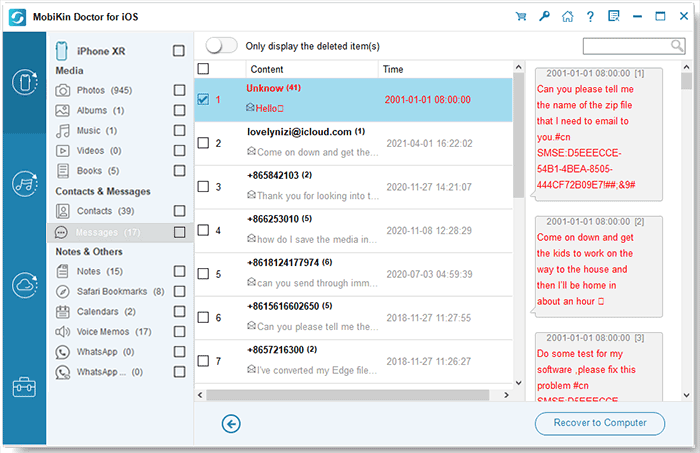 Conclusion
We have invited you to embark on this journey of recovery. By exploring the basic solutions and the advanced one, you are bound to find the remedy that suits your situation best. And for further assistance, we would recommend MobiKin Doctor for iOS, a trusted tool specifically designed to recover data from your iPhone differently. With its user-friendly interface and powerful data recovery capabilities, this product can be a valuable asset in your quest to restore those disappeared text messages without a backup.
Related Articles:
How to Recover iMessages from iCloud Backup Flexibly? 4 Ways Available
Texting from Computer to Cell Phone: 7 Ways & Their Comparison
iPhone SMS Backup & Restore Apps, Software or Services (Ways Included)
How to Recover Deleted WeChat Messages/Chat History on iPhone?
iPhone File Manager: 10 Best File Managers for iPhone You'd Better Know
[Beginners Guide] How to Fix Contacts Not Syncing to Mac in 13 Hot Tips?